Restaurants in Crown Point
---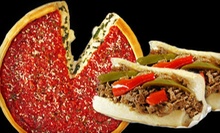 Thinly sliced italian roast beef sits atop an award-winning sandwich with peppers or cheese; deep-dish and thin-crust pizzas are available
Use Today 2:00pm - 4:00pm
---
Recommended Restaurants by Groupon Customers
---
At Ed Debevic's, every house burger, hot dog, and diner entree shares a not-so-secret ingredient: sass. The servers welcome guests to the vintage venue with tongue-in-cheek remarks and paper deli hats, seating them next to vibrant examples of what Centerstage calls "smart-aleck decor": fake autographs, old-timey ads, and signs that carry proverbs such as "Eat Now…Pay Waiter." The mischievously retro tone is cultivated in homage to one of the owner's favorite restaurants, Lill's Homesick Diner. Back in the '50s and '60s, Lill acquainted Ed with the classic flavors of comfort food cooked from scratch, showcasing the spirited moxie that made her a standout in the short-order world.
Ed chose to emulate both her classic cooking and feistiness at his own diner. Many of his menu items are housemade, including the meatloaf, mashed potatoes, the desserts, and the blue-cheese sauce on top of the Ed's Blue Moon burger. Milk shakes and malts pair well with a variety of hot dogs and sandwiches, especially when counterbalancing the effects of Atomic Mix: a blend of diced jalapeños, onions, and tomatoes that garnishes certain plates. The staff stays in comically impudent character throughout these meals. And every now and then, the servers pause to put on countertop dance numbers that are almost as exciting as the time your grandpa turned the lazy Susan into a zoetrope.
10343 Indianapolis Blvd.
Highland
Indiana
219-922-9785
In the kitchens of Blueberry Hill's five suburban outposts, cooks forgo lazy morning lounging to pull together homey assortments of timeless brunch fare. Pancakes infused with fruit or sweets are made from scratch, much like hand-knitted socks or hand-painted report cards. French-toast slices get stuffed with apple and cream cheese, smothered in fruit, or rolled in Cap'n Crunch. Fresh meats and veggies take cover under eggs in savory skillets, and a selection of sandwiches quells cravings in handheld form.
2155 W 183rd St.
Homewood
Illinois
708-922-0800
Giuseppe "Joe" Scalzo had to turn down his first opportunity to manage a restaurant, a small trattoria in Calabria he'd been working in as he attended school. He had spent his entire professional career working in Tuscan eateries and wanted the job, but his educational path led him to Chicago's Loyola University in pursuit of a business degree. It didn't take him long to realize that the thing he missed most about home was working in a restaurant. With his newly acquired business acumen, he began his foray into opening Italian restaurants: first Piazza Bella, then Via Carducci, and finally his most recent labor of love, Ciao Bella Ristorante.
The kitchen is nestled behind a black-and-white photographic mural, which hints at the sunshine that sparkles along the Mediterranean coastline. Greenery flanks the piece, providing contrast along with the warm, saturated red walls painted with real marinara sauce. As guests revel under dim lighting amid the elegant atmosphere, plates of carefully crafted Italian cuisine arrive at tables alongside traditional thin-crust pizza. The restaurant recently expanded its bar and lounge areas and added a new banquet area for private parties that can seat up to 70. Joe's personal favorite pie is the quattro stagioni, for its savory blend of prosciutto, artichokes, and black olives.
1514 US-41
Schereville
Indiana
219-322-6800
Framed between two neon cacti, La Quesadilla Mexican Grill's imposing sign leads the way into a nexus of Mexican staples crafted from family recipes. Tortilla shells bundle meats, veggies, and seafood into tacos and burritos that share plate space with grilled 16-ounce T-bone steaks and chicken fillets. Glasses of house-made horchata and sangria dot the casual eatery's booths and tabletops, and 12 different desserts, such as deep-fried sopapillas dusted with cinnamon, cap off meals better than an edible mortar board.
10033 Wicker Ave. , Suite 13
Saint John
Indiana
---