Restaurants in Crystal Lake
---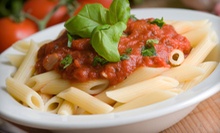 Black-linen tables host classic Italian dishes, such as pan-seared veal and seafood pastas cloaked in rich sauces
Use Friday 4:30pm - 9:00pm
---
Recommended Restaurants by Groupon Customers
---
Reds and yellows filter through stained-glass windows, playing across the exposed-brick walls and white linens inside Cucina Bella's dining room. The modern bistro's set of robust menus touting custom-built pasta, weekly tapas specials, and sherry-kissed steaks earned the eatery the top spot on McHenry County Magazine's 2010 Best of the Fox list. Wednesdays nights' tapas menu puts a Roman twist on the classic Spanish small plates ($3.75–$8.99).
220 S Main Street
Algonquin
Illinois
847-458-2504
Today, Colonial Cafe & Ice Cream may have seven full-service family-friendly restaurants, but when it started in 1901, it was only a single small ice cream and dairy store. Now guests can settle into breakfast, lunch, and dinner at each of the eateries –and still enjoy the ice cream that put them on the map. They have garnered particular attention for their signature dish, the Kitchen Sink Sundae, which features two whole bananas, six scoops of ice cream (vanilla, chocolate, strawberry), whipped cream, chocolate, and chopped almonds with a cherry topper. It's served in a large dish shaped like a kitchen sink with a S-pipe as the handle. And when diners finish it, they receive a bumper sticker that reads, "I Ate a Colonial Kitchen Sink."
While ice cream reigns supreme, their breakfasts have also earned praise. They were voted "Best Breakfast" by the Elgin Courier News, Aurora Beacon News, and Naperville Sun. Favorites among the regulars include the stuffed very berry French toast and cinnamon roll French toast. Come dinnertime, they continue serving comfort foods including fresh baked meatloaf and a mac and cheese bacon melt, as well as sandwiches such as the pot roast French dip. The restaurant has also earned plaudits for its popularity with its littlest diners, grabbing the "Best Kid-Friendly Restaurant" designation in the Kane County Chronicle Reader's Choice awards.
2555 W Bunker Hill Dr.
Algonquin
Illinois
847-458-6600
Jaded Thai's chefs personalize every order that leaves the kitchen. The pan-fried noodles, six types of curry, and stir-fried entrees can emerge with the diner's choice of tofu, meat, or seafood, as well as spice level ranging from mild to intensely hot. The heat stems from the fiery Thai chilies, which add piquant flavors to the menu items' aromatic doses of ginger, basil, or housemade lemongrass sauce.
Recessed lighting fixtures line the dining-room ceiling, gently illuminating the earth-toned walls that sport a flat-screen television and a collection of framed artwork. Although the menu doesn't include any alcoholic drinks, the staff allows diners to bring a bottle of wine or a jar of old grapes from home.
1608 W Algonquin Rd.
Hoffman Estates
Illinois
847-907-4424
Nozumi's culinary team of world travelers turns to seasonally available ingredients and their own global palates to create innovative Japanese cuisine. While seated at a high-top table beneath a hushed lighting fixture or nestled in a cushy booth, diners can choose shareable plates from five tapas-style menus or entrust their selections to the chef, who employs a fresh selection of seafood to furl signature sushi rolls such as Rinjin Dragon, packed with shrimp tempura, fresh-water eel, and veggies drizzled in spicy mayo. Non-sushi entrees include grilled tiger shrimp and seared day-boat scallops swimming in creamy basil sauce and fettuccine noodles, and a tuna sandwich anchored by seasoned yellow-fin steak and coleslaw. Guests can also set up shop at the sushi bar or reserve the private Tatami room, designed to accommodate 8–10 people or one very large secret.
100 W Higgins Rd., Suite J-30
South Barrington
Illinois
847-783-0001
At six locations dispersed throughout the Chicago suburbs, Old Town Pizza Co.'s dough doyens handcraft an array of Italian edibles, including four styles of pizza—signature thin crust, double dough crimped with a hand-rolled edge, Chicago-style deep dish, and Sicilian-style stuffed pizza. Specialty pies, which comes in such varieties as the Florentine and The Butcher Block, arrive adorned with fresh spinach and spices or a choice of four meats. Chefs also tempt carb cravers with pastas, calzones, and sandwiches, including italian beef.
514 South Illinois Route 31
McHenry
Illinois
815-578-1111
The epicurean alchemists at India House, winner of Chicago magazine's Best Indian Buffet designation, draw inspiration from the cuisine of Bombay and Delhi as well as Indian street fare and homestyle tandoori cooking. The menu's more than 250 items please vegetarian and meat-eating palates alike with curries, kebabs, and grilled saris that utilize the flavors of fresh cilantro, chilies, and coconut. A reviewer for the Chicago Tribune praises the restaurant's "incredibly tender tandoori chicken," and Chicago magazine says that the fiery "Hyderabadi-style mahi-mahi … is a must." Midday lunchers can dig into a buffet whose myriad options beget multiple trips and consultation with a pack of tarot cards before deciding which delicious curries should be ladled over naan and rice.
721 W Golf Rd
Schaumburg
Illinois
847-278-0760
---