Restaurants in Crystal
---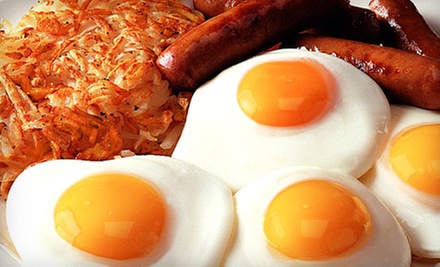 Robbinsdale - Crystal - New Hope
---
Recommended Restaurants by Groupon Customers
---
At Osaka Sushi and Hibachi Steakhouse, teppanyaki chefs preside over sweltering tableside hibachi grills, entertaining diners as they slice and dice succulent cuts of filet mignon, chicken, and swordfish. A customer can wrap a partner's lips around the hibachi lover's dinner for two, which lets scallops, shrimp, lobster, and filet mignon rendezvous on a romantically arranged platter that is perpetually serenaded by a thumb-size accordion player. Alternatively, a slate of dishes that comes to life away from the hibachi grill includes proteins slathered in teriyaki sauce, hidden in tempura batter, or mixed with stir-fried noodles. Special sushi rolls—such as the Dancing roll with tuna, salmon, and yellowtail—also cha-cha from table to mouth.
77 85th Ave. NW
Coon Rapids
Minnesota
763-783-1333
Chef Nong's culinary journey began in Bangkok at age 12, when she would procure supplies from the corner market and cook for her family. She spent her adolescence perfecting her mother and grandmother's recipes, and then gained extra practice when she started a family of her own.
At age 35, Nong decided it was time to share her culinary flair with members of other families. She progressed through restaurant jobs in Thailand and Malaysia before landing a gig in Minneapolis, where she earned her sriracha-soaked stripes by cooking at a number of area restaurants before opening her own eatery, Nong's Thai Cuisine.
In her own kitchen, Nong relies on her stockpile of inherited recipes to create a menu of authentic, homestyle Thai fare, which earned the eatery the distinction of Best Thai Restaurant 2010 from City Pages. Featured in Mpls.St.Paul Magazine, the "perfectly timed noodles" of the pad thai carry al dente firmness, and the "high quality" curries stimulate taste buds in a more refined manner than chili pepper stimulates the eye. Flavors of tamarind and papaya infuse salads and stir-fries, and crisp veggies top noodle dishes, all calibrated to customer-chosen levels of heat.
2520 Hillsboro Ave. N
Golden Valley
Minnesota
US
763-404-8190
Born in Vietnam and raised in the United States by Chinese parents, chef Nina Wong has always infused her dishes with a variety of Asian tastes. After marrying Thomas Gnanapragasam—a third-generation Malaysian of Indian descent—Wong discovered more unique flavors to integrate into her signature sauces and syrups. Originally opened in 2005, Chin Dian Café channels the pair's unique backgrounds through Asian soups, salads, and noodle and rice dishes, even offering some gluten-free options. Popular dishes, such as chow mai fun and chicken-and-chive dumplings, keep patrons rolling in and have earned the restaurant media acclaim from the Star Tribune, Minnesota Monthly, and the dictionary.
1500 E Hennepin Ave.
Minneapolis
Minnesota
US
612-676-1818
At Vnam Restaurant, chefs have mastered a range of traditional Vietnamese dishes, from the fresh, herbaceous flavors of pho soup to the bold interplay of sweetness and spice in authentic curries and stir-fries. Their extensive menu spotlights standard and gluten-free entrees peppered with succulent morsels of seafood, pork, chicken, and beef, as well as inventive vegetarian interpretations that incorporate tofu and mock duck. Servers shuttle these mouthwatering masterpieces to a spacious, no-frills dining room, where the air brims with strains of live music on Thursday–Sunday and oxygen molecules on Monday–Wednesday.
8244 Commonwealth Dr.
Eden Prairie
Minnesota
952-943-1127
Hailed by StarTribune writer Tom Horgen as "two guys who know their beer," Mark van Wie and Paul Schatz have worked for the last decade to put their pub The Muddy Pig on the maps of local and international beer connoisseurs. At their second venture, The Pig & Fiddle, they have raised the bar even higher with 36 beers on draft—including a slew of Belgian-style brews—to go with chef Stephanie Kochlin's menu of European-inspired pub fare.
Each day from 4:00 p.m. until 1:00 a.m., Chef Kochlin prepares hearty dinner entrees using recipes gathered from rustic European locales and cooking oils derived from melted Renaissance paintings. Along with artisanal cheeses, house-prepared meats, and boiled pierogi, the kitchen specializes in European pasties—pouch-shaped pies filled with roasted lamb and house-made pickles. Aside from the nightly dinner menu, The Pig & Fiddle frequently curates events such as special dinners with course-by-course beer pairings.
3812 W 50th St.
Minneapolis
Minnesota
952-955-8385
Since the end of the 20th century, patrons have regularly flocked to Mango Bar & Grill, formerly Conga Latin Bistro, to dine on Nuevo Latino cuisine and dance the night away. The multilevel venue houses three main areas decorated with various themed design elements, including murals of colorful congas, conga-shaped floor patterns, and massive congas that stand well over 6 feet tall. While munching on unique combinations of Latin flavors in the bar-equipped dining area, patrons may gaze deeply into the eyes of a stranger or upon one of many 60-inch plasma TVs. Home to a dance floor and booming sound system, Mango Bar & Grill's downstairs lounge hosts nightly dance sessions fueled by salsa, merengue, bachata, reggaetón, and cumbia music.
501 E Hennepin Ave.
Minneapolis
Minnesota
US
612-331-3360
---