Things to Do in Cudahy
---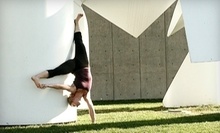 Five styles of yoga classes range from aerobic power Vinyasa to the highly meditative yin yoga and its lengthy posture holds
Use Today 6:45am - 9:45am
---
Recommended Things to Do by Groupon Customers
---
Presented by MilwaukeeFood.com, The Milwaukee Chili Bowl hosts a steamy collection of chili crafted by local restaurateurs from across the state. Spotlighting traditional and unconventional ingredients such as bratwurst and sweet potatoes, chefs pit their unique recipes against each other, bringing enough variety to satisfy vegans, vegetarians, or children teethed on tabasco chew toys. Guests mingle through the sea of silver serving trays and cast-iron pots, spooning nibbles from each entrant as they go. A nexus of food info for the area, MilwaukeeFood.com hosts tasting events throughout the year, including summer's Rock the Roost buffalo-wing festival and fall's Best-Wurst sausage, cheese, and beef festival.
11310 W Silver Spring Rd.
Milwaukee
Wisconsin
Passengers on the Iroquois, Vista King, and Voyageur cruise ships have passed under century-old raising bridges and laid eyes on history-rich chunks of Milwaukee skyline. However, they've also sat under squadrons of F-18s performing barrel rolls over Lake Michigan. Licensed by the U.S. Coast Guard to perform tours and charters on the lake, Jake Chianelli and his captains offer their passengers a unique perspective on the city's waterside events. They also partner with the nonprofit organization Historic Milwaukee by using their trained docents to lead history tours, which include facts and anecdotes from the arrival of the first fur traders up to modern day.
With kitchen facilities and a full bar on board, each of the three double-decked ships are equipped for tours as well as a range of corporate events, wedding-rehearsal dinners, and Moby Dick-themed improv shows. Climate-controlled lower decks give passengers shelter in all weather, and open upper decks house a stage space where local indie-rock bands play during a summer concert series.
500 N Harbor Dr.
Milwaukee
Wisconsin
414-294-9450
At Underwater Connection, southeast Wisconsin's only PADI five-star instructor-training center, an award-winning course director and a team of skilled instructors educate both undersea novices and emergency-service professionals in the art of scuba diving. Following safe, low-stress basic diving courses in the classroom pool, teachers and students move to the open water to cover techniques that include rebreathing, underwater videography, and recovering toy-boat wrecks from flooded bathtubs. Underwater Connection provides all equipment for classes, relying on its factory-trained equipment mechanics and Aqualung Master Technician, who refill tanks and do in-house repairs on gear from brands such as Dive Rite, Poseidon, Oceanic, Aqua Lung, and Scubapro.
5730 S 108th St.
Hales Corners
Wisconsin
414-529-3483
Sea-sated guests sail into a night of delicious dinner courses and romantic scenery aboard the Edelweiss premier cruise vessels, which double as floating banquet halls featuring outdoor viewing decks and climate-controlled indoor cabins. Like all of the best baroque concertos, the Saturday feast commences with a dinner salad and concludes with a seasonal dessert. The main course plays host to a sizzling duet of grilled steak and jumbo-shrimp kebabs. These platters of protein serve as savory valleys between mountains of mashed potatoes and fresh vegetables. Vegetarian dinners must be requested at the time of reservation. Liquid libations flow from a cash bar, from which guests may also purchase permits to practice their underwater cha cha routines.
106 W Wells St.
Milwaukee
Wisconsin
French, of course, for French Alliance of Milwaukee, Alliance Française de Milwaukee transplants the culture and language of the French-speaking world to the city's Lake Michigan shores. Several teachers help students learn the smooth, mellifluous language even if they weren't born with a Frenchman's velvet tongue, and a variety of events commemorate French history, from the joyous summer hours of Bastille Day to the annual release of the beaujolais nouveau wine each fall.
139 E Kilbourn Ave.
Milwaukee
Wisconsin
Skaters circle around Slice of Ice in Red Arrow Park—part of the Milwaukee County Parks system—amid trees strung with lights and the arched façade of the 1000 North Water Street building. The refrigerated oval rink accommodates 100 skaters at a time, making it ideal for family outings and confusing games of super-hockey. And inside the rink's warming house, visitors can hide from the chill with a cup of coffee.
524 S Layton Blvd.
Milwaukee
Wisconsin
---