Biking in Culver City
---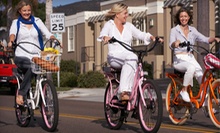 Downtown Huntington Beach
Electric-bike riders switch between twisting throttles and pedaling, allowing lithium-ion power to propel them up to 20 miles per hour
Use Today 10:00am - 6:00pm
---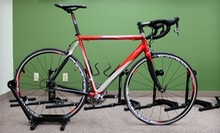 Expert mechanics adjust brakes, tires, bottom brackets, chains, hubs & headsets to ensure bikes achieve superior performance
Use Tuesday 11:00am - 7:00pm
---
Recommended Biking by Groupon Customers
---
The Izip Store supplies a fleet of electric bicycles, rentals, and accessories to commuters and explorers who welcome the assistance of Currie Electro-Drive motor systems. Mounted on electric steeds, riders tackle hills and long distances while keeping fatigue at bay and preventing overworked feet from retiring to spend more time with their families. The emissions-free cyber steeds include models designed to accommodate sport riders and leisurely cruisers, with motors capable of 31-mile distances. In addition, The Izip Store houses to a flock of electric scooters that allow riders to stand while reaching speeds of up to 15 miles per hour. The compact cruising devices feature foldable handlebars for practical storage in lockers, cubicles, or the overhead compartments of personal jets.
609B Lincoln Boulevard
Venice
California
310-310-8846
G-Bike Electric Bikes places riders in the seat of zero-emission, electricity-powered bikes that convey their pilots for up to 35 miles on a continuous charge or infinite distances when pedaled by human feet. Bikes come in two styles—as city scooters or choppers—allowing riders to showcase a sleek urban sensibility or quietly infiltrate gangs of robot bikers. Seven different color patterns and customization or additional decoration options help riders distinguish their electric conveyances. While designed for style and efficiency, two-wheeled steeds also comply with federal speed and power limits, eschewing the need for licenses or registration. The electric crafts serve students and professionals in urban environs, as well as recreational cyclists cruising through the great outdoors or racing migrating paper-airplane populations.
2502 Main St.
Santa Monica
California
424-294-2453
Pacific Pedal Cruiser's 14-person cruiser bikes help passengers work up an appetite as they power the pedal-equipped vehicle toward Hermosa Beach restaurants and bars under the guidance of an experienced driver. As tunes lilt from the bike's iPod-equipped sound system, passengers work their way toward pit stops at bars, such as Patrick Molloys, Underground Pub & Grill, Barnacles Bar and Grill, and other area establishments, refueling with dining and drink specials before resuming their breezy cruise. Bikes welcome the collected members of a bachelorette party or birthday fete for camaraderie-filled private tours or forge new friendships between couples and people tired of waiting at the impound lot during public tours.
50A Pier Avenue
Hermosa Beach
California
310-968-4201
When Brian McInerney reflects on the humble beginnings of Wheel Fun Rentals, he points to his childhood passion for bikes. "As far back as I can remember, I had a real love affair with bicycles," he recalls. During a trip to Italy in 1987, Brian's affinity for cycling blossomed into a full-fledged obsession when he spotted locals' transporter of choice, the surrey. Inspired, he began importing the Italian four-wheelers to a rental business in the U.S. that eventually expanded into Wheel Fun Rentals, now a nationwide web of shops that also loans out bikes, electric cars and mopeds, and man-powered watercraft. Atop bicycles and surreys built for solo riders or entire families, patrons embark on self-guided tours of major U.S. cities. Led by maps and lists of nearby sites of historical or cultural significance, riders zoom down bike paths and safe, lightly trafficked streets. Adventuresome athletes can also compete in activities such as surrey scavenger hunts and blindfold obstacle courses navigated via shouted instructions from a seeing teammate or exceptionally long rounds of trial and error.
16801 Euclid St.
Fountain Valley
California
805-895-8480
Located two blocks from Venice Beach's iconic boardwalk, Venice Beach Station assembles a fleet of rental bicycles and skateboards with which to cruise along the shore in style. Once equipped with a mount and protective equipment, customers can explore the 2.5-mile pedestrian-only promenade, where scores of artists and performers entice riders to stop and take in the vibrant culture mixed with solemn remembrance of fellow mimes crushed by invisible pianos.
100 Venice Way
Venice
California
310-399-1499
---