Culver City, CA Indoor Activities
---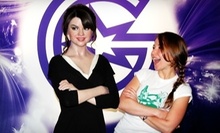 Use Thursday 10:00am - 12:00pm
---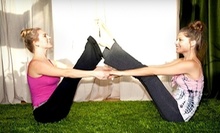 Vinyasa enlivens sinews with modifications for varying levels, save for first-timers & mixed-level Decompress class unites Hatha & Kundalini
Use Saturday 7:00am - 10:00am
---
Recommended Indoor Activities by Groupon Customers
---
Put on your psychedelic platforms or groovy leisure suits, and treat your ears to the original disco masters in an outdoor venue that looks as if it's a pulsating disco-tastic space ship. With today's Groupon, $18 gets you one ticket to see Disco Fever 3 on September 27 from 7 p.m. to 10 p.m. at the Hollywood Bowl ($35 value). The show features Kool & the Gang, Chic with Nile Rodgers, the Village People, and special guests Yvonne Elliman, Thelma Houston, and Maxine Nightingale. Rarely do such powerhouses of disco come together to get down and boogie in one venue, so you should go with your disco-lovin' hunnies and funky fans and get this Groupon.
2301 N Highland Ave.
Los Angeles
California
US
503-288-9237
Get a head start on All Hallow's Eve cosplay and horseplay with today's side deal: one VIP ticket to Halloween Eve Preview Night from 9 p.m. to 3 a.m. on October 30 at Marbella for $14 (a $25 value and a $3 will call fee included). Your VIP ticket gives you access to all four levels of Marbella, and given that dressing up and pretending to be something you're not is an American tradition dating back to the Spanish-American War, you can expect to enjoy killer costumes and top-quality people-watching long past the witching hour throughout the new venue.Is the "dracula" surrounded by sexy nurses? Monster Status: REAL. Only a real dracula is that charming.
6757 Hollywood Blvd
Los Angeles
California
US
At Jillian's, a nightclub ambiance pairs with modern décor and ample entertainment to host parties, catching the eye of Justin Bieber, who filmed the music video for Baby inside the colorful, 10-lane alley. An onsite restaurant and bar sates between-set hunger pains with a menu of American eats such as hot wings, burgers, and pizzas. On Fridays and Saturdays, Jillian's hosts club nights, during which a dance floor pumps music to let patrons perfect their strike-celebration dances, Thursdays host karaoke for amateurs to take the stage and croon their favorite tunes. Between songs or bowling frames, four billiard tables draw pool sharks, and an arcade of electronic games gets virtual adrenaline pumping. For birthday parties or interventions with a friend who refuses to give up granny-style bowling, a private suite hosts up to 50 people who can play Wii games on a giant projector screen.
1000 Universal Studios Blvd.
Universal City
California
818-985-8234
Before guest conductor Mei-Ann Chen marks her historic Pasadena Symphony debut with a program that features Tchaikovsky's Fifth Symphony, Grammy award-winning violinist James Ehnes showers the crowd with pulled and stuttered notes in a virtuosic performance of Korngold's Violin Concerto. Having performed in more than 30 countries and appeared with some of the world's most renowned orchestras, Ehnes tugs sonic rainbows from his stringed companion in a solo work that earned him Grammy, Juno, and Western Canadian Music awards. Captive audiences seated in Section B will have precious little time to slingshot their rose bouquets onto the stage before Mei-Ann Chen claims her place as the first woman to conduct the Pasadena Symphony's assemblage of gifted musicians from the motion-picture industry.
117 E Colorado Blvd., Suite 200
Pasadena
California
US
626-793-7172
The clatter of toppling pins resounds through the walls of the 89 locations of Bowling Centers of Southern California, which are scattered across Southern California, Nevada, and Hawaii. Each alley abounds with modern lanes and equipment, and many boast concession stands, lounges, and game rooms. The family-friendly centers host regular public bowling sessions and league tournaments. Many of the centers also host private birthday parties, which science has proven to be more fun than birthday parties covered by the paparazzi.
12655 Ventura Blvd.
Studio City
California
Kinetic Theory helps aspiring clowns, acrobats, and plate spinners learn the dangling ropes of circus showmanship with its performance-training program. Led by veteran performers including Cirque du Soleil alums and professionally trained aerialists, the intro to circus arts course incorporates elements of aerial arts, acrobatics, physical training, and basic object skills such as clown-car repair to provide a well-rounded primer on big-top performance. Classes are kept small so students can focus on learning essential skills necessary for safe tumbling and performance, while also improving fitness with a dynamic workout. Kinetic Theory's spacious studio features sturdy safety mats beneath a variety of ropes, silk drapes, and trapezes that provide the playful nostalgia of a playground without the muckraking toddler politics. Introductory classes are held Tuesday and Thursday evenings and Sunday afternoons for adults, while youth sessions take place Thursday afternoons for children as young as 6 years old.
5950 W Jefferson Blvd.
Los Angeles
California
US
---