Pet Services in Culver City
---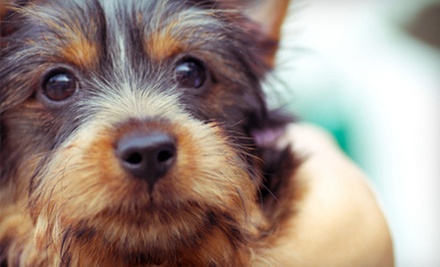 Los Angeles International Airport
---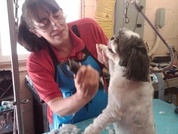 Cal Heights - Bixby Knolls - Los Cerritos
Use Today 8:00am - 2:00pm
---
Recommended Pet Services by Groupon Customers
---
A southerner by birth and Californian by the grace of her accounting career, Bark Williams's owner Deborah Sharp helps pet owners bond with pooches during grooming sessions at her hospitable doggy spa. Clients can clip claws and primp paws at the self-service stations, which come equipped with soaps, shampoos, brushes, and dog-care products. Bark Williams also houses a full-service grooming spa that spruces up pups with full washes, haircuts, nail trims, and teeth and ear treatment delivered without any kenneling, crating, or taunting from neighborhood cats. The shop keeps pups feeling as good as they look with optimum raw pet foods from brands such as Halshan Premium and The Honest Kitchen.
2901 Ocean Park Blvd., Suite 118
Santa Monica
California
US
310-664-7009
Cameo's skilled staffers tend and shear canine flocks amid hunter-green walls and sturdy wooden dividers. After a maximum of 10 tail waggers arrive each day, the staff nudges the pups to develop sociable demeanors through friendly play and brisk walks around the facility. When pups grow weary of needy human attention, they can lounge on soft doggy beds in front of large picture windows and bark at passing needy humans. Cameo's groomers wash dogs with all-natural John Paul Pet shampoo before slathering their coats with tea-tree oil and oatmeal conditioners. Once dogs are squeaky clean, groomers clip their nails, trim their fur, and teach them how to quote dog movies.
2494 E Main St.
Ventura
California
805-648-3800
Nestled amid the greenery of Topanga Canyon, the resort offers four to five hours of supervised outdoor playtime in open yards and trails each day. When night falls, fidos enjoy blissful dreams of fat, slow rabbits in a climate-controlled indoor shelter. The resort provides scrumptious dog food, but you can provide your own if your mutt lives exclusively on saffron-infused truffle risotto. Boarding at Topanga's 4,000-square-foot facility costs $39 per night for canines under 30 pounds ($46/night for non-neutered/non-spayed dogs) and $45 per night for pups more than 30 pounds ($52/night for non-neutered/non-spayed dogs). Owned and operated by a licensed guide-dog trainer, Topanga Pet Resort allows your canine companion to come home slightly more erudite than when he left, or at least liable to request opera music during belly rubs.
1776 Old Topanga Canyon Rd.
Topanga
California
In 1989, a pair of bakers founded the Three Dog Bakery with nothing but a $.59 biscuit cutter and three canine taste-testers. For decades, these humans have committed themselves to creating savory treats for pets with all-natural ingredients and a slow-baked process that locks in flavors and nutrients that dogs crave. Good Morning America profiled the shop in 2011 in a piece about gourmet pet treats, highlighting their personalized cakes made without butter, salt, or artificial colorings of any kind to fit in a healthy pet's diet. The selection includes playful baked goods ranging from snickerpoodle cookies to frosted pupcakes, as well as items they could chew on for days, such as plush toys, elk antlers, and new essays by Malcolm Gladwell. Customers can find healthy eats and helpful accessories at Three Dog's two locations in Pasadena and inside Los Angeles' World Famous Farmer's Market.
36 West Colorado Boulevard, Suite 3
Pasadena
California
626-440-0443
Kimberly Garsed founded Urban Dog Playcare to provide dog owners with a place to put their pets when they were otherwise engaged with work or play, thus making it possible for more people to welcome dogs into their families. Kimberly has more than 20 years of experience training dogs, and her core staff draws on more than 10 years of experience when attending to the health and happiness of their clients' canines. During playcare, four-legged friends roam around a 5,000-square-foot facility with three distinct play areas, one of which has a rubber surface to cushion dogs' feet and better facilitate their self-directed gymnastics competitions. Owners can keep tabs on their pooches through the facility's webcam, unless the staff and their charges have embarked on one of the frequent custom field trips to exotic, pet-friendly locales such as the beach.
Boarders visiting the hospitable facility eat nutritious meals and tire themselves out during vigorous walks before being escorted to slumberland by a skilled dog wrangler who continues to watch pets into the wee hours. Dogs sleep atop beds or blankets in kennel runs or crates with housemates. Because the dog wrangler stays with the doggies all night, the animals are never alone.
1909 Pontius Ave.
Los Angeles
California
310-445-1447
---