Restaurants in Cumberland
---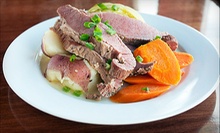 American-Irish infusions include potato skins & corned beef that cascade across plates inside jovial pub bedecked with copious memorabilia
Use Wednesday 11:00am - 4:00pm
---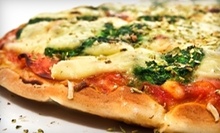 Use Monday 4:00pm - 9:00pm
---
Recommended Restaurants by Groupon Customers
---
The three co-owners of Geppetto's Grilled Pizzeria pair Italian classics and contemporary cuisine at their picturesque Federal Hill eatery, filling a menu with pasta dishes, buffalo wings, and both grilled and New York–style pizzas. Floor-to-ceiling french doors and wood accents imbue the space with Old-World charm, and a European-style courtyard beckons diners to sup al fresco during the summer months or freak January heat waves. Geppetto's group tours and luncheons steep customers in special prix fixe menus and demonstrations, and cooking classes impart students with the know-how to make their own morsels at dinner parties or when a rogue trillionaire kidnaps all the world's chefs to staff his continent-size kitchen.
57 Depasquale Sq.
Providence
Rhode Island
US
401-270-3003
Within Anand Indian Restaurant's bustling kitchen, a team of culinary alchemists carefully blends herbs and spices for its diverse range of Indian dishes. The chefs call upon North Indian traditions to craft tandoori plates, where a special clay oven locks seasoned juices inside cuts of meat better than a mime gives directions to the highway. Meanwhile, South Indian recipes forge Uttappam, Indian-style pancakes crowned with chilis and vegetables, and dosa, thin rice crêpes bundled with savory fillings. Meanwhile, more than 20 meatless dishes offer mouthfuls of creamed lentils, house-made cheese cubes, and sweet baby carrots imbued with light spices.
1060 Hope St.
Providence
Rhode Island
US
401-421-2600
The cooks at Best of India Restaurant slather chicken, lamb, seafood, and veggies in creamy yogurt dressings seasoned with Indian spices. Diners can sample curried jumbo shrimp with ginger garlic and coriander or lap up spiced vegetarian curries.
1060 Hope Street
Providence
Rhode Island
US
401-421-2600
India House's traditional tandoor oven emulates northern-Indian kitchens, expelling steaming Indian fare featured by Fodor's for its gently spiced dishes and extensive menu of both meaty and vegetarian eats. Courteous servers welcome appetites with the deep-fried shrimp fritter or vegetarian samosas stuffed with fluffy seasoned potatoes and peas undetectable by most princesses. Charcoal elevates temperatures inside the tandoor oven to scorching levels, blasting searing currents through a mixed-grill entree of jumbo prawns, organic chicken, and lamb kebab. The vegetarian navrattan korma's spicy cream bubbles up around freshly plucked veggies before chefs speckle it with nuts.
1060 Hope Street
Providence
Rhode Island
US
401-421-2600
A fountain gingerly gurgles at the center of Antica Roma's main dining room, whose exposed-brick walls and flower-adorned window edges recreate the atmosphere of an Italian piazza. Behind the picturesque scenes, chefs prepare authentic Italian dishes that complement the Old-World environs, drawing upon fresh ingredients from Antica Roma's own garden to whip up bowls of housemade minestrone and margherita pizzas. They adorn spaghetti with their own handcrafted meatballs, bake regular or multigrain penne with eggplant, and toss gluten-free fettuccine with tiger shrimp poached directly from Siegfried and Roy's underwater show.
Within the elegantly rustic digs or out on the veranda overlooking the Pearl Street Mall, diners can accompany classic Italian meals with an imported or domestic red or white vino from Antica Roma's award-winning wine list.
310 Atwells Avenue
Providence
Rhode Island
US
401-331-5000
Old Blue Eyes casts his piercing gaze across the red-walled dining room as the opening strains of "Strangers in the Night" drift into the ears of diners seated at tables dressed in white linens. The aura of a refined 1960s club permeates every nook and cranny of Trattoria Roma, thanks in part to the assortment of framed Sinatra records and photos displayed behind the bar and the ever-present Rat Pack tunes playing throughout the day. Since its opening 22 years ago, the eatery's owners have fostered a cozy-yet-refined atmosphere bolstered by authentic Roman cuisine forged from local ingredients. This tradition continued eight years ago when veteran employee Shawn Mason took over the restaurant's reigns from the original owners. Though he brought his own brand of hospitality to the mix, he made sure to uphold the kitchen's tradition of high culinary standards.
As Shawn cheerfully chats with regulars scattered throughout the dining room and at the bar, his partner, chef Matthew Prokopchak, can be found architecting Italian eats with his crew in the kitchen. Having grown up learning the conventions of Italian cooking from his mother and aunts, chef Matthew integrates some of his family's recipes into the menu, imbuing his dishes with a sense of history and tradition. He assembles his arsenal of fresh produce –from lush tomatoes to fragrant basil– from local farms. While the menu remains largely unchanged throughout the year, each night the friendly service staff sidles up to tables to detail the day's seasonal specials via verbal recitations or interpretive dances.
Amid the dining room's ruby walls, a series of Orfeo Tamburi lithographs depicting post-WWII Rome––reportedly the only complete Tamburi collection in the United States––hang in elegant frames. The décor works in concert with the savory wafts of garlic emanating from the bustling kitchen to evoke a vintage Italian atmosphere.
310 Atwells Ave.
Providence
Rhode Island
US
401-331-5000
---