Restaurants in Cumberland
---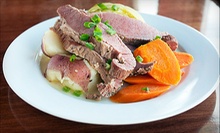 American-Irish infusions include potato skins & corned beef that cascade across plates inside jovial pub bedecked with copious memorabilia
Use Wednesday 11:00am - 4:00pm
---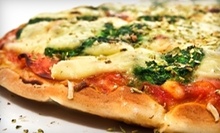 Use Today 4:00pm - 9:00pm
---
Recommended Restaurants by Groupon Customers
---
Trattoria Roma's wood oven permeates the restaurant and marketplace's walls with the enticing fragrances of authentic Italian pizzas, calzones, and specialty entrees. As explained by GoLocalProv, "to get to the dining room, you must first walk through the Italian market," where "you'll see every manner of cheese and cured meat on tempting display." In the elegant dining area, white tablecloths hold plates of palatable pan-fried calamari rings and jumbo sea scallops over risotto milanese, and wood-fired pizzas and calzones emerge from the oven. Framed photos of colorful, Italian-style villages flank a flat-screen TV, mixing classic and modern like a cell phone programmed in Latin. For more casual hunger quenching, the culinary team assembles freshly sliced subs, paninis, and salads in the traditional Italian marketplace, which also showcases an olive bar brimming with more than 10 different varieties. Shelves of imported groceries and olive oils, like books that can talk, beg to be perused. Sips of cappuccino and wine fuel after-dinner conversation, while tantalizing displays of italian desserts induce cravings for cannoli.
310 Atwells Ave.
Providence
Rhode Island
401-331-5000
Nature is responsible for stimulating all the senses at Cresta Bar & Ristorante, where diners savor fresh ingredients as they bask in the shade on an outdoor patio. Fresh flourishes such as foraged mushrooms and homemade pasta embellish the entrees, which include panko-encrusted cuts of veal and chicken. More than 60 wines pair with the meals so that guests don't have to determine complementary flavors by licking a color wheel. Diners can eat either inside or on the terrace, where marble-topped tables reflect the leafy branches that criss-cross overhead, leaving matte wrought-iron bistro chairs to lounge on the flagstone patio.
100 Main St.
Pawtucket
Rhode Island
Sakura embraces the gustatory traditions of Japanese and Chinese cuisine by forging an eclectic menu with vibrant sushi, sizzling hibachi items, and classic Chinese dishes. The hibachi chefs combine showmanship, culinary skill, and fire-safety lectures as they dexterously shuffle chicken, steak, or seafood across a grill erupting with flames, creating toothsome entrees directly in front of their hungry spectators. Meanwhile, kitchen staffers drape double-cooked pork with a spicy hoisin sauce, and sushi-smiths artfully slice fresh, fire-retardant fish for each order of sashimi and roll maki in a cylinder of rice and seaweed.
Within the dining room, crimson walls sport such personalized decorative accents as a stenciling of the restaurant's name and a finger-painting of its business license.
809 Washington St.
Attleboro
Massachusetts
508-639-5390
Reali's Fine Italian Cuisine's owner and chef, Jim Reali assembles meats, pastas, and sauces into hearty Italian creations using cooking skills first cultivated when he was 16 years old. Diners choose between upscale offerings such as veal and chicken parmigiana or call the waiter via foghorn to order seafood selections. Downpours of rich tomato sauce cascade over pastas, and, as meals unfold, eaters can repurpose pieces of penne as straws to sip white, red, and blush wines sourced from domestic and international vineyards.
79 Putnam Pike
Johnston
Rhode Island
401-231-3004
Chef Nick Iannuccilli's family transplanted from Bologna, Italy, to Providence when the budding epicurean was young, sealing his dual status as a true Italian and a Rhode Islander. Though his cooking style incorporates some North American flair, his allegiance to the cuisine of his homeland undoubtedly led to the success of his first restaurant, Florentine Grille, where his culinary skills received the lick of approval from Frank Sinatra and the former president of Italy, Oscar Luigi Scalfaro.
Today, Iannuccilli turns his full attention to Italo American Grill, where he continues to create his signature Italian dishes, including the pescatore baked scrod he once served to Sinatra. Along with the tasty favorites, it's Iannuccilli's willingness to cater to guests' requests—be it for a gluten-free pizza or a prosciutto named after them—that keeps happiness flowing.
1195 Douglas Ave.
North Providence
Rhode Island
401-334-3663
When they first opened Belly Rules, Chef Valter Monteiro and Melissa Gilmete didn't even bother to hang a sign. Instead, they chose to let their cooking speak for itself, whipping up a menu of meaty breakfasts, lunches, and dinners that have attracted the attention of local diners and reporters from the Johnston Insider. The chefs labor over their renowned country-fried steak and eggs, pig-roast platters, and custom burgers while supplementing the menu with Saturday-night specials such as firecracker shrimp or tequila-sunrise scallops. The restaurant hosts special fundraisers on Friday nights and welcomes guests to Monday Cruise Night, where clients can show off their new cars, classic automobiles, or Tonka trucks.
2131 Plainfield Pike
Johnston
Rhode Island
401-383-9004
---