Cupertino, CA Outdoor Activities
---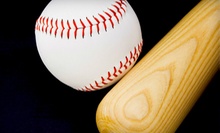 Bats swing away at 140 baseballs that barrel toward the plate at one of four speeds in cages with 35-foot ceilings
Use Saturday 9:30am - 9:00pm
---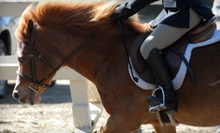 Students learn to ride and correctly handle their horses during private lessons helmed by a specialized instructor
Use Today 8:00am - 5:00pm
---
Recommended Outdoor Activities by Groupon Customers
---
Surrounded by craggy peaks, three men in bright-red helmets stand in the midst of wilderness, surveying the mountains around them as their group of hikers break for a snack on the rocky ground. This interface with the majesty of nature is all in a day's work for this trio of adventurers—Paul Mangasarian and Jakob and Daniel Laggner. Still, their passion for open-air exploration grows with each expedition they lead. Paul, Jakob, and Daniel cofounded Treks and Tracks with the dream of orchestrating excursions into nature that combine ancient means of travel—such as sailing, horseback riding, and hitchhiking on a centaur—with modern sports ranging from surfing to rock climbing. Though they focus on introducing novice outdoorsfolk to unspoiled wilderness around the world, Treks and Tracks' cofounders also strive to leave the awe-inspiring surroundings they visit as pristine as they found them by rigorously upholding practices of environmental stewardship on each expedition.
15000 Skyline Blvd.
Los Gatos
California
Bay Area Expeditions' experienced outdoorsmen, with backgrounds ranging from U.S. military service to botany education, lead students on instructional excursions to bolster wilderness-survival skills. Classes help students identify edible or medicinal plants, earn ASHI certification for first aid, or learn primitive skills. Overnight expeditions lead guests beneath the starry skies of Big Sur or snowshoeing tours through the Sierra Nevadas' snow-dusted basins.
Page Mill Rd.
Los Altos
California
415-496-6698
In 2011, James Bowser tried setting the Guinness World Record for the world's largest human-heart formation. Eleven thousand people established the record elsewhere, but few showed up for James's event. That same year, another organization broke the record for the world's largest water-balloon fight with 175,141 balloons chucked at 8,957 attendees. On hearing of their success, James—a lifelong water-balloon-fight devotee—decided to make another bid for the record books. For the World's Largest Water Balloon Fight 2012, he aims to congregate 15,000–30,000 participants to wage a war of water with half a million balloons. Alongside balloon-flinging festivities, the World's Largest Water Balloon Fight 2012 also hosts giveaways and raffles supplied by onsite vendors, a battle of the bands, and the chance to break the record for the longest clothesline.
344 Tully Rd.
San Jose
California
The echoes of hooves clopping against loose dirt carry across California Riding Academy's expansive training arena, where founder and director Jessica Harrell can often be found jumping warmblood ponies over fences or leading lessons in various riding styles. Jessica helms a staff of experienced instructors and trainers who all specialize in one area, technique, or style of horse-riding; students can team up with resident cowgirl Joanne Morrison for lessons in the Western riding style or trot alongside silver medalist Teri Dosen and her dutch warmblood during dressage lessons. Though their combined experience adds up to more than 100 years, the instructors would be nowhere without their stable of well-trained horses and ponies, who carry themselves with poise and dignity through competitions, summer camps, and stagecoach robberies.
100 Ansel Ln., Barns 2 & 15
Menlo Park
California
650-740-2261
The extensive facilities of MVP Arena, which include indoor and outdoor fields, a basketball court, and batting cages, host visitors for an array of sports leagues and classes. Adults hone their skills in training classes and then unveil new maneuvers on one another during league games for basketball, flag football, and soccer. Bat wielders practice swing timing and charging the mound without fear of retaliation in the batting cages, where regulation pitching distance and a mural of the San Francisco Bay recreate the excitement of practicing in a big-league stadium. In addition, three of the cages feature virtual pitchers that help batters time ball delivery at different speeds or a random assortment of slow, medium, and fast.
696 E Trimble Rd., Suite 30
San Jose
California
408-750-0929
Certification from the United States Professional Tennis Association attests to Cole Shelton's expertise, built upon a foundation that includes more than a decade of coaching tennis and playing at the college level. When he founded Tennis With Cole, his aim was to propel budding athletes, particularly juniors, toward champion status with private or group lessons. At local courts he tackles teaching with a method that seamlessly blends tactical and strategic approaches to the game, incorporating actual match play. After sessions, Cole doles out feedback, such as how to predict an opponent's next shot or a winning lottery number, before sending students off to practice at home.
Hillsdale Ave. and Cherry Ave.
San Jose
California
---