Shopping in Cutler Bay
---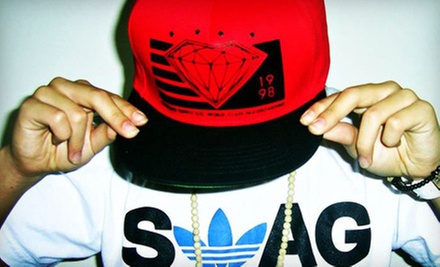 ---
Recommended Shopping by Groupon Customers
---
In the digital age, the perfectly penned paper missive has quintupled its dramatic impact as a means of communication. Get physical with today's deal: for $15 you get $30 to spend on anything at Paper Emporium. Since 1984, this cozy gift boutique has been scouring the world of paper products to unite the finest stationery, cards, and journals under one roof.Renaming himself Emperor Deft-Digits the First, his whimsical creations (small tables, frogs that really jumped) charmed the unaffiliated tribes until they all pledged their allegiance to him in exchange for his paper-bending secrets. Soon, of their own crafty compulsion, they expanded his kingdom, building paper churches, schools, and a primitive paper version of whirlyball, played in paper cars, in a paper shelter, but with a plum rather than a paper ball, for though paper could be freely folded, to crumple it was an abomination.
231 Aragon Ave
Coral Gables
Florida
US
Named for owner Marcella Prieto's Pekingese dog, Cocoa Couture takes trendy aim at traditional women's clothing boutiques that do not literally charge an arm and a leg for their merchandise but metaphorically do. No item at Cocoa Couture costs more than $100. Clients can visit the boutique to peruse the fiscally fit fashions that Prieto has brought in from designers (such as Lush, Pepper, and Tea Fashion) based in New York, Los Angeles, and Miami. Ever mindful of the shape-shifting chameleon that is the fashion world, Cocoa Couture changes its in-store and online inventory on a weekly basis. Recent items, however, have included a blue-bibbed tunic ($35) for sloughing through alligator-infested swamps and a long, Grecian-like purple dress ($60) for post-racquetball trips to the bar.
11315 South Dixie Highway
Miami
Florida
The family-owned downtown boutique has been outfitting the area with luxury accessories for the past 31 years. Splurge on a Lucien Piccard watch (starting at $200), try on a new pair of Prada or Ferragamo shades (starting at $260), or pick up a pair of cubic-zirconium earrings ($200). Ely-M also stocks one-of-a-kind jewelry, pieces by Lalique and Jay Strongwater, and Movado watches. This Groupon is applicable toward any merchandise excluding Cartier, Tag Heuer, and Mont Blanc.
48 East Flagler St.
Miami
Florida
At Lady Lux Boutique, visitors can peruse a wide, frequently updated selection of stylish threads and accessories that add pizzazz to any outfit. A helpful staff of fashion-forward style experts helps customers pick out flattering items that also don't break the bank open with an expensive hammer. Selections from designers such as the Ark Clothing Company, Collective Concepts, and Solemio spiff up any wardrobe, with a multitude of items priced under $100. Check out an Akualani maxi dress ($63), Oxford Circus print shorts ($48), Holy-G beige top ($52), or Rubber Ducky cutout dress ($89). Additionally, customers will receive an extra 20% off accessories, belts, and purses, ensuring no outfit will rival the blandness of a saltine-cracker milkshake.
3660 Coral Way
Miami
Florida
Tom and Ryoko Nadeau founded Nadeau in 1991 with a goal of providing customers with quality home furniture and a wealth of product knowledge. The business quickly evolved into something larger: The duo now has 19 retail stores and a team of buyers who travel the world in search of one-of-a-kind, handcrafted pieces of solid-wood furniture. Nadeau has earned mentions from numerous media outlets—including the Washington Post, CBS Chicago, and Charleston Home magazine—for its unique selection, which includes a cache of more than 6,000 pieces ranging from rare side tables and chairs to dining sets. Pieces are never mass-produced, allowing customers to bring the flavor of different cultures into their homes or provide an adopted tree with a new friend.
4196 SW 74th Ct.
Miami
Florida
Chris and Karen Williams combined more than 25 years of optical experience when they created Specs Appeal Optical and furnished it with designer frames and experienced eye-care professionals. The boutique's hand-selected licensed opticians and sales staff treat each pair of eyes that wander in through the door with absolute care and attention. The team works together by first providing eye exams and then helping direct clients to the frames best suited to their face shape and personal style. Customers select frames from among such sought-after brands as Chanel, Gucci, Prada, Ray-Ban, and Oliver Peoples. Those interested in contacts can park themselves at attractive rosewood stations where they can get fitted with contacts or evaluate their ocular swag in the desktop mirrors.
11417 S Dixie Hwy.
Miami
Florida
---