Things to Do in Cutler
---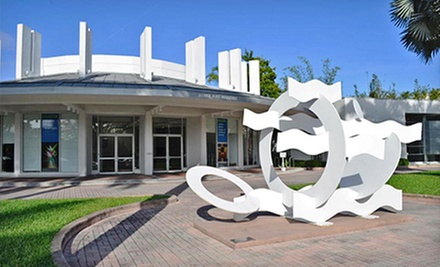 ---
Recommended Things to Do by Groupon Customers
---
Ever since football became too rambunctious for the limited confines of mess halls, it has been performed in stadiums. During this year's Pro Bowl weekend, celebrate the only sport legally allowed in football stadiums with today's Groupon. For $7, you get a single-day entry to the South Florida FanFest at the Miami Beach Convention Center—tickets normally cost $15 at the door. The exhibition, a 200,000-square-foot sports-memorabilia and card show, is the largest of its kind in Florida and is open from 10 a.m. to 8 p.m. on January 29–31. There is no purchase limit, so pick up a few to attend all three days. Gift a few to your old high-school football teammates to relive the glory days of the Bash Brothers.
1901 Convention Center Dr.
Miami Beach
Florida
US
Lucky Strike throws state-of-the-art bowling and a pinch of swanky atmosphere into a blender, presses "puree," and serves you a thrillciting bowling smoothie. Saddle up to one of 14 lanes and spend two full hours basking in bowling-induced merriment ($45 per hour). Lace up the Louboutin-designed foot coverings (shoe rental is $4.95 per person) to achieve the ideal footing for perfecting your roll, bagging some turkeys, and settling a long-running score with a shifty-eyed mail carrier. Included in the deal is a $10 food voucher, so when stage fright results in trembling limbs and fingers, you can quell the shakes with some homemade roasted-garlic hummus or mac 'n' cheese bites.
1691 Michigan Ave.
Miami
Florida
305-532-0307
Though threading macaroni noodles and Smarties on a guitar string makes an amazing edible instrument for a science fair, a sparkling handmade necklace or bracelet can catch the judge's eye and win your air-purifying elliptical machine first prize. Customize your accessories with today's deal: for $19, you get a pair of jewelry-making classes at Bijoux Design Creations (a $50 value). Learn the skill sets of stringing beads and creating earrings. You'll walk away with beautiful beadwork that turns heads like snow owls and the skills it takes to make more; classes do not include the cost of materials (most people spend between $10 and $20).
4776 SW 72nd Ave.
Miami
Florida
X-treme Rock Climbing offers a vertical maze of more than 14,000 square feet of climbing. USA Climbing–certified route setters mark basic paths for beginners, along with challenging roofs and overhangs for more experienced scalers. The routes change often, lending a layer of surprise to each return visit. Skilled instructors also teach students to master indoor and outdoor rock-climbing techniques, which they can use to blaze new paths at parks or reach top-shelf cereal boxes in grocery stores. In addition to climbing, X-treme Rock Climbing helps patrons achieve physical-fitness goals with yoga classes, a fitness center, and an onsite pro shop.
13972 SW 139 Ct.
Miami
Florida
Led by the baton of Italian guest conductor Nicola Luisotti, the Cleveland Orchestra brings 94 years of euphony-crafting experience south to Miami's Adrienne Arsht Center. The concerts kick off with the sprightly strains of Verdi's Triumphal March and Ballet Music from his opera Aida, sweeping audiences up in romantic drama while sparing time-traveling gossip columnists the burden of keeping up with ancient Egyptian love triangles. Acclaimed soprano and MacArthur fellow Dawn Upshaw joins her instrument-bearing brethren to essay modern composer Osvaldo Golijov's Three Songs for Soprano and Orchestra in its Miami debut—a work composed specifically for Upshaw. Prokofiev's Symphony no. 5 finishes off the evening, its grandeur composed in the throes of World War II to glorify the majesty of the human spirit and show up all his snobby friends who said that writing four symphonies was "pretty good."
1300 Biscayne Blvd.
Miami
Florida
305-949-6722
The Miami Art Museum houses an ever-growing collection of more than 600 works of art, with pieces by such art-world luminaries as Chuck Close, George Segal, and Robert Rauschenberg. Spend 12 months getting physically lost and emotionally found in abstract landscapes of paint and perspective with a one-year membership. Individual memberships grant unlimited free admission to one person. The dual membership is ideal for families because it admits two individuals in the same household and any children under the age of 18. The one-year membership also includes invitations to exclusive members-only events and preview parties at the Miami Art Museum, without the need for a Members-Only jacket.
101 West Flagler Street
Miami
Florida
---