Nightlife in Cuyahoga Falls
---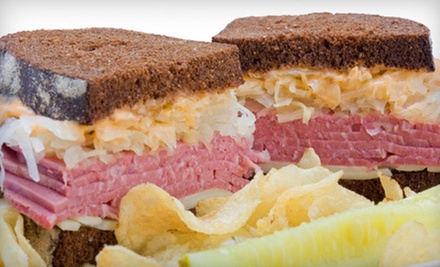 ---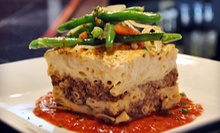 A combination of traditional Greek and Indian dishes served amid potted ferns, soaring ceilings, and natural sunlight
---
Recommended Nightlife by Groupon Customers
---
Comedy has come a long way since Trog the Cavemedian and his side-splitting "murder the audience" act. See the progress for yourself with today's Groupon: $5 gets you admission to an improv show by comedy troupe Something Dada (a $10 value). There's nothing funny about free parking, but you get that, too.
1900 Superior Ave.
Cleveland
Ohio
Cleats possesses the official chicken wing of the Cleveland Indians, which is dipped in an extra-hot bronze sauce and guarded by multi-headed beasts. Despite the selection of more than 50 domestic and imported beers and more than enough sports fans to match each one, the establishment is family friendly and happy to serve patrons with progeny in tow. Cleats' menu is a cornucopia of casual American fare, with starters such as spinach artichoke dip ($6.99) and beer-batter-fried pickles ($4.99) at hand to combat raging appetites. Keep it light with a Greek salad ($9.99 large, $7.99 small), or tuck in for the night with a Texas hold 'em burger ($8.99), a beef slab fitted with a cowboy hat of bacon, cheddar, onion rings, and house-made barbecue sauce. If you prefer to keep your meat bites separate from your carb bites, choose from 22 signature wing sauces and order up a combo plate of eight wings and six soft pretzel sticks ($9.99).
8389 Mayfield Road
Chesterland
Ohio
Wonder Bar delights patrons with delicious drinks, delectable gastropub fare, and the promise of frequent live music. The comprehensive drink menu boasts a meaty assortment of 30 beers and 15 wines, including selections from the local Great Lakes Brewing Company. Palates craving a sip of something stronger can patrol a list of Wonder Bar's inventive cocktails, such as marriage of red rice sake and sparkling wine known as the Sake-Tini, or the debauched childhood favorite known as the Root Beer Float (Three Olives root-beer vodka, Bailey's, and Coke). Channel the romantic potential of a retired Pog designer while drinking absinthe La Louche —served traditionally with water and sugar cube—or pair the herbal elixir with sparkling wine for a Death in the Afternoon.
2044 E 4th St.
Cleveland
Ohio
216-298-4050
Rav's Creekside provides myriad selections of savory American pub plates, a lively sports-bar scene, and a lovely patio view of neighboring Tinker's Creek. Fresh and homemade entrees pepper the expansive menu. Nurse your tongue's nascent appetizer phase by munching the succulent calamari ($7.99), its fried sea-delights dusted in seasoned crumbs and served with a homemade cocktail dipping sauce. Indecisive nibblers can diversify their palate portfolio with the Creekside sampler's mélange of onion rings, cheddar cheese and bacon skins, mozzarella sticks, and their choice of six chicken wings ($8.99), while an array of options befalls fans of meat-hugging breads. The Creekside burger sports a slab of char-grilled sirloin sidekicked by homemade coleslaw and fries ($7.50), just as the open-faced strip steak sandwich ($8.99) has inspired countless meaty wrestlers to finally remove their rhinestone masks. Your Groupon is also good for drinks, of which 16 sit on tap and 40 are in bottles behind the wooden bar.
9224 Darrow Rd.
Twinsburg
Ohio
Over the years, Reddstone's outdoor patio has earned it plenty of love. In 2011, CBS Cleveland named Reddstone among the best outdoor bars in the city, and Cleveland Scene magazine deemed it the top spot for patio drinking. Though the patio garners a lot of attention, especially during its weekly pig roasts over the summer, Reddstone slyly offers the Detroit Shoreway and Battery Park community a dining experience to match its patio's growing legend. The chef keeps the kitchen open until midnight every night, whipping up signature burgers and small plates to accompany 20 craft beers on tap. Rather than playing the "Star Spangled Banner" on a squeaky chair, Reddstone's management team keeps visitors thoroughly entertained by booking weekly live performances from acts that range from standup comedians to jazz musicians.
1261 W 76th St.
Cleveland
Ohio
Few bars can boast a brunch menu as notable as their pours. But Around the Corner's hot coconut cakes nabbed it a spot on _Cleveland Magazine_'s 30 Best Breakfast Dishes in 2012. Inspired by head chef Sonny Zarlis's Indonesian upbringing, the light, crispy pancakes include coconut milk, a touch of Coco Lopez, and grated coconut on top—his mother's recipe. But when morning fades to night and the sun becomes a mere puddle of butter in the sky, the eatery fills the brunch-shaped hole in customers' bellies with a dinner menu of burgers, wings, and fajitas. Accompanied by local and craft beers, meals unfold amid live music and TV screens.
18616-20 Detroit Ave.
Lakewood
Ohio
---