Things to Do in Cypress
---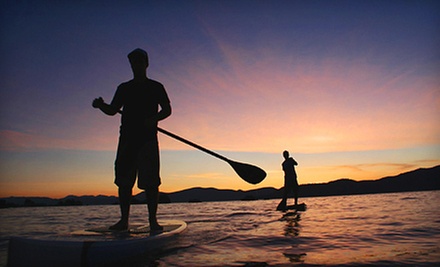 ---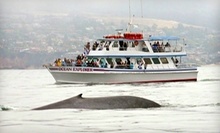 Spy sea lions, dolphins, and multiple species of whales from a 65-foot cruise ship with a sundeck, wraparound seating, and a snack bar
Use Tuesday 6:30am - 9:30am
---
Recommended Things to Do by Groupon Customers
---
"Shake it!" your headset blares as you push on the jet's throttle. Your nose tips, the ground becomes a wall, and you're diving in a last-ditch effort to lose the fighter behind you. Its shots go wide and it swoops overhead, leaving you to level out just as the radio tower ends the dogfight: "Knock it off, knock it off." With your wheels back on the ground, you step out of the simulator's cockpit and catch your friend's eye: Missed me.
At Flightdeck Simulation Center, aerial battles between friends take place on the ground. The screens of nine authentic military fighter-jet simulators broadcast the same views a pilot might see while soaring at 600 knots. Though the simulators remain on the ground, all the controls, radio orders, and UFO weigh stations mirror those encountered on an actual flight. People may come in with a friend or with a party, where guests and friends target one another during virtual missions, from the introductory Fox-1 experience to the three-hour Viper-1 course, which covers advanced topics such as missile avoidance. After team-building events, participants can even receive personalized dog tags as souvenirs.
Flightdeck Air Combat Center also has an exact replica of a Boeing 737-700 cockpit. Inside, a 180-degree wraparound screen transports pilots to airport runways from around the world. Commercial-flight drills present common challenges such as piloting through turbulence and wiping spilled coffee off the controls, testing visitors between their takeoff and landing.
1601 S Sunkist St., Suite A
Anaheim
California
Located at a private patio and dock upon the 880-acre Newport Harbor, Newport Fun Tours launches self-guided or escorted jaunts that allow customers to explore the harbor's sandy beaches, gentle surf, and varied marine life. Guests ride down the beachfront boardwalk on bicycles, tandem bikes, and surreys, taking in the sights of moored yachts and million-dollar mansions with moored yachts on their roofs. Chatty, knowledgeable Newport natives lead segway tours on land, and water excursions depart via kayaks, electric loungers, and 10-person electric boats. As days on the water conclude, numerous dockside dining establishments tend to appetites, all offering parking for boats and passenger whales.
3101 West Coast Highway
Newport Beach
California
949-675-8433
Devoted surfers, sailors, and wine connoisseurs Nate and Shane channel their passions for sea waves and sips into scenic beverage cruises offered by Corks Away. Together they pilot the vintage 1961 sailboat, Wildflower, which they refurbished themselves, and its sister vessel, the Sunflower, through the waters surrounding Long Beach. Though the content of the cruises varies by season, past voyages have included mimosa flights, wine tastings, and pairings of gourmet appetizers. The duo can even accommodate large groups with their 72-foot 1920s wooden schooner, the Dirigo II, which stays docked to board 25 passengers comfortably.
194 Marina Dr., Suite 101
Long Beach
California
"The thing I like most about pottery is that it's a learned skill," says Clay Wood, the owner of the pottery studio that bears his name. "It's something you can just sit down, and practice, and just learn it. You don't have to be innately artsy or creative, it's just something that's learnable and fun for everyone."
It's true that Clay has had a bit of a head start in the art form: he began developing his classically harmonious ceramic forms starting at age 12. But he also knows what it's like to be just another weekend hobbyist. Before starting the shop, he had established a career managing high-rise condos while dreamily spinning his desk chair like a pottery wheel. Now that he's dug his hands back into the clay, he and his fellow instructors design adult and children's classes to meet the needs of aspiring ceramicists and more casual crafters alike.
All the throwing, glazing, and hand-building goes down in a colorful creativity zone bursting with incandescent designs. The studio is equipped with eight electric pottery wheels, two large hand-building tables, an entrancing in-wall kiln, and a wellspring of stunning glazes for both handmade projects and prepared forms awaiting only a painter's brush.
406 E 1st St., Unit B
Long Beach
California
---