Things to Do in Cypress
---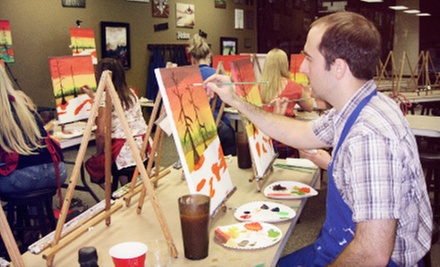 ---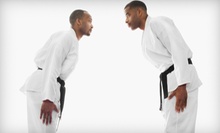 Youngest son of Brazilian jiu jitsu and MMA creator teaches students controlled fighting methods and self-discipline during classes
---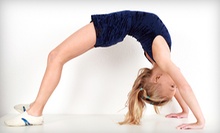 Kids can learn tumbling, cheerleading, or stunting during three-day, full-day camps that include lunch, camaraderie, and helpful instruction
---
Recommended Things to Do by Groupon Customers
---
Steve and May Chadick both grew up surrounded by American saddlebred horses, making their rounds as competitors in the southwest circuit before becoming trainers as adults. The pair channels more than 50 years of equine expertise into Vantage Point Farm. They and their highly trained staff devote themselves to priming green riders and steeds for recreational trots around arenas as well as struts in front of show judges. Riding instructor Amy Wagoner Cain, a pupil of nationally renowned teacher Dorothy Dukes Ford, leads lessons for equestrians aged 5 or older. Amy helps novice riders to mount gentle, reliable horses and progress from private sessions to group instruction, and her more seasoned students canter atop less compliant steeds.
At day camps held during winter and summer breaks, kids enjoy daily rides and tackle responsibilities in the barn including grooming and tacking. Overnight camps for advanced riders culminate in an end-of-week horse show. The farm also boards horses in stalls spacious enough to also accommodate the ventriloquists who speak for them.
8514 Katy Hockley Rd.
Katy
Texas
281-787-9051
M2 Sports supplies adrenaline seekers the skills and gear to temper waves, powder, or concrete. M2's snowboarding division carries name-brand planks from brands such as Forum and Lib Tech, as well as all colors and styles of snow-ready gear. A Smith Holt men's snow helmet ($89.99) protects the brain's ever-expanding library of memorized zip codes, and Volcom Believer men's snow gloves ($109.99) keep hands from making skin-to-snow contact. Skate enthusiasts can peruse an exhaustive array of decks, long boards, and protective gear, tuning out chatty crossing guards with Skullcandy's iCon 2 on-ear headphones ($29.95), whose headbands are lined with rubber grips to prevent slips midride. M2 also equips wakeboarders with name-brand gear from Ronix and Hyperlite, and fosters future enthusiasts through lessons and summer wake camp held at a private lake.
6375 Westheimer
Houston
Texas
713-433-4475
At K2 Academy of Kids Sports, kids scurry around a 6,500-square-foot space filled with trampolines, balance beams, and rope swings spread beneath an overhead zipline. Accompanied by parents or legal-guardian holograms, children can roam free across the indoor terrain during open-play hours or join gymnastics, cheerleading, and tumbling classes, in which instructors tailor lesson plans to each age group with an emphasis on fun, collaborative learning. Gymnastics sessions encompass everything from basic rolls to intricate dance routines, whereas cheerleading skills progress from simple tumbles to the ultimate inspirational challenge—making Eeyore indifferent. Tumbling pupils master cartwheels before tackling cardio training and jumps, further honing their skills in workshops and clinics designed as intensive studies of each activity.
During the off-season, day camps, summer camps, and Playsmart—a childcare program molded around school hours—keep teensy feet distracted from toppling store-window displays of fragile "Kick Me" signs. Year-round, the S.O.A.R. program tweaks the traditional gamut of classes for athletes with special needs.
12603 Louetta Rd., Suite 114
Cypress
Texas
281-655-7272
Messages such as Are You Game? and Bang are scrawled in glow-in-the-dark graffiti on the black-lit walls of one of Indoor Tactical Sports' paintball and airsoft fields. The two-story facility, which declares itself the only indoor paintball arena in Houston, is air-conditioned to a crisp 65 degrees and houses a total of four fields where players can shoot at their friends with no-cleanup Reball paintball pellets or BBs from Airsoft guns. To ensure fair play, one referee for every 10 players patrols the fields and prevents participants from shooting their opponents in vulnerable spots, such as the working screenplay they carry around. In the gear shop, players can rent all the gear necessary to play, including guns, masks, ammunition, and air canisters. Visitors can also buy equipment or bring in personal guns and gear for repairs.
14300 Cornerstone Village Dr. , Suite 520
Houston
Texas
US
281-453-4993
---