Dale City, VA Spa and Massage
---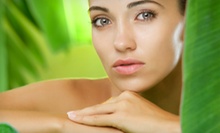 Aestheticians apply a choice of chemical peels designed to treat a variety of skin issues from fine lines to acne
---
Recommended Spa & Massage by Groupon Customers
---
When Maureen Schantz founded Alternative Health Associates more than two decades ago, she did so with a simple concept in mind: bring together professionals who can tend to customers' every aesthetic need. She and her staff do just that with a wide range of cosmetic services, ranging from Maureen's specialty, electrolysis, to Botox and waxing. But their services also extend into aspects of health. Swedish and deep-tissue massages disperse aches, and a protein-oriented weight-loss program builds muscle and gets rid of fat faster than a firm handshake from a really muscular cousin.
215 North Washington Street
Alexandria
Virginia
US
703-683-5736
Whether you've been looking for a new color to crown your cranium or a pretty polish for your perky piggies, today's deal has you covered from head to toe. With this Groupon, you get $100 worth of services from L'azur Salon and Spa for $50. The Aveda concept salon and spa will smooth and soothe whatever section of your surface area aches for tending, from your freshly sore Olive Oyl tattoo to the love-bite scars from your pet gull. Because you can apply this deal to any of L'azur's myriad services, the hard part might be deciding which parts of you should get special treatment.Major Massage: The leader of the rag-tag unit barks out his orders in a calm, soothing tone. Armed with an array of warm, fragrant oils, this is one commando who's always "good with his hands."
3219 Duke St.
Alexandria
Virginia
US
With decades of combined experience across all fields of beautification, the Bellini family is adept at handling a multitude of salon services. They offer haircuts for women ($50+), men ($35+), and children ($20+). A variety of coloring, styling, and highlighting treatments are also available for those interested in a new 'do without the trim. Remix fingertips with a full set of acrylic nails ($60) or a relaxing mani-pedi ($55). If it's wispy, they'll wax it (with services starting at $10); if it's tense, they'll relax it. Multiple massage styles are offered, including the traditional 60-minute Swedish ($85), more intense deep-tissue ($100), or motherly pre/postnatal ($90). You can also put your $100 toward MedSpa services at Bellini from Dr. Scott M. Gerrish & Associates, which include Botox, Thermage, and laser hair removal. Call for more information or a consultation for these medical procedures.
112 Pleasant St. SW
Vienna
Virginia
As its name implies, Spa World blends the spa traditions of diverse cultures into a contemporary oasis dedicated to total-body relaxation. The 50,000-square-foot, modernized jimjilbang—a traditional Korean bathhouse—admits guests 24 hours per day, seven days a week, giving them up to 12 hours of open access to a bade pool, a sauna, a fitness center, and seven poultice rooms.
One of the spa's many focal points is the bade pool, which targets sore muscles with nine water-blasting massage stations, including a neck shower and a bench jet that sprays high-pressure water onto feet, calves, waists, and sides to increase blood circulation. Nudity is required to keep the pool free of clothing-based contaminants. Blue onyx, amethyst gems, and ice arch overhead in the seven poultice rooms, each of which is artfully decorated and designed to detoxify bodies. Rare substances comprise the walls and ceilings; Korean red clay radiates purifying bio-infrared rays, and salt rocks imported from the Himalayas expand pores. To nourish guests who choose to remain for the day pass's full 12 hours, the onsite restaurant sometimes pilfers these salt rocks to help flavor its authentic Asian cuisine.
13830 Braddock Rd., Ste. A10
Centreville
Virginia
703-815-8959
We can slow your world down and let you 'Feel The Experience' of really being taken care of, even in a big city like LA!
105 William Street
Fredericksburg
Virginia
US
Hardwood floors, soft lighting, floor-to-ceiling windows, and abstract floral paintings comprise Spa Epoche's 3,500-square-foot studio, ensconced in Renaissance Hotel's Patriot Place. Only those aged 17 and older can enter, and all cell phones must be turned off. Inside the quiet space, Aveda's flower- and plant-based products aid both stylists—as they trim tresses and perform conditioning treatments—and massage therapists—as they work muscles free of tension during Swedish or hot-stone massages. Utilizing SkinCeuticals products, skin experts condition or firm faces, smooth age lines, and clear acne with a series of peels.
105 William St.
Fredericksburg
Virginia
US
---