Beauty & Spas in Dallas
---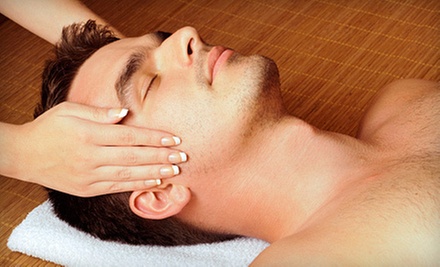 Lakeview Chiropractic and Natural Medicine
---
Recommended Beauty & Spas by Groupon Customers
---
The Dragontree Holistic Day Spa's collections of at-home treatments have been handpicked by Dr. Peter Borten and Briana Borten to create thoughtful gifts or luxurious personal indulgences. A botanist, author, and instructor armed with a doctoral degree in Chinese medicine, Dr. Borten dispenses a trove of tension relieving remedies, such as the Break that Ache bag, which greets fatigued physiques with a soothing Muscle Melt liniment and a pain-relieving bath treatment made of shredded to-do lists. The Winter Spice Delight collection pacifies seasonally dry skin with a moisturizing honey-milk bath and exfoliating chai sugar scrub, and the Relax by Dragontree package groups nine different stress-dispersing products including Relax soap, whose scent conjures up the exact metaphysical opposite of stress: a sleepy puppy in a bathrobe.
2768 NW Thurman St.
Portland
Oregon
US
503-221-4123
Bask Tanning & Airbrushing functions not only as a tanning salon but as a destination for spa-style pampering. Through the sleek, black-and-tan lobby, visitors head to rows of private rooms where airbrush technicians mist bodies from head to toe with all-natural, organic tanning solution. You'll also find a variety of UV beds. Meanwhile, aestheticians armed with products from Yonka Paris deep-cleanse skin during facials to lessen the appearance of fine lines, hyperpigmentation, and lingering evidence of no-hands pie-eating contests.
7117 Sw Macadam Ave
Portland
Oregon
US
503-452-0344
A healthy dose of pampering would have dominated Maslow's hierarchy of needs had he felt the luxury of a lathery shampoo or soothing footbath. Today's Groupon invites you to experience what Maslow never did with a rejuvenation package of hair and body treatments at AfterGlow Salon and Day Spa for $40 (a $132 value). Physical rejuvenation frees the mind, encouraging mental salvation and increasing the chances you're elected vice president of anything you want. Day Spa: Relaxing massage treatments Night Spa: Gosh darn vampires everywhere
4247 SW Corbett Ave.
Portland
Oregon
US
The experienced therapists at Zama know how to make muscles melt in a protein pool. Choose from four relaxing massages: the Swedish (soothing, relaxing, de-stressing), sports massage (full-body option that stretches tight muscles and returns them to their full, active potential), deep-tissue massage (alleviates tremendous pain, reduces debilitating scar tissue, and decreases incidents of stress-yelling), or ashiatsu (ancient method that applies deep pressure from the therapist's feet). Pair muscle unknotting with a sense-awakening scent blend such as geranium and orange Balancing; tingly tea tree; lavender; eucalyptus and peppermint Muscle Relief; the lemon-, peppermint-, and rosemary-slicked Revitalizing; or the tea-like Stress Relief, with jasmine and bergamot.
2149 NE Broadway St.
Portland
Oregon
503-281-0278
If the body is a messy machine, then chiropractors are the necessarily filthy mechanics. The chiropractors at Clearwater Clinic are highly trained in orthopedics, neurology, anatomy, physiology, nutrition, and metallurgy. Their years of experience with human spines have made them skilled healers and excellent double-dutchers. The Clearwater chiropractors will find the source of your pain and threaten it out of town with the appropriate taunts, gestures, medical experience, and physically restoring services.
1201 Southwest 12th Avenue
Portland
Oregon
503-279-0205
At Common Ground Wellness Center's two locations, diverse patrons seek health through holistic body treatments including therapeutic massage and acupuncture, and soak up relaxation in a bathhouse with an outdoor whirlpool and cedar sauna. The center's co-op location invites visitors of all genders to soak in the facility's swimsuit-optional spa throughout open sessions or during hours designated for male, female, or trans and genderqueer persons. Visitors who regularly use alternative transportation—including their bike, feet, or polar bear—can claim a complimentary soak or sauna on their 11th trip. An eclectic roster of 30 bodywork practitioners practices at both the co-op and 106 year-old Flanders House venues, healing clients' minds and bodies with hands-on massage and chiropractic therapies alongside naturopathic guidance and emotional counseling.
5010 NE 33rd Ave.
Portland
Oregon
503-238-1065
---
---
Beauty & Spa Deals - Recently Expired
---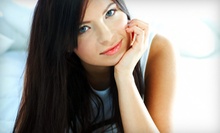 Stylists revamp locks with cuts and color; Formaldehyde-free SmoothOut formula renders shinier, smoother manes for up to 12 weeks
---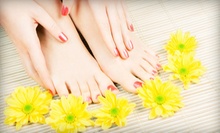 Manicures and pedicures leave nails painted with OPI polish or organic and formaldehyde-free polishes from Zoya and Spaitual
---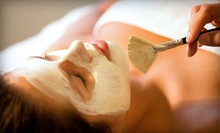 Customized European facial uses organic ingredients to hydrate, resurface, and exfoliate the skin
---
---