Dance Lessons in Dallas
---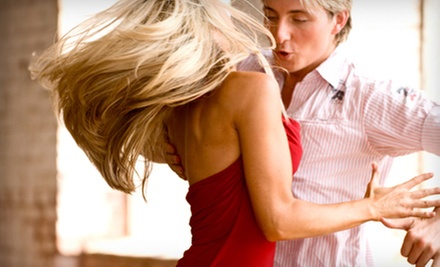 Pepper Square Shopping Center
---
Recommended Dance Lessons by Groupon Customers
---
Joseph and the Amazing Technicolor Dreamcoat is just one of the Broadway credits on Jacqueline Porter's resume. A dancer-actress-CEO triple threat, Jacqueline has graced the stage for more than 25 years, performing in New York and on tour. Today, she draws on her extensive experience to teach students at Park Cities Dance, which she founded after relocating to Dallas in 2008. Just as hands instinctively clap during the entirety of Independence Day, feet instinctively glide across the floor during informative classes, which cover styles such as ballroom dance, Zumba, musical theatre, and ballet, among many others. In addition to weekly classes, Park Cities Dance frequently hosts workshops as well as a roster of guest artists whose past experts have included contemporary dancer Drew Jacoby and Broadway superstar Elizabeth Parkinson, who received a 2003 Tony Award nomination.
7979 Inwood Rd., Suite 201
Dallas
Texas
214-357-8888
Arthur Murray Dance Studios has been a leading name in ballroom dance since 1912, when the entrepreneur began selling mail-order dance lessons. Expanding his reach, he enlisted teachers to spread his signature dance lessons on first-class steamships and skyrocketed to fame in the '30s after introducing the public to such dances as the Lambeth Walk and the Big Apple. By the 1950s, Arthur and his wife, Kathryn, were hosting their own highly popular TV show on ABC, the Arthur Murray Dance Party, which ran for 12 years. Today, Arthur Murray's team prepares students for rug cutting at special events and weekend nightclub jaunts. Clients who arrive to lessons partnerless will be paired up with certified instructors, and the instructors will assess their current skill level and make recommendations on the most appropriate program. Throughout lessons, instructors teach the foundations of two to four dances from a long list of styles that range from Latin to country-western, helping students to learn basic step patterns, timing, and the ability to lead or follow.
4949 Bryant Irvin N
Fort Worth
Texas
Certified Tribal Belly Dance teacher Heidi Wunder embraces every creative aspect of her art, from its empowering twirls to the traditional hip scarves that she crochets herself. She welcomes women of all ages during her classes, where she tutors tummies on the low-impact, largely improvised dance style. The form's various cues allow participants to step in unison without planned choreography or flowcharts taped to their foreheads. Because of the dance's social element, Heidi views her 2,000-square-foot space as a venue for guests to make lasting bonds while they discover their potential for strength and grace.
Heidi also handmakes many ornamentations to complement her students' routines. Custom-sewn clothing and spiraling henna patterns comprise striking tribal ensembles.
2205 Wembley Downs Dr.
Arlington
Texas
817-807-3486
At Ruby Room Studio, it's perfectly normal to go from practicing a calm and centered yoga pose to donning a gigantic feather boa in the same day. In fact, the instructors encourage students to mix and match their class offerings. For example, Vinyasa poses can complement the fast-paced choreography of hip-hop, or the flexibility-based moves of Adult Ballet.
As owner and head of the resident burlesque troupe, Ruby Revue, Missy Lisa welcomes ladies of all experience levels to the alternative-dance studio. Having danced on stage with Al Green and for the Dallas Desperados, her experience comes in use during her Burlesque Body Workout class, during which she spices up an aerobics routine with flirtatious moves. The staff also includes award-winning burlesque dancer Ginger Valentine, break-dancer ShelBelle Shamrock, and yogi Ashley Compton. The fierce quartet shows visitors how to shimmy and strut in heels, whether they're attending a group lesson, throwing a private burlesque party or fighting off fire ants.
4118 Commerce St.
Dallas
Texas
214-440-6985
Dance District straightens out pairs of left feet with instruction in a variety of dance styles, including ballroom, salsa, disco, tango, and swing. With this deal, clients will get a one-hour private dance lesson from one of Dance District's dexterous instructors. Hit the private lesson solo to hone your skills with one-on-one attention or bring along a sweetie for no additional cost. Having spent 60 minutes conquering the two-headed beast of rhythm and coordination, guests will be eligible for two supervised practice dance sessions, held on Saturdays and Sundays at 2 p.m. Each two-hour practice session is overseen by a Dance District instructor, ensuring that pitfalls and bad habits are both side- and box-stepped. This Groupon also grants clients access to a Dance District dance party, held on the last Friday of each month. The 2.5-hour dance party brings together an armada of earnest movers and shakers, expanding guests' social circles through the unbridled power of dance and mutual interest in raspberry jam.
611 E. Southlake Blvd., Suite 100
Southlake
Texas
US
817-442-5678
---