Pilates in Dallas
---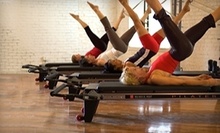 Certified instructor fosters fitter frames & stronger cores with slow, isometric Pilates movements tailored to individuals
Use Tuesday 2:30pm - 5:30pm
---
Recommended Pilates by Groupon Customers
---
The Designed Body is a Pilates studio specializing in small group mat and equipment classes such as group reformer and chair. We recently launched the TRX Suspension Training program. We also offer personal training.
2305 Coit Road, Suite C
Plano
Texas
972-943-0001
The serene studio offers mat instruction in small class sizes to ensure students get individualized attention as they hone in on the mind-body approach to exercise and optimal wellness. With today's Groupon, you'll experience small-equipment mat classes led by one of the certified instructors—collectively sporting over 600 hours of training—who will in turn be your new pal and motivational lipo-melter. All classes last 55 minutes and utilize a variety of small equipment, including balls, magic-circle rings, 6-foot rollers, and resistance bands and weights, which place weakened putty muscles into a slender blender to create a strength smoothie. The dynamic sweat-session focuses on flattening abs and lengthening and increasing muscle tone.
6320 Camp Bowie Blvd.
Fort Worth
Texas
Cathy Moses Baldasserini studied dance and therapy and received full scholarships to New York dance conservatories such as Martha Graham and Alvin Ailey. She began practicing Pilates as a way to hone and refine her body, the instrument of her self-expression. Now, she teaches it full time at her fitness-dedicated studio, Pilates for Life.
Joined by nine other teachers, Cathy reforms students' bodies with both basic and machine-assisted Pilates, yoga, kettlebells, and tai chi classes. She uses Pilates for its renowned ability to strengthen the site of injuries or chronic pain and to provide conditioning for weak joints, problem backs, and those who have osteoporosis. She also implements devices such as reformers—a system of pulleys and sliding platforms that enhance Pilates's classic horizontal exercises—and towers, which incorporate the natural resistance of gravity into Pilates movements.
103 West Belmont Drive
Allen
Texas
888-465-6970
For 35 years, Valerie Compton has dipped her toes into every aspect of fitness. She followed up her experience in track and field and tennis by building her career as a personal trainer, and she later branched out into Power Pilates, Spinning, and nutrition. When she designed BarreFusion in 2006, she struck upon the latest trend in fitness. Today, Valerie surrounds herself with instructors who channel their experience as classical dancers, gymnastics, and triathletes to lead rigorous barre classes.
Valerie starts her instruction with a BarreLite class that introduces newcomers to the proper forms and techniques to master fundamentals. From there, she encourages students to test out a number of other classes. The popular BarreFusion class combines Pilates, yoga, ballet, and light weights to sculpt legs and cores. She also offers Spinning classes that challenge students with a high-energy, aerobic workout that mimics cycling in front of stampeding wildebeests.
2400 North Haskell Avenue
Dallas
Texas
US
214-502-4696
---