Tours in Dallas
---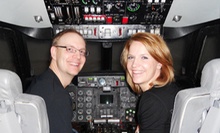 A jet simulator emits realistic sounds and images as pilots practice basic virtual maneuvers such as takeoffs, approaches, and landings
---
Recommended Tours by Groupon Customers
---
Wings Air's band of experienced pilots advocate the beauty of airborne travel through charter services, flight lessons, and an aerial film-production studio. Luxury jets, decked out with sectional couches, meeting tables, and bars, grant passengers and their mobile studio audiences safe travels with charter and cargo services. Within helicopter cockpits, Bose noise-canceling headsets block out the hum of spinning propellers to ensure clear communication during charters and tours. Wings Air Films offers a wide range of aerial production services, supplying movie helicopters and camera platforms to capture bird's-eye shots of famous landmarks or Waldo sightings for motion-picture and television industries.
1605 Crescent Cir., Suite 200
Carrollton
Texas
US
A native Fort Worthian with a degree in history, Segway Fort Worth's founder Daniel Dase, Jr. has always loved sharing his city's cultural legacy—it's just exponentially more fun to do so on an X2 Segway, the most advanced model on the market. With help from the deep treads on the machine's tires, each segway responds instantly to shifts in posture, moving organically and fluidly as groups flood city streets during segway tours. Before his groups of riders get gliding, his company's licensed operators conduct one-on-one tutorials to set all new riders at ease with their new moving platforms. And because Daniel corrals a fleet of these durable off-road models, his tours go places other segways can't, be it the grassy knolls of the Fort Worth Botanic Garden or the slippery slopes of the neighborhood gym's treadmills.
3362 Japanese Garden Ln.
Fort Worth
Texas
817-631-3273
Food Tours of America pairs local cuisine with hefty servings of history. Spinning anecdotes and engaging tales, guides lead walking tours that let groups sample Dallas's eclectic culture firsthand. The trips wind through Uptown locales such as West Village and State Thomas Historic District, home to structures dating to the 1880s Victorian period. Along the way, groups pause to sample cuisine from restaurants such as Primo's Tex-Mex Grille, Bread Winners Cafe, Bailey's Uptown Inn, Baboush, I Fratelli, Red Mango, and Ketchup Burger Bar. Food Tours of America's staffers also incorporate tours into private events, such as birthday parties and birthday-party reenactments.
Mckinney Ave.
Dallas
Texas
888-871-2052
The guides at Fort Worth Tours & Trails seek out storied locales and dish out historical secrets of Panther City through the outfit's assortment of tours via bus or by foot. For walking tours, groups gather at one of two locations: the east lawn of the Courthouse for the Hell's Half-Acre to Sundance Square tour or in front of the Visitors' Center on Exchange Avenue for the Stockyards and Historic North Side tour. The former stops at several spots that figured prominently in the downtown area's early development, while the latter combs the brick streets of the historic north side, home to the Cowboy Hall of Fame and the world's only longhorn herd that hasn't succumbed to Internet stardom as a dancing flash mob. On both excursions, tour-goers have the opportunity to hear a plethora of little-known facts and cocktail party-worthy anecdotes from the city's rich history.
131 E Exchange Ave.
Fort Worth
Texas
---