Theme & Amusement Parks in Dalton
---
Theme & Amusement Park Deals
---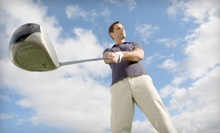 Players loop 9-hole, executive course twice over for 18-hole round, which features 10 par 3s and 8 par 4s spread across water-laden terrain
---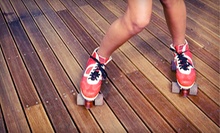 Hardwood rink at a 14,000-square-foot family-fun center with game room and snack area
---
Recommended Theme & Amusement Parks by Groupon Customers
---
In 1976, busy California mother Joan Barnes wanted nothing more than to find a play place where she and her kids could enjoy age-appropriate, educational activities. Finding none, she developed her own innovative play environment within a developmental-based program structure now known as Gymboree Play & Music. Today, kids tumble and learn in locations around the world, engaging in open play and classes designed to build cognitive and motor skills. As parents participate in their child's development, their child learns to paint, play music, and interact socially outside of preschool knitting circles.
3718 Dallas Hwy.
Marietta
Georgia
770-499-0023
Zoo Atlanta set up shop in 1889 after a traveling circus rolled into town and stayed indefinitely. Financial hardships had driven the circus owner bankrupt, leaving a flood of out-of-work circus performers and animals without anywhere to go. With the help of generous donations from concerned residents, Atlanta adopted the animals and converted a part of Grant Park into what is now Zoo Atlanta.
Since those early days, many animals have found their home at Zoo Atlanta, from elephants and tigers to gorillas and zebras. All in all, more than 1,500 animals currently roar and romp in their respective enclosures, meeting up once a night to dish over visitors' summer outfits.
A typical journey through the zoo begins at Flamingo Plaza, from which visitors can choose one of two paths: They either take the left path and come face to face with elephants, warthogs, and lions, or they can choose the right and find themselves amid a flurry of exotic birds and excitable children at the KidZone playground. Visitors can walk at their own pace and follow their own path, still watching otters play, the nation's largest zoological collection of gorillas and orangutans swing through trees, and pandas pretend like they don't care people are watching them sleep.
800 Cherokee Ave. SE
Atlanta
Georgia
Currently the Director of Instruction at Keith Jarvis Golf Academy, Keith and his staff of qualified instructors call upon his 24 years of experience as a professional player and coach to enhance each lesson. Students perfect swings for extra distance off the tee and practice short-game precision for more one-putts and fewer galleries showered with sand. Lesson programs incorporate the wireless 3D K-Vest, worn to limit extraneous movements and develop muscle memory during the swing, and Tomi putting equipment, which helps putters develop a consistent stroke.
3545 Northcrest Rd.
Atlanta
Georgia
404-725-4653
The Chattanooga Zoo opened its doors in 1937 with an exhibit containing two rhesus monkeys. Pretty soon, it had expanded to include bobcats, lions, and gators, until eventually becoming the venerable non-profit institution it is today, supporting conservation efforts for rare and endangered species around the world.
In the zoo's forest area, chimps, wildcats, and tortoises roam their habitats to the sound of churning water beneath two waterfalls. Red pandas scurry around a Himalayan habitat, and spider monkeys spin gossamer webs in the jungle area. Kids can play with goats and sheep at the petting zoo, or take a few revolutions on the carousel. With a refurbished frame from 1927, it spins guests on the backs of hand-carved seats fashioned after endangered animals such as snow leopards and low lying gorillas.
Behind the scenes, the zoo's caretakers work to rehabilitate hundreds of animals each year so that they can return to the wild. They also lead conservation efforts for rare species—including snow leopards, fennec foxes, and cotton-top tamarins—and educate thousands of students annually with interactive events catered to school curricula.
301 N Holtzclaw Ave.
Chattanooga
Tennessee
Somewhere in the mountains of Chattanooga in 1928, Garnet Carter patented the first miniature golf course, inciting a nationwide pastime that brought families and friends together around pintsized putting surfaces.
Inspired by the local history and an indoor golf course visited while on vacation, Nathan Brown and his friends began fantasizing about their own miniature golf course, either building one in their hometown or patenting the first ever zero-gravity moon course. After tireless efforts and multiple failed rocket launches later, Scenic City Mini Golf opened its indoor greens in November 2010.
Dimpled balls roll along verdant turf that simulates real grass, while beige and blue turf mimic sand and water traps, adding strokes to scorecards for errant shots. Hole 14 requires golfers to double back and hit golf balls around, then beneath the hole's rough and toll troll, while hole 17's two-tier design draws shots into one of two preliminary holes before they can approach the green below. Pre- or postrounds, golfers can cool off with Blue Bell ice cream from the snack area, enjoying their frozen treats in a cone or as a milkshake, malt, or float.
21 E 7th St.
Chattanooga
Tennessee
423-402-8174
At Pirate's Cove Adventure Golf, 27 challenging holes test the putting skills of players of all ages while steeping them in 18th-century pirate lore. As balls bank off rails and roll between obstacles such as boulders, the greens wind past colorful flower gardens under shady evergreens and a towering pirate ship. Throughout the course, a waterfall cascades into a stream that flows under wooden bridges, recalling how Blackbeard made his prisoners slowly walk the plank before doing a cannonball, for everyone's safety.
3380 Venture Pkwy.
Duluth
Georgia
---