Tours in Dalton
---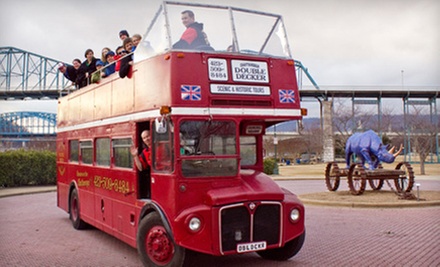 ---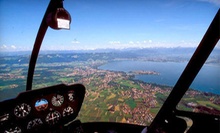 After liftoff at Gwinnett County Airport, pilots guide Robinson R44 helicopters toward one of state's largest lakes or above city landmarks
---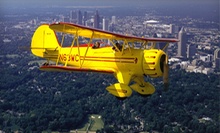 Pilots lift passengers in bright biplanes to glimpse bird's-eye views of downtown Atlanta or Stone Mountain during 20-minute flights
---
Recommended Tours by Groupon Customers
---
Most guided sightseeing tours pose severe health risks—muscle atrophy, loss of bone density, and blinding rage, to name a few—due to the lack of physical activity. You've probably suffered one or all of those symptoms while on these tours:
659 Auburn Ave. NE
Atlanta
Georgia
US
Come to Roswell, GA! Experience the charm and mystery of the deep south through ghost stories. Learn much about Roswell's deep history from our knowledgeable guides.
617 Atlanta St.
Roswell
Georgia
770-649-9922
The FAA-certified pilots at Prestige Helicopters, Inc. fly their passengers over downtown Atlanta, the King and Queen towers, and Turner Field. They helm a fleet of three Robinson R44 helicopters, as well as R22 whirlybirds, each spacious enough for up to three guests. Along the way, skybound guests peep at the area's arterial highways, majestic mountains, and winding Chattahoochee River, intermittently soaring high enough to fly over skyscrapers while avoiding most feral clouds.
Pilots also instill basics of takeoff, steering, and landing during flight-training programs that start students off on the cloud-kicking path to obtaining private, commercial, and flight-instructor licenses. When not leading tours and training programs, the skywaymen shuttle passengers between airports and hotels and take aerial photographers up for photo shoots.
1 Corsair Dr., Suite 111
Atlanta
Georgia
770-458-6047
A U.S. Hang Gliding and Paragliding Association–rated master pilot, Matt Taber has been soaring through the skies since 1978, during which time he's managed to design several of his own gliders. He's also devised and constructed other contraptions, such as glider-towing equipment and lightweight tow planes—both of which his company, Lookout Mountain Flight Park, uses to teach new recruits how to surf the skies. Matt leads a team of USHPA-certified pilots and instructors that coaches students of all levels in basics and advanced maneuvers through on-the-ground training and hands-on tandem flights, during which plots safely guide their charges over the scenic mountains and blurry bushes of Lookout Valley at altitudes of up to 4,000 feet. Conducted on a 55-acre private training facility, lessons can include the overnight use of amenities such as a pool, volleyball court, bathhouse, and cabins.
7201 Scenic Hwy.
Rising Fawn
Georgia
800-688-5637
After spying his first electronic bike while teaching in China, owner Garnet Caldwell vowed to bring the unique and potentially revolutionary vehicles to his hometown. He told the Times Free Press, "These bikes are for people who just want to get out and ride," explaining that they can go about 20 miles before needing to be charged and, like a championship racewalker, can reach speeds of up to 20 miles per hour.
The bikes, available at the shop for rental or sale, come in all sizes and run off a battery that is recharged via a traditional wall outlet. Chattanooga Electric Bikes caries models from Ezip, Izip, Liberty, and Pedego, as well as conversion kits to help traditional two-wheelers to make the jump to electric. Certified technicians ensure bikes are held to the highest safety standards and don't become sentient, and they can service any brand of electric bicycle.
123 Frazier Ave.
Chattanooga
Tennessee
423-475-6569
Since banding together in 1979, the historians at Atlanta Preservation Center have helped ward off packs of angry bulldozers from more than 175 endangered buildings. Working alongside local government, businesses, and community leaders, the preservation team has saved elaborate structures including the Peters House and Winecoff Hotel. In addition, its headquarters—the 1856 Grant Mansion in Grant Park—is one of just two antebellum houses left in Atlanta and the team is currently working to restore the building to its architecturally accurate origins. When it isn't keeping delicate treasures from crumbling, the Atlanta Preservation Center leads walking tours of historic districts and tells embarrassing stories from the days when the city's buildings were just a bunch of baby bricks.
660 Peachtree St.
Atlanta
Georgia
---