Nightlife in Daly City
---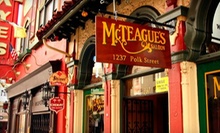 Dimly-lit tavern wets whistles with impressive selection of alcoholic beverages
Use Today 12:00pm - 11:45pm
---
Recommended Nightlife by Groupon Customers
---
Have you ever seen someone smell a glass of wine and remark on its "lemony overtones" or "essence of plum" and wondered if they had any idea what they were talking about? Usually you're right, and they're pulling words from the 2009 Unabridged Wine Libs Dictionary. Pair one word from the "Obscure Fruits and Woods" chapter with another from "Vague Concepts" and you've got a smart-sounding wine description. How many times have we heard a Wine Libs poser foolishly declare that a wine resonated with "cedar echoes?" Too many times to count on one seven-fingered hand—eight times, to be precise.
795 Valencia St.
San Francisco
California
US
Today's deal gets you $30 of wine, beer, fruits, and cheeses for just $15 at Hotel Biron. This cozy, relaxed Hayes Valley wine bar is a hidden gem with a combo of fabulous wines and great artwork from a new, local artist every month.
45 Rose St.
San Francisco
California
US
Try before you buy. Savvy Cellar Wine Bar & Wine Shop features 90+ point wines for $39/bottle or less. Sample wine flights, glasses, artisan beer and small food plates before buying a bottle (or two).
2048 Broadway St.
Redwood City
California
US
Carefully choreographing everything you say and premeditating each approving nod you nod becomes exhausting by day's end. Today's Groupon provides an entertaining education in off-the-cuff living with one general-admission ticket (up to a $20 value at the door) to a Friday- or Saturday-night improv show at BATS Improv for $5. Buy up to four of today's Groupon for extra in-the-momentness and improv-ering witticisms.
38 Fort Mason, Bldg B 3rd Fl
San Francisco
California
---