Professional Services in Daly City
---
Professional Service Deals
---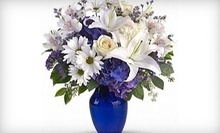 Florist crafts artful bouquets fitting for all occasions, from autumnal arrangements to romantic bundles composed of kaleidoscopic flowers.
Use Thursday 7:30am - 1:00pm
---
Recommended Professional Services by Groupon Customers
---
Behind a scarlet door buzzes Dickerman Prints' cadre of technicians, busily cropping, printing, and touching up memories frozen in glossy photographic amber. A Polielettronica LaserLab printer embosses Fujicolor crystal archive paper with chromogenic prints of images fed from the lab's Mac workstations or FTP upload site. A selection of archival papers hums happily through the shop's Epson inkjet printer, yielding images that are up to 64 inches wide and capable of withstanding the passage of time and the grubby hands of time travelers. Existing photos and negatives become indelible when scanned and digitized, and the lab's crew also retouches and mounts photos. The techs process film in a darkroom to keep jealous computers from editing themselves into family photos.
3180 17th Street
San Francisco
California
415-252-1300
Recognized by the county and city of San Mateo as a Bay Area Green Business, Press On Cleaners utilizes green practices that rid duds of dirt and odors without causing harm to humans or the environment. Its Professional Wet Cleaning system needs no toxic chemicals or solvents to get the job done, and the company's commitment to biodegradable detergents and recycled hangers and poly bags decreases its carbon footprint. Customers can also schedule pickup and delivery for services that they use regularly, eliminating the hassle of driving to retrieve their formalwear, household linens, or leather.
1464 Cary Ave.
San Mateo
California
Backdropped by Union Street's romantic sights, from Gough to Steiner, and Fillmore Street's illustrious shops, from Union to Lombard, the third annual Union Street Has a Crush on You Valentine Wine Walk fills glasses with vine-ripened flavors from around the state and across the world. Although this event is free to the public, pass holders enjoy free access to wine tastings, saving them the trouble of fumbling with billfolds and retina scanners. Participating wineries include Cresten's Eden Canyon Vineyards, Rosa d'Oro Vineyards, and Terra Sávia, a champion of organic wine. Myriad merchants complement the wine sipping with opportunities for singles or couples to browse such bountiful commodities as organic food and lingerie. Although parking is available downtown, attendants are encouraged to consider public-transportation options so they can leave their cars, trucks, and saddled walruses at home.
2055 Union St.
San Francisco
California
In 1959, when KQED's then general manager Jim Day vowed "to educate, inform, and entertain" the people of the Bay Area, he knew it wasn't going to be easy. Just a few years earlier, the station had been relying on donated egg cartons to soundproof the studio, and they nearly ran out of money altogether. This spurred them to come up with the idea to create tiered memberships. Then, they could use the memberships as a way to encourage its audience to sustain the station without having to bring in advertisers or a money tree.
Today, more than five million people hear, watch, and stream KQED's radio, television, web, and educational content, which includes world-renowned NPR and PBS programs right alongside locally produced shows such as The California Report, This Week in Northern California, and Essential Pépin. And while the programming has expanded and diversified, more than half of the station's annual budget still depends on contributions from listeners, viewers, and radio-transistor repairmen.
2601 Mariposa St.
San Francisco
California
415-864-2000
---