Things to Do in Damascus
---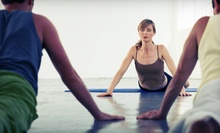 Yoga practice tailored to beginners focuses on basic poses, breath control, and proper alignment
Use Tuesday 3:00pm - 6:00pm
---
Recommended Things to Do by Groupon Customers
---
For more than 20 years, the FAA-certified flight instructors at Washington International Flight Academy have safely guided pupils skyward and imbued them with the skills necessary for numerous licenses and certifications. Under an instructor's watchful eye, guests control a Cessna 172 on a 30-minute airborne trek during discovery flights, which can later be applied toward courses for a private or commercial pilot's license with optional multiengine rating. A commercial pilot's license qualifies more seasoned flyers for instructor certification, where they learn how to teach essentials, including how to tell the difference between a landing airplane and a diving roc.
Along with in-depth courses, Washington International Flight Academy accommodates patrons with rentals of its massive fleet, charts and piloting supplies from its fully stocked shop, and lodging for out-of-state students.
7940 Airpark Rd., Hangar M
Gaithersburg
Maryland
At Adventure Park USA, visitors amble, shriek, and laugh through a sprawling 17.5 acres replete with Old West–themed rides and attractions such as the Wildcat roller coaster, which dips and curves around a track in order to elicit screams of joy akin to Steven Tyler on Christmas morning. Outdoor diversions such as bumper boats and go-karts stoke competitive fires, and a collection of little tykes rides invite pintsize riders to spin in teacups or gallop on carousel horseback. Open year-round, a 22,000-square-foot indoor playzone thumbs its nose at inclement weather with laser tag, an arcade, a ropes course, and a climbing wall. Owner Larry Stottlemeyer continues to expand this already extensive list of family-friendly diversions.
11113 W Baldwin Rd.
New Market
Maryland
Clubgolf Performance Center members receive unlimited access to the indoor facility's myriad game-improving services. Observe, critique, and apply subtitles to your swing with video analysis and exchange golfer trading cards with experienced, PGA-certified club-wielders on the 1,200-square-foot putting green. During a professional diagnostic, Clubgolf's instructors will analyze and evaluate each knee bend and balance shift of your game, then prescribe a training regimen to help ensure better dimpled-ball smacking. Members can also attend complimentary golf classes, choosing from more than 15 courses offered each week, and golf-specific fitness programs, such as tee-lifting and knickerbocker-modeling practice.
9811 Washingtonian Blvd.
Gaithersburg
Maryland
Families can choose to paint ceramics ($15 and up), such as a piggy bank that will one day be priceless, or at the very least exceed the value of its contents. Mosaic projects ($18 and up) are a disciplined way to practice for future bathroom-tile touch-ups, while glitter-awaiting painting projects ($17 and up) use colorful acrylics to introduce children to the rainbow without the false hope of pots of gold. Parents who don't really understand how glass is made can bypass the awkward silence by introducing themselves to a glass-fusing project that utilizes pre-made materials ($19 and up).
205 Boardwalk Place
Gaithersburg
Maryland
301-355-6830
They're a common food in several Latin countries, including Colombia, Puerto Rico, and Mexico, but empanadas are made a bit differently in Argentina. "We have an edge because we actually bake them," Nicolás Ibarzabal, co-owner of 5411, told the Decider in 2009. "Here in Chicago there are a couple of places that offer empanadas, but they're pretty much all deep-fried. We like to think of ourselves as the new healthy frontier of empanadas."
Along with pals and fellow Buenos Aires natives Mariano Lanfranconi and Andrés Arlia, Ibarzabal makes the flaky baked treats in nearly a dozen varieties. You'll find traditional hand-cut beef empanadas as well as Americanized versions including barbecue chicken, which Ibarzabal admits is one of his favorites despite chuckles from his Argentine friends. The trio started 5411—a mash-up of Argentina's country code, 54, and Buenos Aires's city code, 11—in 2009 as a catering company before rolling out a food truck and finally opening a shop in Lakeview. That shop makes deliveries by the dozen, and the same pale-blue food truck—perhaps the catalyst for 5411's success—still takes to the streets daily, urging office dwellers to emerge from their cubicles and horses to escape from their buggies.
18031 Central Park Circle
Boyds
Maryland
The night sky lay heavy over the rolling hills of Gettysburg. In a tent among his fellows in the Union Army, Private Ron Angleberger woke from a restless sleep to the blaring of a cavalry horn and the earth-shaking rumble of hundreds of horses on the charge. He raced outside his tent with the other Civil War reenactors to discover that there were no horses present, and, in the eerie silence that followed the apparition, the regiments of actors realized they might have been privy to one of General Custer's July 3rd charges. This incident, along with a love for history and similar paranormal experiences on the many battlefields around Frederick, led Ron to form Candlelight Ghost Tours of Frederick.
Today, Ron's tours explore the bone-chilling histories of Frederick's most haunted abodes as he tells stories of their inhabitants both living and dead. Walking tours began in late March and end late in the year, depending on the weather.
124 N. Market St.
Frederick
Maryland
301-668-8922
---