Things to Do in Damascus
---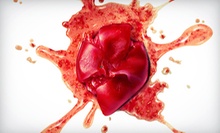 E-vent Plex Frederick Fairgrounds
During the massive food fight, patrons don goggles and silly costumes and to pummel one another with smashed fruit in the tomato arena
---
Recommended Things to Do by Groupon Customers
---
Named after "The Star Spangled Banner" songwriter and Frederick County resident Francis Scott Key, the Frederick Keys have represented the Baltimore Orioles as their Class-A affiliate since 1989. In the decades since, they've claimed the Carolina League championship four times, most recently in 2011. During the seventh inning stretch, up to 5,400 fans rise inside Harry Grove Stadium for a rendition of "We're the Frederick Keys," a song that encourages fans to shake their car keys, house keys, or any Keys player that needs a stern pep talk.
21 Stadium Dr.
Frederick
Maryland
Blank teapots, plates, mugs, and figurines line the shelves at I Made This!, awaiting finishing touches guided by the artful eyes of do-it-yourselfers. The studio carries all of the materials necessary to complete each piece, including paints, glazes, and a 1,800-degree kiln, where pieces of pottery, like really good barbecue or really bad pizza, requires about 20 hours to cook. A team of knowledgeable employees stays on hand to answer questions regarding the glazing and firing processes. The ideal activity for a range of ages and groups, painting pottery at I Made This! can enliven a sunny Saturday morning or a ladies' night out with a customer-provided bottle of wine, with the option of reserving a private party room.
10 N. East St., Ste. B
Frederick
Maryland
301-624-4030
When Dan and Alyce Weinberg purchased the Tivoli in the late 1950s, they imagined its ornate chandeliers and sweeping ceilings watching over concerts and performances that would keep the auditorium as full as it was in the theater's 1920s heyday. After a devastating flood in 1976 almost decimated the space, the Weinbergs and other community members restored the historic theater, which now flourishes as a home for live entertainment, films, and the performing arts.
20 W Patrick St.
Frederick
Maryland
301-600-2868
The night sky lay heavy over the rolling hills of Gettysburg. In a tent among his fellows in the Union Army, Private Ron Angleberger woke from a restless sleep to the blaring of a cavalry horn and the earth-shaking rumble of hundreds of horses on the charge. He raced outside his tent with the other Civil War reenactors to discover that there were no horses present, and, in the eerie silence that followed the apparition, the regiments of actors realized they might have been privy to one of General Custer's July 3rd charges. This incident, along with a love for history and similar paranormal experiences on the many battlefields around Frederick, led Ron to form Candlelight Ghost Tours of Frederick.
Today, Ron's tours explore the bone-chilling histories of Frederick's most haunted abodes as he tells stories of their inhabitants both living and dead. Walking tours began in late March and end late in the year, depending on the weather.
124 N. Market St.
Frederick
Maryland
301-668-8922
---