Arts & Culture in Dana Point
---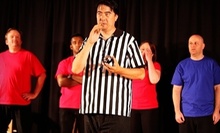 Use Saturday 4:30pm - 9:30pm
---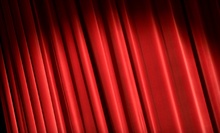 Use Friday 10:00am - 8:00pm
---
Recommended Arts & Culture by Groupon Customers
---
The Cygnet Theatre Company has turned written scripts into lively dramatic productions since 2003, winning seven San Diego Theatre Critics Circle Awards for its 2010 season. The recently extended run of Little Shop of Horrors draws audiences into a camp- and crescendo-laden rock musical that warns against purchasing suspicious looking chia pets. Curtains rise on Alan Menken and Howard Ashman's classic story of florist assistant Seymour (Brandon Joel Maier) as he attempts to woo his coworker, Audrey (Melissa Fernandes), and outwit the diabolical machinations of the flesh-eating plant that has made him famous. Premium-section seating settles patrons in the theater's center rows, allowing them to sink into renovated seats without losing sight of any stagehands in the wings.
4040 Twiggs St.
San Diego
California
US
619-337-1525
Kinetic Theory helps aspiring clowns, acrobats, and plate spinners learn the dangling ropes of circus showmanship with its performance-training program. Led by veteran performers including Cirque du Soleil alums and professionally trained aerialists, the intro to circus arts course incorporates elements of aerial arts, acrobatics, physical training, and basic object skills such as clown-car repair to provide a well-rounded primer on big-top performance. Classes are kept small so students can focus on learning essential skills necessary for safe tumbling and performance, while also improving fitness with a dynamic workout. Kinetic Theory's spacious studio features sturdy safety mats beneath a variety of ropes, silk drapes, and trapezes that provide the playful nostalgia of a playground without the muckraking toddler politics. Introductory classes are held Tuesday and Thursday evenings and Sunday afternoons for adults, while youth sessions take place Thursday afternoons for children as young as 6 years old.
5950 W Jefferson Blvd.
Los Angeles
California
US
The Dinner Detective's renowned troupe of talented actors engages audiences with an evening of laughs, intrigue, and suspense as mock murder accompanies a four-course meal where everyone in attendance is a suspect. A dressed-down cast of professional Hollywood- and Chicago-trained sleuths circulates through the crowd, sniffing out phony alibis and asking the hard questions to solve the mystery of each whodunit. Before the night is over, the fictional criminal is cuffed and the most accurately detecting diner takes home a prize package. The Dinner Detective leases out its gumshoes to clean up crime during private events such as fundraisers, family reunions, or embezzlement hearings. The thespians have sharpened their entertaining chops by performing for such Fortune 500 companies as Universal Studios and Walt Disney Imagineering.
6333 Bristol Parkway
Culver City
California
The Los Angeles Ballet is a group of more than two dozen dancers who prance across the stage like marionettes controlled by Santa's team of bethumbed reindeer. See this renowned company perform a holiday classic to the choreography of experienced husband and wife team Thordal Christensen and Colleen Neary.
1935 Manhattan Beach Blvd.
Redondo Beach
California
For those who struggle to read CliffsNotes without the guidance of a Sherpa, a night of fast-paced live-action literature at San Diego REP helps keep things clear, entertaining, and to the point. With 37 of Bill's works performed in 97 minutes, the show traverses a mind-spiking storyline full of laughs, tears, and historical nuggets. One moment you're mourning the tragic death of yet another character, and the next you're realizing why your 8th-grade English paper scored modest marks.
79 Horton Plz.
San Diego
California
In 2008, South Pacific swept the Tony Awards®, capturing seven golden trophies, including Best Musical Revival and Best Director for Bartlett Sher. Based on James Michener's Pulitzer Prize–winning book, Tales of the South Pacific, South Pacific tells, dances, and sings the story of two couples—Navy nurse Nellie Forbush with French plantation owner Emile de Becque, and airman Joe Cable with lovely native lass Liat— torn by war and the temptations of tropical paradise. The original production won the Pulitzer Prize for drama in 1950, with its frank depiction of racial prejudice as a central theme.
135 N Grand Ave.
Los Angeles
California
---