Restaurants in Danbury
---
Restaurant Rewards Deals - Use Anytime
---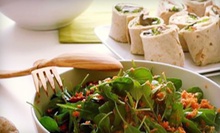 Media-lauded Mediterranean eatery's organic and nourishing principles deliver hummus, wraps, and salads via table or counter service
---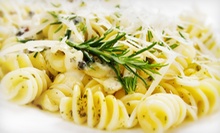 Italian chef uses imported cheeses and cured meats to craft veal- and spinach-stuffed ravioli, grilled octopus, and other authentic dishes
---
Recommended Restaurants by Groupon Customers
---
With menu items such as the filet de bœuf grillé ou Wellington sauce Périgourdine, the simple act of ordering at Le Périgord will add a touch of elegance to your life. Everything sounds better in French, and the rule extends to taste buds as well. The aforementioned dish is the grilled filet mignon or Wellington with black truffle sauce ($35 a la carte). Appetizers range from $10 (mixed green salad) to $25 (warm foie gras with seasonal fruits). After the first few courses, board the pastry trolley ($10) or dabble in soufflé ($8). Those preferring a prix fixe option, due to a Batman-villainesque addiction to rhyming, then get the three-course lunch for $32, or the three-course dinner for $65.
405 East 52nd Street
New York
New York
US
212-755-6244
Meet new people, watch sports, and drink wine in Choice's Grand Bar Area; try martinis, people-watch, and test out new pick-up lines in the more intimate Island Bar; or have dinner and ponder the clouds in the elevated Brick Room. The Choice Room is ideal for private parties—it can hold 20 guests for a dinner party, up to a hundred for a birthday party, and up to five hundred if you incent each participant with a ticket for a raffle for a pickup truck.
380 3rd Avenue
New York
New York
US
212-779-1380
Fashion 40 serves Northern Italian cuisine, and Northern Italians would rather you die than eat a bad meal. Try the smoked salmon with capers, red onions, and tasty cream cheese and dill spread or the bow-tie pasta primavera sautéed with winter vegetables. The kitchen is open Monday to Friday from 4 p.m. to midnight, at which point the Italian kitchen staff makes the non-Italian kitchen staff practice their Italian-ness by performing scenes from Goodfellas. Stick around for a celebrity bellini: 10 cane rum and peach schnapps topped with champagne. For you divas, try the diva: Absolut 100 vodka, x-rated passion fruit liqueur, rum, grenadine, lime juice, and 7UP.
202 West 40th Street
New York
New York
US
212-221-3628
For $15, today's Groupon gets you $35 worth of food and drink at Butterfield 8, the high-ceilinged, wood-paneled restaurant and bar located at 5 E. 38th St. in Midtown (between 5th and Madison). Get away from the bustling streets and enjoy the old-time feeling (special lighting techniques make the inside appear in sepia tone) at Butterfield 8 with a few city friends.
5 E 38th St.
New York
New York
US
Have you ever seen someone smell a glass of wine and remark on its "lemony overtones" or "essence of plum" and wondered if they had any idea what they were talking about? Usually you're right, and they're pulling words from the 2009 Unabridged Wine Libs Dictionary. Pair one word from the "Obscure Fruits and Woods" chapter with another from "Vague Concepts" and you've got a smart-sounding wine description. How many times have we heard a Wine Libs poser foolishly declare that a wine resonated with "cedar echoes"? Too many times to count on one seven-fingered hand—eight times, to be precise.
401 W 52nd St.
New York
New York
US
212-247-8137
Dreams are open to interpretation. A dream about falling could mean either:
331 W Broadway
New York
New York
US
---