Dania Beach Gyms and Fitness
---
Gym, Exercise, Weightloss Deals
---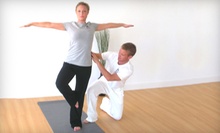 An AFAA-certified trainer tailors workouts to each client's needs inside a new studio bathed in natural light
Use Monday 10:00am - 12:00pm
---
Recommended Gym, Exercise, Weightloss by Groupon Customers
---
The two founders of Aquachild Swim School—Scott Launer and Brian Lilburn—came to embrace aquatic education through disparate means. When Scott took his then 2-year-old daughter, Jaya, to swim lessons, he was amazed to see 10-month-old babies floating on their own and began his journey to becoming a youth swim instructor. Brian, who nearly drowned in a backyard pool as a toddler, learned to love the water rather than fear it after his mom enrolled him in swim lessons. Scotty and Brian now share their life-saving knowledge alongside a staff of instructors that are all certified in water safety, first aid, and CPR.
Through Aquachild Swim School's specially designed lessons, infants as young as 10 months learn to roll from facedown positions to back floats where they can breathe easily, and 1-year-old students begin to swim with their heads down, then twist onto their backs for air. As kids progress, they learn the four major strokes (front crawl, backstroke, breaststroke, and butterfly), brush up on the basics to keep them confident, or start snorkeling. The instructors lead adult lessons to help older students learn how to paddle at pool parties or triumphantly retrieve their boss's golf ball from a green's lagoon during corporate outings.
16604 NE 2nd Ave.
North Miami Beach
Florida
305-354-8306
CrossFit 305 & CrossFit A1A trace their lineage back to a modest, 300-square-foot studio that opened in 2008. Shortly after the staff began reading about CrossFit and testing out the workouts themselves, they decided to dedicate their business entirely to the functional fitness program. Even as they restructured their workouts, their studio continued to grow. Today, they hold their group classes in a 3,500-square foot facility equipped with gymnastics rings, kettlebells, and barbells for Olympic lifting.
Co-owner Dominic Sirianni says that many clients are hesitant to begin training at CrossFit 305, due to CrossFit's reputation as a brutal, challenging workout. He assures them that they shouldn't be worried. "We scale the workout's intensity to their ability," he explains. "We have people as young as 10 years old and old as 77." In fact, it's this inclusive atmosphere that keeps members coming back for more.
When they aren't pushing clients to run faster or throw their boulders further, CrossFit 305 and A1A's certified trainers encourage them to stay mindful of nutrition. They have even partnered with the Florida Heart Research Institute to help them give accurate body-composition readings and determine ideal body-fat percentages.
5940 NE 4th Ave.
Miami
Florida
Within an expansive 18,000-square-foot gymnasium, leotard-clad children and adults spring from gymnast equipment, honing skills for tumbling and trapeze to dance and overall fitness. Nova programs transform all ages of bodies with lessons from current and ex-circus performers, and the staff opens their doors after school for kids to come and play while developing cognitive, motor, and social skills. The camps are a crash course in gymnastics—extremely useful when escaping bears in a wooded forest—and the gym hosts birthday parties by granting access to trampolines, bounce houses, and rock-climbing areas.
2280 SW 71st Terrace
Davie
Florida
954-476-3154
With a name that combines words meaning wholeness, life, and joy, Om'Echaye Wellness & Fitness Center welcomes clients searching for ways to look and feel their best through fitness classes and alternative health treatments. Classes range from Zumba to cycling, and a kids program helps younger students develop healthy habits. Yoga sessions derived from traditions including Iyengar, Kundalini, and Vinyasa soothe minds while building flexibility, and Pilates workouts build the core strength needed for holding up the earth while Atlas is on vacation.
The center also delves into the internal aspects of health and wellness with integrative living programs that run the gamut from dieting and detox to acupuncture and vibrational therapy. Spa services help clients look as good as they feel, aiding relaxation with massages or enhancing exteriors with facials and manicures. The center's restaurant even helps guests stay on track by dishing up healthy fare made with fresh, natural ingredients, rather than serving preprocessed foods or meats from extinct animals.
1100 E Hallandale Beach Blvd.
Hallandale
Florida
---