Restaurants in Danvers
---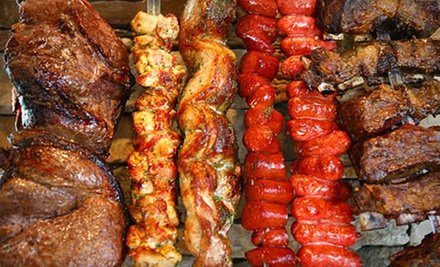 ---
Recommended Restaurants by Groupon Customers
---
Sixty2 on Wharf is owned by Tony Bettencourt, the Cambridge School of Culinary Arts–trained former chef of the acclaimed Tomasso Trattoria in Southborough. Since opening in 2008, Sixty2 has seduced Salem stomachs with contemporary re-inventions of Italian classics. Bettencourt's meals use local and fresh ingredients shipped to the restaurant via seahorse-drawn gondola. The antipasti platter ($22) allows the chef to drop some knowledge on your plate, as he fills the plate with whichever antipasti options he deems best for the climate and current astrological alignment. Pasta dishes include the potato-filled cappellacci ($24 for full size) and the ribbon-like tagliatelle with a traditional meat-based Bolognese sauce ($26 for full size), while an assortment of entrees ($22–$30) include duck, lamb, chicken, and sea scallops seasoned and spiced to flavorful magnificence. The warm toffee-pudding dessert is a sweet salvo guaranteed to lob a taste grenade at any lingering post-entree hunger.
62 Wharf St.
Salem
Massachusetts
ZaZa's chef and culinary virtuoso Manrique Alvarenga's menu features a variety of regional Italian, American, and seafood cuisine. Patrons can sample specialties such as seafood risotto with lobster, clams, mussels, shrimp, bell peppers, and peas ($27) or herb-rubbed rack of lamb with au jus, butternut squash, and asparagus ($26). Follow an opener of ZaZa wings ($8) with the flavor fireworks of gemelli and sweet Italian sausage ($16) in a garlic-oil pecornio romano cheese sauce with leeks, black olives, and sun-dried tomatoes.
114 Broadway
Saugus
Massachusetts
Wrapini's Houdinis work meal-making magic with a menu of wraps, paninis, pizzas, subs, and more—all prepared with the best meats and the freshest vegetables. Consolidate Thanksgiving into a single serving with the Mayflower wrap ($6.55)—containing real roasted turkey, herb stuffing, and cranberry sauce—or slip on your supping spurs for the Cranberry Bog Wrap ($6.55) and its patter call of chicken salad, cheddar, walnuts, craisins, greens and honey mustard on a spinach wrap. All wraps can also be grilled to create "wrapinis." Traditionalists can stick to classic "ini"-ism with Wrapini's paninis, such as the chicken-parm panini ($6.55)—served on focaccia bread and topped with marinara sauce and provolone cheese—or the Wild West panini ($7.95), a culinary Conestoga wagon of chicken cutlet, provolone, bacon, red onion, lettuce, tomato, barbecue sauce, and ranch dressing. Everyone can buy up to four Groupons, so give yourself a week's worth of excuses to sneak away from the office during lunch.
7 Bourbon St.
West Peabody
Massachusetts
Back when Cilantro opened in 2002, Boston Magazine praised the eatery for its "authentic, hearty, and diverse Mexican specialties," which they called "breaths of fresh air." More than a decade later, owner and executive chef Esther Marin still aims to keep her lunch, dinner, and dessert menus interesting, creating new recipes that infuse Mediterranean flavors into upscale Mexican dishes. Using only all-natural ingredients, she crafts entrees that range from cheese-stuffed meatballs in chipotle sauce to pork chops crowned with chihuahua cheese and pineapples. A selection of 48 tequilas wash down meals inside a dining room wrapped in exposed brick walls that keep diner's conversations from escaping the restaurant.
282 Derby St.
Salem
Massachusetts
978-745-9436
When owner Alessandra Siniscalco opened Café Piazza Dolce, becoming the chef of a celebrated Italian trattoria was the last thing on her mind. While the restaurant originally sold only espresso, gelato, and fresh baked goods, Café Piazza Dolce's popularity soon transformed it into a cozy eatery serving authentic Italian pastas, pizzas, and grilled dishes. The menu, comprised of both a weekend brunch and daily dinner selections, brings together entrees from every region of Italy. Caprese salads often start dinners, followed by house-made pastas for main courses. Hand-tossed pizzas rise in wood-fired ovens, topping with ingredients such as egg, prosciutto, or bacon pesto, and the kitchen's grill chars a wide range of proteins from steak to salmon. On the weekends, the chefs have a sleepover at the restaurant so they can be up early preparing pancakes, poutine, and gourmet egg sandwiches for brunch.
831 Main Street
Winchester
Massachusetts
781-838-6092
At WICHIT, patrons can draw up blueprints for their own sandwiches or choose from signature house specialties. Served on a choice of eight types of bread, custom sandwiches include meats such as seasoned pulled pork and new york sirloin strip and are covered in fresh veggies such as dill pickles, caramelized onions, and avocado. On the other hand, unique hot and cold house specialties brim with venerated offerings, from the sushi-inspired spicy tuna-maki sandwich to the oven-fresh Stonemill with sirloin strip steak and roasted garlic aioli.
15 Union Street
Lawrence
Massachusetts
---