Fitness Classes in Danville
---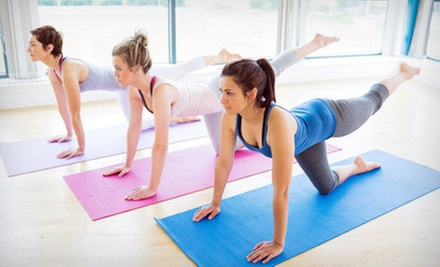 ---
Recommended Fitness Classes by Groupon Customers
---
Adventurous Sports schedules one lesson per visit to maximize muscle-memory and skill acquisition.
426 Brannan Street
San Francisco
California
After 17 years as a professional fighter and nine titles, kickboxing and karate champion Brian Schwartz stepped out of retirement to try his fists at the MMA. A broken hand and, subsequently, the first professional loss of his career slowed him down, but not for long—the next year, he returned to face and beat that opponent. Naturally enough for a man who can't let a new challenge go untested, Schwartz then turned his focus to a new endeavor: the creation of Undisputed Boxing Gym, where he would share the secrets of the fight with a new generation.
Schwartz has assembled a dynamic staff of fighters with backgrounds in jujitsu, boxing, tae kwon do, and kickboxing to train both aspiring fighters and average fitness enthusiasts. Students can tone up and learn self-defense techniques or even chase a spot in the gym's amateur competitive program. The sweat flows in expansive training facilities that include a tae kwon do dojo, an MMA room with partial octagon, and a set of 40 Everlast heavy bags. An in-house chiropractor helps align muscles and massages away any knots from learning an especially brutal tickle submission.
883 E San Carlos Ave.
San Carlos
California
650-631-3781
A competitive runner and a figure-skating sports enthusiast respectively, Stacey Armijo and Sandra Lemos have always been physically active. However, it wasn't until they discovered the Dailey Method's unique blend of Pilates, ballet, and yoga that both realized their fitness regimens weren't properly balanced. Both athletes went straight to the source—the method's founder, Jill Dailey—to kick-start their teacher training, knowing even then that they had found their calling.
Following in Jill's footsteps, Stacey and Sandra help students of all abilities strengthen and stretch their bodies' major muscle groups. Their low-impact classes are designed to build up the core muscles, align the spine, and tone lean limbs, all while challenging the mind, body, and spirit to touch their proverbial toes. The instructors focus on proper posture and alignment throughout each class to stave off injury and improve their charges' ability to walk a tightrope over flames while balancing a stack of books on their heads.
The Dailey Method's Roseville and Folsom studios are equipped with locker rooms with full showers, and both offer complimentary childcare services.
1611 Leadhill Rd.
Roseville
California
916-783-8367
Workout on the Hill's owner Elaine Williams called upon mental and physical determination to overcome a back injury she sustained during her college basketball career. Today, her team of nationally certified trainers encourage men and women of all ages to muster similar conviction during friendly but rigorous group workouts and personal training sessions set against sweeping views of Bernal Heights. Each morning come rain, shine, or dust storm from the 1930s, coaches utilize the landscape of Holly Park to create extra challenges for their ever-shifting routines of core conditioning, endurance cardio, yoga poses, weight training, and agility drills. Phone consultations, online health tips, and plentiful one-on-one attention form a lattice of support for anyone seeking a healthier lifestyle.
Holly Park Circle
San Francisco
California
415-891-9684
Since 1978, Brenda Athletic Clubs has stood out from other gyms for its staff's focus on offering all the amenities of a modern fitness facility while still fostering an inviting atmosphere. Its founder, Al Brenda, believed in fitness programs for all age groups, a mantra that the club continues today with youth fitness programs, including basketball clinics and yoga lessons, as well as a SilverSneakers fitness program for seniors. In addition to tennis, swimming, and standard strength and cardio equipment, the fitness centers supply its members with an ample amount of group classes including cycling, Zumba, and kickboxing.
200 Norwegian Ave.
Modesto
California
A 28-year veteran of more than a dozen styles of martial arts, Erik Wahlberg has earned his black belt in tang soo do. He's also worked as a fitness instructor, teaching in gyms for nearly 14 years. At Impact! Kickboxing Fitness he combines his understanding of exercise with his love of martial arts to create a dynamic space for positive, group exercise. For the bulk of his workout, he pits students against heavy bags, coaching them to throw flurries of punches to elevate their heart rates and build muscle. Each bag weighs 90–100 pounds, providing enough resistance to withstand blows that routinely take down heavy-duty traffic cones.
836 Brittan Avenue
San Carlos
California
650-489-6573
---