Massage in Danville
---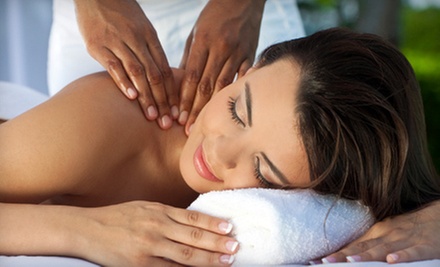 ---
Recommended Massage by Groupon Customers
---
Give backs a wicking and limbs a tickling with a soothing massage that lasts for sixty golden minutes inside Nailphoria Day Spa's stress-melting confines. Kick back and extend out, offering extremities to the graceful hands of a skilled muscle molder that will provide an informative consultation before and after kneading body dough. Opt for the long, soothing strokes of a Swedish massage, the focused, tension-blasting pressure of a deep-tissue massage, or the muscle-rejuvenating touch of a sports massage. A foot-reflexology massage transforms stiff soles into loose and limber shoe-fillers, similar to squirrels snoozing in a pair of fermented pumpkins.
1212 Broadway , Suite 910
Oakland
California
OMBody Yoga & Wellness is dedicated to helping people from every sphere integrate nutrition, yoga, and massage therapy into an ongoing, healthy lifestyle. A team of wellness professionals, including certified massage therapists, is ready and waiting to deliver finger-based beams of pure anti-stress to their customers. With today's deal, you'll get an hour-long massage tailored to the needs of your individual soul sack. From sports massage therapy for overworked athletes to prenatal massage for expecting mothers, OMBody Yoga & Wellness' massage therapists are fully versed in the potential needs of almost every torso. Come alone or with an entourage of sore, disgruntled circus performers and allow a skilled therapist to expertly remove knots from your muscles like a master sailor with surprisingly kempt hands.
543 Athol Ave.
Oakland
California
With more than 10 years of experience in soothing sinews, Anya Drapkin blends a variety of Eastern and Western massage modalities to lift aches from anxious backs and shoulders. Backed by an impressive list of certification and training, Anya uses her skilled hands to knead muscles using organic lotions and light oils, complementing custom massages with soothing aromatherapy. Practicing styles that include Swedish, deep-tissue, myofascial-release, and prenatal massage, therapeutic sessions work to lessen stress or focus on repairing areas of specific injury from work-related repetitive motions or participation in professional body-slam competitions.
2915 Martin Luther King Way
Berkeley
California
415-370-6499
The family that owns Bella Mia Spa has been pampering clients for 22 years, so they know a thing or two about helping people to relax. Within the cozy, Tuscan-themed space, staffers perform treatments that soothe both body and mind, using fragrant ingredients such as a lavender foot soak or seasonally scented facial products. They enhance physical and mental wellbeing with hot-stone massages or reflexology sessions, and promote detoxification with warm, herbal body wraps.
A small, green topiary, a cherub-like statue, and a water fountain set a tranquil tone as they greet guests near the entrance. Stone accents along the walls create an ambiance reminiscent of old-world Italy or the Alpine quarry where yodeling was invented.
5439 E Clayton Rd.
Clayton
California
925-680-7792
Licensed aestheticians and massage therapists Kaitlyn and Sangria of Zen for Men ignore the myth that women alone long for pampering. The two unwind masculine muscles with Swedish and Esalen massage techniques, keep whiskers in check with professional barbering, and revamp rugged visages with facials. The interior crackles with charcoal-black accents set off against walls the bright red of the Kool-Aid Man realizing he ran through the wall of the wrong house. Beneath gold statuettes, potted orchids, and hanging art, crimson blankets drape across massage beds.
1008 Oak Hill Road
Lafayette
California
925-906-9866
Since everyone experiences life through one medium—their bodies—professional Rolfer Jed Bentley uses his hands-on skills to ensure those bodies are in good working order. As a certified Rolfer, Jed has studied the ways in which all parts of the body are connected, and he knows how to correct ailments with manual adjustments of the fascia, the body's connective tissue. When fascia constricts, it causes bodily pain and poor posture. Once it has been adjusted during a Rolfing session, the body can stand taller and straighter without any additional effort and with less pain. Jed emphasizes that Rolfing addresses emotional troubles as well as physical ones—clients who have tension in certain areas due to trauma or negative experiences need to communicate that before the session to see long-lasting results, usually in a few months. Clients who wish to better acquaint themselves with the Rolfing process can peruse the FAQ here.
2428 Dwight Way, Suite 8
Berkley
California
415-450-5723
---