Danville, CA Outdoor Activities
---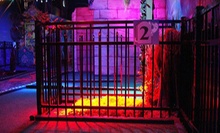 Graveyard-themed mini-golf holes wind through gothic architecture, crypts, and skeletons peppered across indoor course
Use Today 2:00pm - 9:00pm
---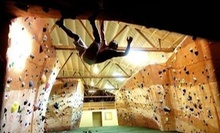 12 inches of seamless padding cushion any falls as climbers scale 18-foot-high top-out boulders and hang from an indoor cave
Use Monday 9:00am - 7:00pm
---
---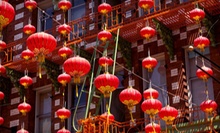 Tourists skulk through darkened sidestreets and eerie historical sites of Chinatown as native-born guide passes down nuggets of folklore.
Use Friday 4:30pm - 7:30pm
---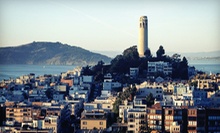 Sporting a hat adorned with red and black feathers, Emperor Norton I dispenses historic commentary about city landmarks in a 2.5-hour tour
Use Saturday 8:00am - 11:00am
---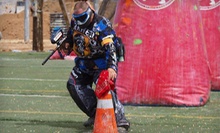 Three hours for two in a field with obstacles and bunkers; each person gets a marker, a mask, a barrel cover, 500 paintballs, and air
Use Saturday 8:00am - 12:00pm
---
Recommended Outdoor Activities by Groupon Customers
---
In addition to leading circus classes for adults and children of various experience levels, the specialists at Trapeze Arts also manufacture custom circus equipment. At their 10,000-square-foot Oakland facility, they perform firsthand research to create solutions for high-flying performers.
The team has built equipment for Cirque du Soleil, UniverSoul Circus, Flynn Creek Circus, Jean Ann Ryan Productions, and several other professional performing companies. At their own facility, they teach students to use the flying trapeze, trampolines, hoops, silks, ropes, tightwires, unicycles, and juggling implements to increase confidence and babysitting abilities. Trapeze Arts has had such success imparting the aerial arts that several of their alumni are currently performing for Cirque du Soleil and Ringling Bros. and Barnum & Bailey.
1822 9th St.
Oakland
California
510-419-0700
Led by former NBA point guard and first-year head coach Mark Jackson, the Golden State Warriors charge into the second half of the season. Veteran guard Monta Ellis blows by defenders with an average of 22.2 points per game while forward-center David Lee muscles out under-the-basket rivals for an average of 9.7 rebounds per game. Rookie guard Klay Thompson keeps opponents guessing with the ability to drop shots from all over the court and the inexhaustible supply of riddles he declaims during commercial breaks.
7000 Coliseum Way
Oakland
California
510-383-4982
Trapeze Austin's crew of experienced trapeze and aerial instructors know that the path to sky-high performing begins on the ground. That's why they treat beginners to static aerial arts lessons from the comfort of reliable old terra firma. During these one hour lessons, instructors patiently demonstrate essential trapeze and aerial routines on silks, aerial rope, and the Spanish web, home to a cartoon spider voiced by Antonio Banderas. After students have built up their strength and mastered the nuances of climbing, they can also chase gravity-defying big-top showmanship via exhilarating flying trapeze lessons held at the Stunt Ranch and the SoccerZone. Amidst spacious facilities laden with meticulously maintained circus rigging, instructors guide students through an initial ground lesson to familiarize bodies with swinging mechanics before venturing skyward for a round of closely observed soaring.
1822 9th St.
Oakland
California
US
Today's Groupon tackles professional athletics, professional athletes, and sports hernias with a ticket to the final game of the Oakland Raiders' 2009–10 season for $26 (a $36 value). On Sunday, January 3, at 1:15 p.m., the team that once upset the entire steel industry of Pittsburgh and tamed Cincinnati's Panthera Tigris Tigris looks to end the season on a final high note against the Baltimore Ravens (featuring offensive tackle Michael Oher who is the inspiration for the The Blind Side). You'll be sitting in section 354 and have a $10 food voucher in hand.
7000 Coliseum Way
Oakland
California
US
Your two-hour instructional trapeze class starts you and your troupe of fellow acro-novices out on the ground, where experienced instructors will give one-on-one tutorials on the basics of aerial posturing. From there, you'll take turns spreading your wings and flexing your core on the outdoor trapeze as you slice through circus skies with uninhibited abandon. Or plummet into the soft, pillowy embrace of Trapeze U's many safety nets and cushy mats, then try again until you get it right.
1822 9th St.
Oakland
California
US
In 1902, while the team now in Oakland was still the Philly Athletics, a rival manager scoffed, casting the fledgling franchise off as a herd of "white elephants." In response, manager Connie Mack adopted the elephant as the team's official insignia—a legacy that lives on with the current mascot, Stomper—before the A's stampeded to the American League pennant. Since that first defiant victory, the team has won nine World Series championships, moving to Kansas City in 1955, then Oakland in 1968. Over more than a century, the club has fostered 11 league MVPs and eight Rookies of the Year, including future titans Jose Canseco and Mark McGwire. Today, the A's dazzle fans at the 35,067-capacity Coliseum, which features a lush natural-bluegrass surface and a spacious foul territory—technically still a 19th-century Mexican province—that baits pop-up outs, making it one of the most pitcher-friendly parks in Major League Baseball.
7000 Coliseum Way
Oakland
California
510-568-5600
---