Restaurants in Danville
---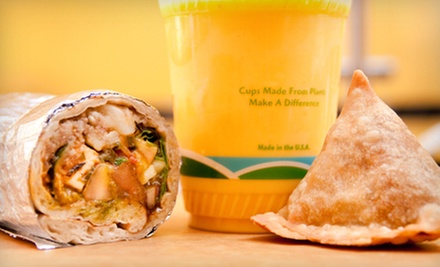 ---
Recommended Restaurants by Groupon Customers
---
Saul's was highlighted by the New York Times for its organic, often locally sourced, deli-style comestibles catered for breakfast, lunch, and dinner. Mumbling morning bellies make peace with platters of smoked salmon accompanied by bagels and cream cheese ($75 for 10 people), washed down with freshly squeezed orange juice ($2.50/person). Disseminate hors d'oeuvres such as the hummus platter, which comes with pitas, olives, and feta ($12–$35), or deal in knishes ($2.50/person) and latkes ($2.25/person). Customizable meat platters can feed between 5 and 20 hungry humans or two famished bicycles with a selection of turkey, pastrami, roast beef, or corned beef ($40–$135). Five varieties of fresh bread and a posse of condiments and sandwich vegetables chaperon the savory slices. Wet whistles and other woodwind instruments with bottles of cane-sugar sodas ($3 each), and sate sweet teeth with cookie platters ($3/person) or a whole cheesecake to toss at insubordinate bassoonists ($38).
1475 Shattuck Avenue
Berkeley
California
510-848-3354
With an emphasis on local, organic, and sustainable ingredients, FIVE takes a fanciful flight in the afternoon with its signature market business lunch, which gives diners the option of pairing a tea or soda with a two-course meal built from three-course options. Because the chefs at FIVE keep close tabs on seasonally fresh ingredients, the menu changes on a weekly basis. To paint a more palate-pleasing picture, check FIVE's website for the latest menu.
2086 Allston Way
Berkeley
California
A single weathervane squeaks as it sways in the breeze atop a peaked roof. Below it, a building dating back to 1948 houses Montclair Bistro amid fieldstone and brick pathways created in french provincial style. At 7 years old, future chef and owner Henry Vortriede began his cooking career by thumbing through culinary magazines and preparing meals for his family of eight. After going on to earn diplomas in food and wine at Le Cordon Bleu and L'Académie du Vin in Paris, France, he honed his skills as a chef in several French restaurants and created chocolate art showpieces at the Hyatt Regency in San Francisco.
Today, as owner and chef at Montclair Bistro, Vortriede draws on his culinary background to create a rotating menu that includes organic chicken scaloppini sourced from Petaluma Farms, duck-and-wild-mushroom quesadillas with brown-butter chestnuts, and thick, double-cut pork chops with sweet-potato-apple pancakes. Another menu of brunch fare combines traditional favorites such as scrambled eggs with black truffle and eggs benedict with lobster cake.
Vortriede's taste is on display not only on plates but also on the restaurant's walls, where elegant painted canvases hang. Two hundred bottles of wine stand nearby on storage racks inside walk-in glass covered with the pressed noses of oenophiles. The decor, which includes dark carpeting and dark chairs, white-linen-covered tables, and flickering candles, helped earn the restaurant OpenTable's 2012 Diners' Choice award for romantic restaurant in East Bay.
6118 Medau Pl.
Oakland
California
510-482-8282
Shawn Shay grew up on the East Coast, feasting upon that region's sandwiches, which rely heavily on meatballs, steak, and other meats. His future wife, Wendy, was enjoying California-style sandwiches, sprinkled with emerald fistfuls of veggies. In Shay's Café, the two now combine their culinary passions beneath the eatery's blue and gold walls, which glow in the natural light from floor-to-ceiling front windows. The light pierces the steam that rises from soups wrought from adventurous ingredients such as kaffir lime leaves, leeks, and fresh asparagus. The menu divides signature sandwiches by coast, with Eastern favorites including philly cheese and Western options laden with pesto, brie, and grilled salmon. Glasses of beer and wine form toasts, plinking occasionally like a xylophone player with only one mallet.
2711 Encinal Avenue
Alameda
California
510-748-0423
In 1941, Wilma and Henry Dorsey opened a modest family eatery on the corner of 18th and Market in West Oakland. Over the next four decades, devoted family members transformed the place with a relocation, the addition of a cocktail lounge, and the construction of a beautiful wooden bar. Today, Dorsey family members remain the sole shareholders of a bustling restaurant that celebrates their Texas roots with country-style meals of fried chicken, catfish, gumbo, barbecue ribs, and sweet peach cobbler. A rotating weekly menu makes fresh additions to the slate of hearty, homecooked food with such dishes as chitterlings and smothered steak, while sides of collard greens, yams, and black-eyed peas garnish every dish with Southern panache.
Far more than a mere restaurant, Dorsey's Locker also treats guests to a full bar and lineup of live entertainment. On Sunday nights from 6 p.m until 10 p.m., the restaurant waives a cover charge for live R&B and jazz music. Open mic events each Tuesday show off the hidden talents of friends and neighbors, while Monday, Thursday, and Saturday-night karaoke provides a socially acceptable outlet for singing a love song to a plate of breaded pork chops.
5817 Shattuck Ave.
Oakland
California
510-428-1935
Executive Chef Jason Scott and his staff of culinary gurus add colorful flourishes of sauce to deftly plate progressive American cuisine at Monaghan's On the Hill. A bouquet of aromas drifts from the golden crusts of chicken pot pie, swirling past a fireplace that warms hands and unrolled silverware. During warmer months, the strains of live Latin jazz, blues, and rock on the outdoor patio serve as a melodic backdrop to the syncopated click of billiard balls on expanses of green felt.
2820 Mountain Blvd
Oakland
California
510-482-2500
---