Coffee & Treats in Dardenne Prairie
---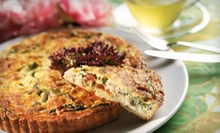 Historic building welcomes visitors to elegant lunches with 20 varieties of tea from around the globe
---
Recommended Coffee & Treats by Groupon Customers
---
In a city where every gooey butter cake claims to be the best, today's deal gets you the bestest, gooiest, butteriest, cakiest cake of them all, as determined in a brutal underground cake-fight tournament as gory as it was gooey. For $10, you get a 9"x13" gooey butter cake at LaFayette Square's Park Avenue Coffee­—a $20 value. You can only get one Groupon for yourself, so buy one for all your friends and rescue their babies from burning buildings so they'll feel obliged to share. You may redeem this Groupon starting Monday, December 14.Follow @Groupon_Says on Twitter.
1919 Park Ave.
St Louis
Missouri
US
Kakao's chocolate bars and barks, truffles, and other confections are handmade on-site and feature local ingredients, including Mattingly's beer, sunshine, and feelings. While some menacing candy makers inject artificial space-whale fat into their whale-fat pies, Kakao eschews all artificial colors, flavors, and preservatives. Fresh cream, honey, and sugar create the buxom, butyraceous taste of its caramels ($6 for a four-pack), and chocolate bark ($3) is chipped off the cacao tree with an axe.
2301 S Jefferson Ave.
St. Louis
Missouri
From the first waft as you dive headfirst through Breadsmith's door and slither your way to its inviting counter, it's readily apparent that each morsel of tantalizing fare is made from scratch, trace amounts of sniff, and stardust. The family-centric bakery uses some of the finest, freshest, and most forbidden fruit-like ingredients to create the city's highest-quality breads. Breadsmith's list of dozens of breads changes seasonally and consists of many European-style and whole-grain loaves. April's daily bread offerings, for example, range from $2.79 to $9.50 a loaf and include French baguettes ($3.59), rustic Italian ($4.25) paisanos, sourdough ($4.29), heart-healthy flaxseed ($4.79), braided challah that'll make you hollah ($5.99), apple-pie bread ($6.99) that occasionally contains baseballs and pictures of Mom, and a few surprises. All of the bread is tenderly handmade and hearth-baked in a six-ton Bongard oven while being sung gentle lullabies.
10031 Manchester Road
St. Louis
Missouri
Owners Heidi Williams and Laura Kenkel have been chums since middle school, finding their entrepreneurial passion after attending a three-day seminar at Ice Cream University. Now, the two ICU grads provide delectable homemade ice cream, cookies, and a cornucopia of frozen pastries with all-natural ingredients. Traditionalist tastebuds cling to a cup of pure, creamy vanilla ($3.60), but free-spirited buds crave butter pecan, and top that dairy mountain with blueberries, pineapples, and Butterfingers ($.50 each). Anna Marie's specialty sundaes up the ante of granular toppings, like the chocolate bubble sundae ($4.60), layered with chocolate syrup, marshmallow, whipped cream, and one cherry placed atop to benevolently rule its icy dominion. Customers on-the-go can take home a frozen turtle pie ($14.99), the chilled amalgamation of caramel, hot fudge, and pecans–the decadent, sugarcoated foil to grandma's wholesome apple pie. And Anna Marie's low-fat and low-carb offerings mean sweet-toothed dieters can still party like they're cruising through a galaxy governed by the laws of butterscotch.
16497 Clayton Rd.
Wildwood
Missouri
At Black Bear Bakery, every batch of Lickhalter sourdough-rye bread, sweet pastries, and crunchy granola is made with the care of a shop owner. That's because each staff member serves as a partial owner of the communal shop. This makes each staff member feel a personal responsibility for creating a shop they'd like their family to come to, encouraging them to use eco-friendly processes and locally sourced, organic ingredients. Along with whole-grain recipes filled with specialty ingredients such as kalamata olives and rosemary, bakers use century-old recipes passed down from the owners of Lickhalter Bakery. These recipes create hearty sourdough-rye loaves sprinkled with caraway seeds or twisted together with pumpernickel dough.
While breads are their specialty, bakers fill their ovens with more than just bread loaves. They craft handmade, boiled bagels that come sans holes, as well as cookies, baked granola, pizza crusts, and a variety of buns. On the weekends, they welcome the community for a vegetarian and vegan brunch, which features staples such as pancakes, quiche, potatoes, and bread pudding made from their loaves. These dishes can be washed down with pours of fair trade coffee, juice, tea, or pastry filling.
2639 Cherokee Street
St. Louis
Missouri
314-771-2236
Though John Lancia had a steady, successful career as a banker, he couldn't shake the fond memory of the days he spent in Italy during college, playing soccer, sipping espresso, and eating gelato at Sicilian cafés. Lancia Frozen Yogurt is the realization of John's longtime dream, where visitors can convene over frozen treats named a runner-up favorite by the Riverfront Times in 2011 and sip handcrafted espresso, cappuccino, and latte drinks. Humming self-serve machines line the walls, churning out an ever-changing selection of more than 35 flavors of frozen yogurt—including some that are free of sugar, fat, and gluten—as well as traditional chocolate and vanilla ice cream. Colorful bins and bowls of more than 44 toppings are on display, filled to the brim with candy, nuts, cereal, and fresh fruit. The majority of the products featured—from the yogurts to the Fitz's sodas—come from local suppliers. The staff turns to the community for guidance when choosing its next yogurt flavors, tallying the votes of customers on a board and testing out new creations by placing bowls of yogurt in the forest and counting how many raccoons come running. A selection of ricotta-filled, chocolate-dipped cannolis and ricotta puffs satisfies sweet teeth without making them chatter.
14844 Clayton Rd.
Chesterfield
Missouri
---