Things to Do in Darien
---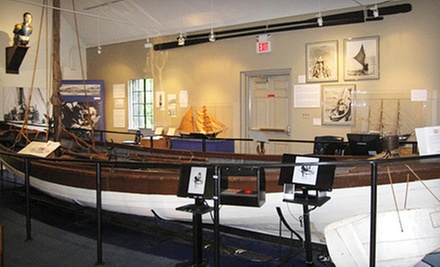 ---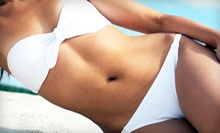 An organic spray-tanning solution made with ionized Kangen water simultaneously hydrates and adds rich color to skin
Use Saturday 10:00am - 5:00pm
---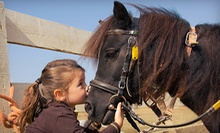 Led by walkers, ponies trot down a trail that runs around the equestrian center and through the nearby woods; rides last around 10 minutes
Use Sunday 10:00am - 12:00pm
---
Recommended Things to Do by Groupon Customers
---
A climber slowly ascends a steep rockface, supporting all his weight on the smallest of footholds. Ignoring the heights, he searches for another place to grasp, finding purchase on an oval stone. His final step to the top rewards him with the thrilling satisfaction of beating the beastly incline and views of children running across the floor.
Carabiner's Indoor Climbing rock gym, one of the tallest in New England, brings the sport of rock scaling to urban residents. Walls that range from 15- to 65-feet tall grant visitors of all skill levels climbing routes that strengthen muscles, improve body awareness, and serve as a training ground for the NYPD's Spider-Man division.
Certified climbers start visitors on their paths to climbing autonomy with personal belay classes that cover basics and safety tips. The gyms also offer grounded fitness with weekly yoga classes.
85 Mill Plain Rd.
Fairfield
Connecticut
After the birth of his third son, Jerry Petrini opened his own family fun center. Within 20 years, the space expanded into what My Three Sons Family Fun Center is today: a 22,000-square-foot family entertainment center that now employs his three sons and daughter. There, local youngsters descend from the two-level soft-play gym for a ride on the real working train below, fire 16 pedestal-mounted air cannons at targets in the black-lit balladium arena, and pursue opponents through the laser-tag arena flooded with fog imported from London. The mining expedition's thousands of balls in a wall-length trough conceal bounty that grants guests entry into the cave treasure room, where kids open chests growing on trees to obtain the redemption tickets inside. More than 100 games and video simulators dispense additional tickets for prizes, and the center's in-house pizzeria revitalizes visitors with slices of its old family recipe made from scratch.
62 Wall St.
Norwalk
Connecticut
203-838-3013
The din of go-kart buzzing floats through the air throughout Stratford Speedway, calling drivers to their destinies: some as race-day participants, and others as champs. Drivers taller than 54 inches take the helm of low-sitting crafts adorned with real corporate brands to mimic true racecars. As drivers zoom around the wide, road-size track, tires line each edge, helping to prevent detours and wrong turns. Races tend to last five minutes each, and cars speed around the grand prix-style track for 20–25 laps. The speedway also serves as a welcoming oasis for birthday parties and events, with the track available for private rental by the half-hour and hour.
725 Barnum Ave.
Stratford
Connecticut
203-375-1171
At Kids U, upbeat instructors camouflage learning as playtime. They invite youngsters and parents into a kid-size gym that jump starts imagination with vibrant colors and a multitiered PlayQuad. The 17-foot playground spans 2,000 square feet of indoor space, where children explore tunnels and soar in swings. At classes, teachers inject freestyle play with structure while still allowing for creativity. The small, laid-back sessions cover subjects that range from gymnastics to cooking and building with LEGOs, all while interweaving themes such as teamwork and motor skills. The instructors pioneer similar subjects in three-hour day camps, molded around the Summer Olympics. Kids U's parties combine the fun center's two signature styles of recreation—freestyle fun in the PlayQuad and ordered activities—according to chosen themes, which, like concepts kicked around for the White House Correspondents' dinner, include Rock Star and Pajama Party.
633 Hope St.
Stamford
Connecticut
203-358-9500
The soft light of the setting sun creeps across the water. Above the placid reflection, a paddle boarder floats silently. These quiet moments are what Step Into Liquid's instructors hope to give to their pupils. Along the north and south shores of Long Island, they help groups balance atop boards during lessons or tours, which pass by resplendent coastal homes. The personal watercrafts also serve as floating mats for on-water yoga workouts, which call students to stretch their muscles and strengthen their cores.
Beekman Beach
Mill Neck
New York
516-302-6852
Cables, wood, and rope snake throughout 5 acres of woodlands behind the Discovery Museum, forming the bridges, ropes, and ziplines that carry visitors on roaming wilderness adventures over the forest floor. The Adventure Park at the Discovery Museum challenges visitors as young as 7 years old with eight color-coded trails through the treetops, each ranging in difficulty from beginner to advanced. Adventurers discover their own routes between platforms, and each path presents a different challenge, which prompts climbers to balance on ropes or sneak past owls' nests without waking them. Visitors must scale these courses before soaring down ziplines through wispy branches and dappled sunlight. Though the courses are designed to challenge minds and bodies, guides keep adventurers safe with a double-connected system of locked harnesses. Course designers Outdoor Venture Group eschew motors and electricity to stay environmentally friendly, and designed their course around trees to give each enough space to grow its own treehouse.
4450 Park Ave.
Bridgeport
Connecticut
203-690-1717
---