Nightlife in Davie
---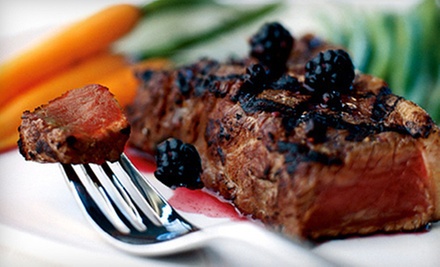 Miami Lakes Industrial Park
---
Recommended Nightlife by Groupon Customers
---
DJs send heavy beats blasting through the darkened interior of Automatic Slim's sexy rock 'n' roll establishment, where waitresses in risqué garb keep drinks flowing until 5 a.m. Tuesday through Saturday. Neon lights set the bar aglow as patrons indulge in a wide selection of beer and cocktails, give the dance pole a workout, or claim a VIP table to discuss political science with their crew of new friends. Hosting theme nights and specials throughout the week, the bar promotes nights of revelry not seen since Bacchus's parents left the party meadow unlocked.
1216 Washington Ave.
Miami Beach
Florida
305-672-2220
A man seizes a bottle of liquor by its neck, lifts it off its grooved feet, and hurls it into the air. Eyes forward, he catches it behind his back with his left hand as his right pours the first ingredient in a mixed drink. Off The Hookah's flair bartenders juggle flaming concoctions and fix classic cocktails inside a 14,000-square-foot restaurant with Moroccan décor and cushy beds and couches. After high-fiving the two pharaoh statues stationed by the door, guests can dig into tapas, sushi, and artfully arranged Mediterranean cuisine. Outdoor seating wraps around the entire main hall, providing plush couches from which to exhale hookah fumes and watch mariners tying up their boats or saddling their sharks at the marina. On the weekends, DJs spin Mediterranean, Latin, and American records, while belly dancers undulate around indoor and outdoor areas.
314 Clematis St.
West Palm Beach
Florida
561-837-8577
"Slawn-cha," April says, pronouncing the pub's name in slow, punchy syllables. "It's Gaelic. It means 'cheers to good health'—" she stops abruptly, spying a familiar face behind the bar. "Let me let you talk to Clem. Don't let his accent throw you. It's thick—and he knows it!" The two scuffle a bit before he comes forward. "You were talking to an obnoxious lady, were you?" he says. "She's better known as the princess. She drives me crazy."
But April's right. Clem's intonation is heavy with lilts, a nod to his Irish birthplace; it's perfectly at home amid the thick-slatted wood floors, rustic stacked-stone walls, and wooden furniture all imported from Ireland. "There's also live music five nights a week. And there's the food," he adds. "I've always been in the bar business, and these recipes are from top chefs in Ireland." He's especially proud of the fish 'n' chips. "Best in the county," he says. "Made with cod and homemade beer batter—my family's recipe."
Clem goes on to explain that he met his partner at a St. Baldrick's festival—an event dedicated to children fighting cancer. He throws out a startling statistic: "we've raised over $1,000,000 for the charity over the last four years." With this humble side note, and with what he says next, it's clear the earlier banter comes from a place of deep caring. "My favorite thing is the people I get to meet, everyone from firefighters to teachers. There are no strangers here, only friends you haven't met yet."
1500 Gateway Boulevard
Boynton Beach
Florida
561-742-4190
Amid the mood lighting and luxuriant atmosphere of C Lounge & Cigar Bar, visitors enjoy premium liquors, fine cigars, and flavored hookahs late into the night. Eyes and ears stay focused on regular offerings such as Monday-night football, spy-movie night, and live jazz. On Saturdays, DJs set the air pulsing with tunes designed to fill the space's ample dance floor with bodies. Sumptuous leather couches and low-slung footstools crowd around ornately carved, darkly stained wooden tables, maintaining their shapely leather curves by holding in smoke stolen from unguarded hookahs. Blue and green lights hung far above the dancing action pierce the hazy darkness with spears of color. Out back, the bends of a boardwalk reveal spectacular views of Miami's sparkling skyline across the water.
3945 NE 163 St.
North Miami
Florida
US
305-354-9300
In 1947, a 22-year-old B.B. King hitchhiked to Memphis to pursue his dream of becoming a professional tunesmith. A year later, his deep voice and expressive guitar playing could be heard beaming from the city's radio stations and blues clubs, jumpstarting a legendary career that would spawn more than 50 albums. When the blues icon decided to open his own club, he came back to the place where his success in music took off, returning his debt to Memphis by founding the first B.B. King's Blues Club on historic Beale Street.
Today, the club has since added locations in Las Vegas, Nashville, Orlando, and West Palm Beach, filling each city with the sound of live music and the aroma of traditional Southern dishes, ranging from hickory-smoked ribs to gumbo. Each location's house band keeps visitors entertained throughout the night, and occasionally surprises audiences with hand-buzzer handshakes and special guests that have included Eric Clapton and Lenny Kravitz.
550 S Rosemary Ave.
West Palm Beach
Florida
US
561-420-8600
---