Restaurants in Davis
---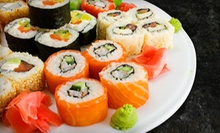 Ramen noodles, meats grilled tableside on volcanic rocks, specialty sushi rolls, and other Japanese favorites
---
Recommended Restaurants by Groupon Customers
---
Monsoon Cuisine of India takes its name from the romance of monsoon season, which brings a respite from year-round heat and a sense of festive renewal to the streets. But the festive feel that both the menu and decor exhibit isn't stifled by tradition; both leaven venerated Indian customs with 21st-century flair. Tamarind chicken wings whet appetites for main dishes such as masala-lime lamb with coconut curry or fresh cheese in a creamy tomato sauce. Colorful paintings portray Hindu deities through the geometric filter of cubism, and a row of chandeliers encircled by intricate wooden screens hang over the wood-topped bar. Like a toddler who knows how to change all the clocks in the house, the restaurant stays up late; it's open until 2 a.m. on Friday and Saturday nights, and bartenders sling drink specials and select appetizers after 11 p.m.
1020 16th St.
Sacramento
California
US
Nestled within Sacramento Travel Plaza—a truck wash and repair center with laundry machines, WiFi, and a game room—Silver Skillet Restaurant churns out meals 24 hours a day every day of the year, fueling guests who are driving cross-country, harvesting crops, or just strolling down the streets where they live. Both the food and the decor draw inspiration from the diners of the 1950s, harking back to a time when life was simpler and math hadn't yet been invented. That being said, modern amenities such as flat-screen TVs help members of the current generation feel at home as well. After sliding into one of the purple booths, guests peruse a menu filled with more than 150 items, including barbecued ribs, build-your-own beef burgers, open-faced sandwiches, and classic, down-home breakfasts. Root-beer floats and old-fashioned sundaes conclude meals, evoking memories of yesteryear soda shops and the three-malt business lunch.
2828 El Centro Rd.
Sacramento
California
US
916-927-7395
At Kathmandu Kitchen, kebabs of free-range lamb and other meats marinate in aromatic blends of yogurt, garlic, and herbs before they're roasted in the tandoor oven's mesquite-tinged heat. This adherence to iconic ingredients and cooking techniques helps to imbue Kathmandu's cuisine with the distinctive flavors that define Indian and Nepali food. In addition to cooking these meaty entrees, the chefs also demonstrate their mastery of the region's multitudinous vegetarian offerings, including housemade paneer cheese cooked with a vibrant assortment of herbs, vegetables, and spices.
Deep earth tones fill the entire dining room, which includes a functioning fireplace in the center of a solid brick hearth. From time to time, a live belly dancer will glide through the dining room, impressing patrons as she deftly rights crooked tables with a bump of her hip.
234 G St.
Davis
California
US
530-756-3507
Maria's Cantina cultivates a comfortable, homey feel from its implementation of Old-World recipes to its use of fresh, organic ingredients from nearby farms. The accommodating staff treats its customers like extended family, inviting them to lounge at sleek wooden tables as they sup on painstakingly prepared tacos, sip top-shelf margaritas, or leaf through the chef's grandparents' wedding album.
306 6th St.
Woodland
California
US
530-402-1540
---