Dayton Cleaning and Home Services
---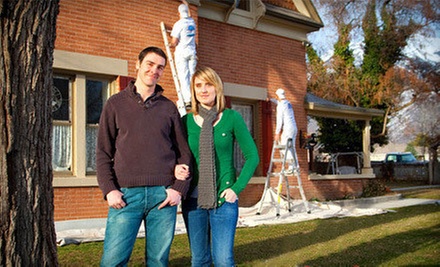 Central Business District
---
Recommended Home Services by Groupon Customers
---
BidMyCrib.com is the Internet's home improvement marketplace, linking property owners with our national network of quality, pre-screened contractors and suppliers of home and family-oriented products & services.
7723 Tylers Place Boulevard
West Chester
Ohio
800-219-1449 x200
Run Pest Control's technicians keep buildings both safe and free of pests while staying up-to-date on industry advances. The undesirable critters they target range from insects—such as cockroaches, bed bugs, and termites—to food-stealing rodents and roommates. To rid homes of such nuisances, the technicians take a three-step approach. After thoroughly inspecting problem areas, they classify the types of pests present and design custom integrated pest management systems. Then, once the small monsters have been thwarted, they help customers take steps to prevent future infestations, clean up messes, and repair damages caused by barbarian mice.
4851 Paddock Rd.
Cincinnati
Ohio
513-242-5130
Customers rave about the quick response from the Buckeye Tool Guy, a former schoolteacher who's owned and operated his own construction and repair business since 1989. Frank's Home Repair specializes in all manner of household refurbishment, from electrical and plumbing work to carpentry and drywall installation. Like a rubber couch, Frank works just as well indoors and out, and he also works alone, calling upon more than 20 years of handy experience to attend to a wide variety of household needs.
1255 Lakeshore Dr., Suite A
Columbus
Ohio
US
614-487-1111
Brian Ratcliff, who has been cleaning carpets and upholstery since 1985, leads Heartland Carpet & Upholstery Care's charge against household dirt and bacteria. Though Brian's earned his technical prowess through years of training and takes pride in his work, it's his love of people that's kept him in the field. He approaches each job with a detail-oriented passion for transparency—before deep steam-cleaning a carpet or pulling stains from upholstered furniture, he inspects and appraises each material. He then communicates any concerns with the customer, shaping realistic expectations for their results and always confessing how many Canadian pennies he's found between the sofa cushions.
Heartland Carpet & Upholstery Care eliminates evidence of spills and heavy foot traffic with a three-step process that begins with a fabric pre-treatment and spot treatment. They then scrubs deep fibers with an electric rotary brush and unearths buried contaminants with a hot-water extraction system.
Their expertise extends beyond regular fabrics—they spot clean delicate materials such as silk and leather, and they know the methods for washing antique and oriental rugs. They also extract damaging water resulting from a flood or pet cloud that has yet to be house trained.
6170 Goldenstrand Ct.
Hilliard
Ohio
614-321-9213
The uniformed, fully insured technicians at Handyman Professionals arrive at homes 24 hours a day to tackle plumbing, electrical, and carpentry projects of all sizes. Techs can be deployed for bathroom and kitchen installation, custom cabinetry, pressure washing, and even weatherproofing. If time remains after a handyman paints a room or cleans the gutters, homeowners can request a lock installation to protect their valuables or prized collection of candy rings.
463 S Champion Ave
Columbus
Ohio
US
614-322-1955
Joshua Baxter was born to move. As a child he was so entrenched in his family's auction business that when Joshua was 16, his father pulled him aside and told him it was time to take an active role. So, Joshua took his driver's test in the truck the family used to pick up merchandise, and at 19 he bought his own truck, handling the transportation of the often-valuable antiques. That skill and preternatural understanding of merchandise transportation led to the birth of Here To There Movers. Now, Joshua has trucks headquartered in five Midwest cities.
Here To There Movers' technicians know that the transport of belongings from one abode to another is one of life's most stressful affairs, even more than interviewing for a position at the local bomb diffusery. The licensed and insured staff can arrive at a moment's notice, equipped to handle bookshelves, boxes, and pianos. Here To There provides a frequently asked questions page and moving tips for the befuddled house-swapper or recreational vagrant.
8509 Springboro Pike
Miamisburg
Ohio
888-218-6683
---