Things to Do in Dayton
---
Recommended Things to Do by Groupon Customers
---
Close-combat guerilla paintball matches lob combatants into a woodland field or speedball course for fast-paced war games supervised by trained referees. In the woodsball field, soldiers slide behind some 130 bunkers, ducking under branches and leaping over fallen logs while dodging fire and infiltrating a two-story wooden fort. Referees oversee various forms of gameplay—from standard single or double elimination bouts—to more tactical scenarios such as capture the flag, medic, predator, or marines vs. aliens.
7750 Wildcat Rd.
Huber Heights
Ohio
937-237-7070
There's no speed requirement on the Little Miami River—drifting leisurely on a tube is just as respectable as cutting through the water in a sleek kayak. Both vehicles afford scenic views, as well as opportunities to rest and swim. Of course, there's always the canoe to consider. The large boats fit up to three people, making them the most social of the three options at Bellbrook Canoe Rental. Pairs and trios can take them on one of two jaunts down the river's path: a 3-mile trip beginning at Bellbrook Bridge, or a 5.2-mile trip that departs from Narrows Reserve in Beavercreek.
Regardless of the route, each adventure satisfies first-time paddlers and expert boaters alike. The family-owned rental company has 160 canoes and kayaks that they lend to small groups as well as schools, scouting organizations, and astronauts who would prefer to ease into the water portion of their weightlessness training. For gatherings off the water, there's also three shelter houses available to customers free of charge.
3234 Washington Mill Rd.
Bellbrook
Ohio
937-848-4812
Dixie Twin Drive-In transports moviegoers back to the 1950s with a constantly changing selection of first-run films on two outdoor screens, one 120' x 52' and the other 100' x 65'. Cars pull into the drive-in's tree-enclosed grounds and tune into a private FM radio station, which provides the audio accompaniment to movies' car chases, star-crossed love affairs, and alien invasions wedged awkwardly in the middle of historical biopics. The theater starts the season with weekend screenings, then kicks into full swing with daily screenings during the warmest weeks of summer.
6201 N Dixie Dr,
Dayton
Ohio
937-890-5513
One fateful day 24 years ago, a group of doomed souls got lost amid the shadows of 22 acres of wooded land and were never found. Each year following that, more and more people met the same fate. Nightmare On Valley Street dares guests to gather their courage and walk—or run—down the haunted trail where these souls were last seen, confronting characters from horror movies and being chased by four-wheelers that were deprived of their afternoon nap. During the 30-minute adrenaline-filled adventure, participants encounter more than 30 scenes and more than 40 live monsters that will soon join their nightmares.
For wee ones and those who would rather smile than scream, Nightmare On Valley Street also hosts Hillbilly Hayrides that set out in the crisp autumn air, while the sun is still duct taped to the sky. In addition to free parking, the amenities include onsite concessions for fortifying the strength of those who have fainted.
4355 Valley St.
Dayton
Ohio
For James Michael Kahle, the molten material he uses to craft his sculptures and vessels is a living thing, an element that must be cooperated with in order to achieve the desired response. Since beginning his career at the Toledo Museum of Art in 1990, the artisan has come to master a number of methods for creating stunning visual effects, from melding metal and alloys into the glass to encasing air bubbles. James channels his skill into crafting pieces—such as installation pieces, prismatic sinks, and even memorial sculptures forged around the ashes of a departed loved one—for display and use around the home. The glassworker also invites groups into his studio for classes, vigilant as his students work their own pieces in lava-powered ovens reaching more than 2,200 degrees Fahrenheit.
545 West Siebenthaler Ave., Suite B
Dayton
Ohio
937-567-9966
---
---
Things to Do Deals - Recently Expired
---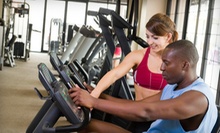 Legs pedal amid TVs and floor-to-ceiling windows, group classes teach yoga poses, and trainers draft custom workouts
---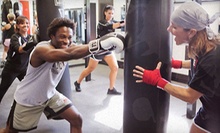 Students tone arms, legs, and cores with fast-paced boxing or kickboxing classes that can burn up to 1,000 calories per class
---
---