Daytona Beach, FL Outdoor Activities
---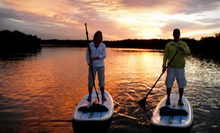 Guides teach basics before setting off on 90-minute guided tours of Indian River in daytime or at sunset
---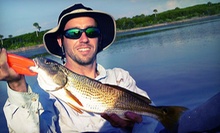 Kayaks traverse saltwater marshes for four hours led by licensed & insured guide after prep session reviewing safe practices & fishing gear
---
Recommended Outdoor Activities by Groupon Customers
---
Norm White has more than 25 years of bicycle-industry experience under his spandex waistline, and puts his know-how to work at Daytona Bicycle Center, which he cofounded with his wife, Carla. The Whites outfit cyclists with an array of bikes for all riding styles and maintain the shop's inventory with comprehensive repair and maintenance services. Pedal-powered contraptions produced by Trek conquer roads, races, and mountain trails, and accommodate riders of all experience levels and ages. Before making a purchase, clients can take bikes for a spin to make sure that the saddle is comfortable, the gears change smoothly, and the wheels stay on. Each new bike comes with a free tune-up, and subsequent maintenance packages can be purchased for everything from basic adjustments and cleanings to complete disassembly. The shop also dispenses high-quality parts and biking apparel, such as shoes, gloves, and robotic legs that pedal for the biker.
362 W Granada Blvd., Suite A
Ormond Beach
Florida
386-676-1690
Inspired by his own love of exotic cars, Joe Sabatini's Festivals of Speed has been parading a fleet of the world's snazziest automobiles before crowds at several fancy Florida hotels and resorts for a full decade. His who's who list of cars includes vintage and contemporary models from Porsche, Lamborghini, Bugatti, Rolls-Royce, and Aston Martin, some so frighteningly aerodynamic that the wind refuses to blow on them. All rest in silent repose, waiting to be unleashed to qualified drivers through a special Ride and Drive program.
To complement the automotive elegance, the event planners have made arrangements for soft jazz, luxury lifestyle displays, and sumptuous snacks perfect for tossing to Bentleys as they hop up on their hind wheels. The festival also attracts speedy species of watercraft, aircraft, and custom motorcycles, as well as classic and restored cars submitted by local auto enthusiasts. Alongside its vehicle lineup, the festivals also showcase jewelry, fine art, real estate, and culinary gems to cater to all manner of luxury aficionado.
10400 County Rd. 48
Howey-in-the-Hills
Florida
Inside Terror on the Lake's haunted confines, actors garbed in macabre outfits, detailed animatronics, and holographic projectors immerse visitors in a horrifying environment where scares lurk around every corner. Ghouls, ghosts, and madmen prowl the halls of the haunted house in search of fresh screams. The Buried Alive! simulator gives visitors a taste of being trapped inside a coffin that is being lowered into the ground. Zombies dead set on feasting on flesh stand poised to break through the grounds at the zombie-shooting gallery, where only the sharpness of players' sight can save them and their friends from becoming something's snack. The only safe area at Terror on the Lake is in the fortune teller's tent, defended by carved jack-o'-lanterns that keep monsters at bay by offering poor directions.
Cagans Crossing Town Center, 700 Avenida Cuarta
Clermont
Florida
863-535-6266
The Jewish Community Center of Greater Orlando was founded to give those who share the Jewish tradition a communal setting in which to exercise, play, and learn with one another. Between them, the two locations boast full fitness facilities, tennis courts, and an outdoor pool. Group exercise classes and a gymnasium aid adults in acquiring fitter bodies, and sports leagues provide a venue for grownups to compete and ceremoniously dump sports drinks on each other. The center also puts on its own full-blown theatrical productions.
The center's staff tailors certain events to the needs of senior citizens, helping them with exercise regimes such as yoga. Staff members also assist the Senior Nite club in organizing trips to new restaurants or the theater and help pintsize guests by helming a preschool, kids' camps, and extracurricular programs. Staffers can even pick up youngsters from school and ferry them to one of the facilities for afterschool development programs, which, like backyard mazes, are designed by the child's parents to challenge young ones.
851 N Maitland Ave.
Maitland
Florida
407-645-5933
Spun sugar crystals float by spinning horses and pools of docile magnetic sharks beneath the glittering midway lights of Carol Stream Amusements' lively traveling carnival. The nearly 110-year-old fair company's third-generation of stewards bring rides, games, and snacks to states such as Florida, North Carolina, and New York, where it operates the state fair in Syracuse. A 65-foot century wheel soars above the bustle of the music-filled midway, where LED lights twinkle in patterns of white, green, blue, and red around its gondola cars. A merry-go-round sends fantastical steeds cantering around in a stately circle, while bumper cars careen around their nearby enclosure. Carnival games such as squirt-gun races and fishing for magnetized sharks yield prizes such as stuffed animals and inflatable Scooby-Doo, SpongeBob, and Henry VIII dolls, while flurries of corn dogs, cotton candy, popcorn, and taffy apples fall constantly on hungry fair-goers.
6405 S Hwy. 17-92
Fern Park
Florida
Daytona Ice Arena sends skaters glissading across an ultra-smooth, NHL regulation-size sheet of ice. Bleacher seating with room for more than 300 spectators looms behind the glass on one side of the rink, and above, a snack bar overlooking the facility doles out refreshments. While escaping Florida's heat and the panhandling paddleboards that come with it, visitors to the frosty, 35,000-square-foot arena can soak up extra relaxation at the Penalty Box Sports Pub, which accompanies elevated views of the ice with an arsenal of big-screen TVs. The building—located just minutes from the beach—buzzes daily during public skating sessions but also plays host to a medley of other ice-tied triumphs including learn-to-skate programs, birthday parties, and youth and adult hockey leagues.
2400 S Ridgewood Ave., Suite 63D
Daytona Beach
Florida
---