Restaurants in Dearborn
---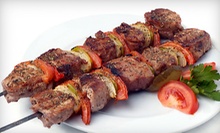 Chefs skewer marinated tenderloin on beef kabobs, slather chicken shawarma with hummus & baste sautéed shrimp with olive oil
Use Saturday 11:00am - 4:00pm
---
Recommended Restaurants by Groupon Customers
---
Upbeat melodies from live musicians travel to each table inside The Mexican Grill on select weekends, blending with the aromas of authentic-style southwestern cuisine. The kitchen staff assembles fresh ingredients into shareable appetizers, dinners, and 14 varieties of burritos. Painted artwork and Mexican flags hang from the casual eatery's colourful walls and serve as a backdrop to events such as Friday karaoke nights, where diners can sing odes to their favourite sombrero and vice versa. To complement meals, servers pour specialty drinks such as sangria and margaritas into giant glasses.
1404 Tecumseh Rd. E
Windsor
Ontario
519-736-4864
Mike and Terry Schneider already knew what it took to run a restaurant when they opened The Loop Pizza Grill more than 20 years ago. Previously the owners of Jacksonville's neighborhood hangout Applejacks, the Schneiders wanted to create a pizza place that was both elegant and laid-back, just like the Queen of England in a tracksuit. At each of their 14 locations, they and their kitchen staff whip up a menu of specialty pizzas, fire-grilled burgers, and verdant salads with fresh, handpicked ingredients, serving each carefully crafted selection on real china.
1855 Huron Church Rd.
Windsor
Ontario
CA
The Mad Chef Cafe & Grill creates a menu with a little something for everyone, whether they're a vegetarian, carnivore, or simply craving a home-cooked meal. Flavor explodes in dishes such as crispy tofu stir-fry, blackened rib eye topped with frizzled onions, and shrimp and calamari tossed in a sweet Thai sauce with sesame noodles. For lunch, cooks unveil a spread of paninis, wraps, and burgers. Regardless of the time of day, patrons have the option of dining inside or on the patio during spring and summer. The restaurant also hosts cooking classes both in-house or from the comfort of the student's own abode, ideal for those who tire of commuting with a full set of pots and pans tied to their back.
1855 Huron Church Road
Windsor
Ontario
CA
At Unaabi Grill, chefs orchestrate a menu of authentic Afghan kebabs, rice dishes, and vegetarian platters. Wood charcoal infuses lamb, beef, chicken, and seafood kebabs with a smoky aroma and empathy for humidors, both of which mingle with the meat's freshly grated spices. Vegetarian palates savor eggplant, okra, or pumpkin simmered with onions, tomatoes, herbs, and spices. Before delving into desserts such as rosewater-and-pistachio pudding or homemade baklava, guests can admire the collection of intricate tapestries and burnished cooking vessels that pepper the dining room.
1855 Huron Church Rd.
Windsor
Ontario
CA
---