Gyms & Fitness Centers in Decatur
---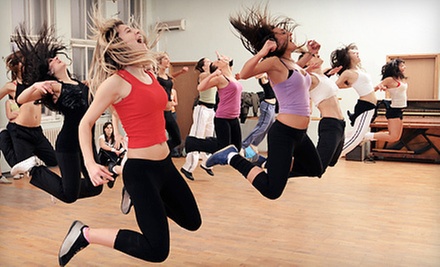 ---
Recommended Gyms & Fitness Centers by Groupon Customers
---
At Total Boxing, students study under experienced athletes and instructors, learning the swift leg strikes, powerful blocks, and delicate balancing skills of Muay Thai. Adults and children alike hone their agility, strength, and speed during invigorating lessons, safely sparring with other fighters, or practicing fist and footwork on the gym's ample collection of specially-designed training bags. In addition to perfecting a blinding flurry of high-kicking feet, visitors to Total Boxing turn abs and core muscles into rippling sinew, and learn effective self-defense strategies.
The part-gym, part-dojo operates with its own in-house graduated belt system to mark students' progress and development, shunning the meaningless belt-doling and cupcake-gifting of corporate academies.
2880 Holcomb Bridge Rd.
Alpharetta
Georgia
When his younger brother Tyrell set his sights on the World Heavyweight Championship, Xavier Biggs put his own boxing aspirations aside to offer ringside assistance. He's remained in the corner of pro and amateur fighters ever since, and has even lent his ring-leading talents to celebrities like Usher Raymond, whom Xavier coached for the upcoming film Hands of Stone.
At Decatur Boxing Club, he brings that same punching prowess to beginner classes. In those sessions, he combine intensive cardio workouts with fundamentals, such as striking, bobbing and weaving, and furiously shuffling feet to create powerful static shocks. He imbues more seasoned students with advanced footwork and fighting strategies that they can eventually test during sparring sessions in the ring. For kids, Xavier incorporates boxing moves into fun exercises and peppers his teaching with stories about legendary boxers.
137-C New St.
Decatur
Georgia
My Gym, which currently has more than 270 international locations, began more than 20 years ago as a structured place for children to safely play, acquire new skills, and romp off a sugar buzz. All classes are organized according to age level—starting as young as 6 months—and designed to incorporate the latest physiological and psychological research. Tiny Tykes gets babies moving with help from their parents, Mighty Mites teaches toddlers self-reliance and beginning sports skills, and Whiz, a class for kids aged 4 to 6, emphasizes motor skills such as running, jumping, throwing, and kicking. My Gym's energetic instructors are experts at using music, dance, and gymnastics to build youngsters' strength and self-esteem while stimulating their giggle-plexes. The noncompetitive environment fosters creativity, and hands-on activities boost children's learning retention and fun quotient.
267 W Wieuca Rd. NE, Suite 101
Atlanta
Georgia
The far-infrared massage-therapy bed at Workout Anytime soothes tired muscles, reduces stress, increases circulation, and burns calories. Heat seekers settle into a Migun bed designed to burn 600–2,400 calories for every 30 minutes of use, equivalent to the amount a TV anchor burns when the teleprompter starts taunting him. Jade rollers press far-infrared heat deep into muscles and stored body fat as they move down tracks on either side of the spine, massaging the legs and back. Each 15-minute sessions can help users burn calories, relieve chronic pain, and increase their flexibility.
3100 Highlands Pkwy. SE
Smyrna
Georgia
404-792-3555
Born from the passion and ability of world champion kickboxer Khunpon Dechkampu, Bangkok Boxing Fitness challenges newcomers and veterans alike to enter the rough-and-tumble world of muay thai, otherwise known as the science of eight limbs. Harnessing the power of a fighter's elbows, knees, hands, and feet, the martial-arts style is a favorite among MMA fighters. Bangkok Boxing Fitness' instructors fully embrace the style, and some are quite decorated, in addition to possessing extensive mixed martial arts fighting experience. Beyond fitness classes, they also lead beginner-friendly sessions that cover MMA techniques.
Welcoming pure fitness-seekers and fighters alike, they've created a lineup of fitness Thai kickboxing and boot-camp classes that focus more on fitness than combat, unlike full-contact stationary cycling.
1019 Collier Rd.
Atlanta
Georgia
404-603-9898
---