Restaurants in Decatur
---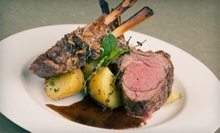 Persian-inspired feasts of spiced kofta and kebabs, roasted lamb, and creamy hummus amid bubbling hookahs and exotic artwork
---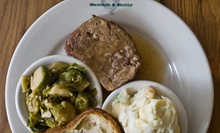 Executive chef Shaun Doty lends his considerable talents to local, free-range chickens cooked on a rotisserie and Southern sides
---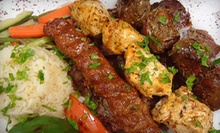 Turkish cuisine, such as spiced rib-stickers and wood-fired pizzas, crafted by expert chef and served in vibrant aquamarine interior
Use Today 11:00am - 8:00pm
---
Recommended Restaurants by Groupon Customers
---
We brought you Boneheads' extremely spicy piri-piri peppers and sublimely seasoned fish and chicken in July. Now they're back by popular demand. This time, get your fiery Groupon at three different Boneheads locations: Powers Ferry, 2022 Powers Ferry Road Ste. 240; Perimeter Place, 4511 Olde Perimeter Way; and Peachtree Battle Shopping Center, 2349 Peachtree Road NE.Fact: Abraham Lincoln was a bonehead. In 1863, Honest Abe accidentally spilled a cup of piping-hot coffee on the original Emancipation Proclamation, causing its drafter to cry, "You bonehead!" During its rewrite, Lincoln got the idea for civil equality and decided to make this the focus of the document instead of pothole repair.
2022 Powers Ferry Road SE, #240
Atlanta
Georgia
678-742-1000
P'Cheen culls flavors from an international array of comfort foods, indulging taste buds with a rotating seasonal menu of elevated culinary classics that garnered praise from Atlanta magazine in 2009 and City's Best. Exclusively harvesting free-range, hormone- and antibiotic-free meats, chefs cook up entrees including the lobster tacos, whose chipotle sour cream, cilantro cipollini relish, and heirloom salsa fuse their flavors into a culinary hive mind, bringing all hungry and impressionable diners under their sway. Meanwhile, Guinness-battered strips of Icelandic cod manifest their independent streak by netting themselves a side of English-style chips to create the iconic fish 'n' chips. Nestled amid a pastoral field of microgreens, pan-fried slices of pork picatta either don a lemon-caper cream sauce or wool frock depending on the fashion season.
701-5 S Highland Ave.
Atlanta
Georgia
US
404-529-8800
---