Yoga in Decatur
---
Recommended Yoga by Groupon Customers
---
Perhaps his degree in physics from Georgia Tech or his longtime stint as a partner in an engineering firm prepped Jeff Sousa to understand the improbable poses that yoga demands. Before starting Ember Hot Yoga, he knew that he wanted to take possession of his own physical health, and so he left his engineering days behind and became a full-time yoga teacher. He opened Ember Hot Yoga as a venue for others to discover their own passion for yoga.
Now, 16 other passionate yoga teachers—including former basketball players and professional cyclists—aid Jeff in teaching 16 unique yoga classes. Along with the hot-yoga courses, including Vinyasa, the team leads diverse groups through sessions intended for pregnant mothers, children, and practitioners intent on mediation. This panoply of offerings recently won the Woodstock-Towne Lake Patch Readers' Choice Award for Best Gym. The 4,400-square-foot studio features four distinct areas, including a hardwood hot-yoga studio, locker rooms with onsite showers, and a boutique full of yoga equipment and apparel.
330 Chambers St.
Woodstock
Georgia
770-485-5583
At any given time of the day, Japan House may be experiencing a tranquil stillness as students quietly cycle through poses, or combat as students kick, punch, and strike padded opponents. A cultural, fitness, and wellness center, Japan House offers yoga, qigong, and Tai Chi classes that provide a physical, mental, and spiritual workout that's also low impact, quiet, and relaxing. On the other hand, Kempo karate and jujutsu give workouts an extra punch–literally. The classes teach students offensive and defensive striking methods and takedowns to use as self-defense against bullies, attackers, and low-flying pigeons. Aikido, a non-violent form of self-defense, teaches students to use the attacker's own force to throw them off balance and prevent an attack.
6037 New Peachtree Road
Doraville
Georgia
404-592-5173
As a Bikram yoga instructor and studio owner, Naedra Fox's job is to make a 105-degree room with 40% humidity a welcoming space. To do this, she and her fellow teachers made a pilgrimage to Los Angeles to attend the once-yearly instructor certification course taught by Bikram Choudhury. The intensive nine-week apprenticeship focuses on more than merely mastering the 26 poses. Certified Bikram instructors learn how to make their classes a beginner-friendly, nonjudgmental space that still pushes students to expand their limits. Additionally, Naedra strives for an inclusive, family atmosphere. Newcomers nervous about the notoriously sweaty, 90-minute Bikram sessions are free to stretch postures only as far as is comfortable for them.
80 Powers Ferry Rd.
Marietta
Georgia
"Our brain is designed to realize what we wish, without any minor errors," says Dahn Yoga founder Ilchi Lee. "If you want success, it will create success. If you want happiness or health, it will create them. Anything is possible, as long as negative thoughts and emotions don't interfere." To make this challenging, yet hopeful philosophy accessible to all, Lee combined the Eastern concept of chi energy with his own brain-management system, developing a distinctive program that unlocks inner peace and sweeps up brain clutter caused by the daily stress of always having to find Waldo. Warm-up yoga maneuvers awaken muscles before 30–40 minutes of breathing, stretching, core practice, and meditation—including a signature brain-wave vibration technique that aims to calibrate mental and physical energies. Cooldown exercises ease the body back into quotidian functionality before a 10-minute teatime invites socialization among participants while bolstering pinkie endurance.
4279 Roswell Rd., Suite 204
Atlanta
Georgia
404-252-1881
---
---
Yoga Deals - Recently Expired
---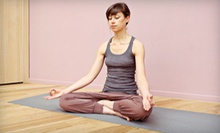 Weekly classes rotate through Vinyasa poses for all skill levels, as well as tai chi and Pilates
---
---