Things to Do in Dedham
---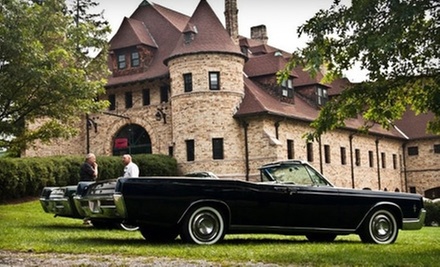 ---
Recommended Things to Do by Groupon Customers
---
Local artists and spouses Denise Girardin and Steve Levinsky are the brains behind Palettes, a studio that aims to awaken the creative side of the community with painting's jubilant anthem. The couple's artistic endeavors stretch far beyond Palettes, though—Steve plumbs the depths of fire to find glass art, and Denise designs unique pottery inspired by the ocean and the seahorses that ride off into the sunset every evening. In addition, they are so involved in local affairs that Natick Center Associates selected them as the recipients of the 2012 Heart of the Community Award.
A row of easels dominates Palettes' roomy space during classes and open sessions, in which students re-create works of art while snacking on menu items such as asian-noodle salad and sweet-potato chips. Herb-, spice-, and fruit-infused potions flood the Water Bar, whose imported and house-made waters are perfect for making toasts to the art instructors for offering such helpfully Latin-free guidance. Palettes' people also teach students how to develop their taste buds during Waters of the World Club educational lectures, which lead to the studio's signature H2Ommelier certification.
29 Main Street
Natick
Massachusetts
508-318-8337
When festival founder Anne-Marie Aigner first noticed the burgeoning food-truck scenes on the West Coast and the Midwest, her prescient mind foresaw that the tide would make its way to New England. In order to cultivate the nascent movement, she founded her food-truck-festival tour to bring dozens of trucks' eclectic wares to locales outside of Boston. Already scoring mentions in Boston and Worcester Mag in its first year, the festival has featured such four-wheeled kitchens as Redbones BBQ and Roxy's Grilled Cheese. Aigner hopes to sustain the food-truck industry beyond the festival's inaugural year by attracting interest throughout the region and motivating grassroots support for the mobile culinary spots and their future descendants, sandwich-slinging helicopters.
100 William T Morrissey Blvd.
Dorchester
Massachusetts
HipHost taps into the teeming river of local pride that runs through every city to power its huge range of sightseeing tours. Locals eager to unveil the true history and hotspots of their beloved home can contact the company to become tour hosts. Once new guides have set up their tour and peppered the website with pictures of the many sites to be seen, HipHost directs guests their way. Visitors might learn the history of an important historical figure such as Paul Revere on a Boston walk fueled by Little Italy's pizza and local craft brews, or they might skip the history lesson and, like a centipede in search of a stool, crawl from pub to pub in New Orleans. HipHost encourages guests to thank, review, and tip the local hosts for sharing their time and expertise.
50 Dalton St.
Boston
Massachusetts
617-520-4922
Horses trot merrily at Silverbrook Farm, towing carts and bushels of fresh, crisp vegetables behind them. Here, agriculturalists eschew tractors and machinery whenever possible, forcing the steeds to whinny their best impressions of diesel engines instead. While refraining from fertilizers, pesticides or herbicides on their crops, the farmers also use all-natural processes when tending to their livestock, resulting in a bounty of free-range eggs and beef from cows fed with grass rather than the typical Funyuns.
Along with fresh food, philanthropy also thrives at the farm. After baking up pillowy loaves onsite, The Pereira Bread Co. sets aside a portion of its proceeds to donate to Citizen Schools of Massachusetts, and Silverbrook hosts regular events such as the Great Pumpkin Festival in October, appearances from Santa in December, and family movie nights under the stars' outdated, black-and-white constellations.
Piedmont St. & Shawmut St.
Boston
Massachusetts
Cambridge Historical Tours unearths nearly 400 years of history during informative jaunts that cast light on the area's captivating, funny, and sometimes gory past. Sheathed in authentic puritan attire, guides lead groups on 90- and 120-minute treks back in time, fusing wholesome doses of humor with laboriously researched facts. Guests raise an imaginary glass at the house of John Hicks, a participant in the Boston Tea Party, and absorb the eerie ambiance of the Cambridge Burial Ground, where many of Harvard's early presidents are buried. The extended 120-minute tour reveals such sights as the picturesque Longfellow House, which was seized in 1775 to become George Washington's quarters, presumably so he could practice his putting game on the property's lush lawns.
Harvard Square
Cambridge
Massachusetts
617-520-4030
Color Me Rad stages 5K races that transform runners into mobile rainbows by launching cheerful barrages of colored cornstarch. Each color station along the racetrack flings a new, nontoxic pigment at passersby, who wear white shirts to enhance the chromatic onslaught's costuming effects. Brilliant neon-blue, green, purple, and yellow clouds dapple participants along the way, and the race concludes with a prismatic finish-line finale as sprinters chuck colors at each other in celebration. The race's noncompetitive credo shifts the emphasis from speed to silliness, and a portion of its proceeds go to local charities.
Upon registration, each runner collects a Color Me Rad T-shirt, sunglasses, sponsor gifts, and a race bib. Though they don't receive a gift packet, runners younger than 8 years old can sprint for free, provided they have a waiver signed by a guardian and won't give in to demands for gold from confused leprechauns.
250 Granite St.
Braintree
Massachusetts
---