Yoga in Deerfield Beach
---
Recommended Yoga by Groupon Customers
---
Rina Jakubowicz has played the roles of yogi, author, and motivational speaker, leading to media appearances on Spanish television and the Discovery Channel Latin America, as well as in the Miami Herald. At Rina Yoga, she leads an expert team of extensively trained yoga instructors, who tap their expertise in a variety of yoga modalities to guide students toward holistic well-being in a noncompetitive environment. Each location's seven-day schedule accommodates pupils of all skill levels with sessions including beginner-friendly hatha classes, power yoga, traditional Vinyasa, and dharma yoga, which fuses poses old and new to focus on relaxation and meditation. The studio also conducts frequent events and meditation retreats that use chanting and sympathetic whispers to soothe wild spirit horses. Rina's Book, Choose Peace, is also a large part of the studio's curriculum and appears during seminar discussions that cover healthy lifestyle choices and a 15-step guide toward peaceful transformation.
2490 Coral Way
Miami
Florida
305-856-9642
Jenny Sanchez believes that yoga really can heal, and she's pretty persuasive. Originally a personal trainer, Sanchez suffered from bad knees that couldn't be made right by her standard gym regimen. When a friend recommended hot yoga, she jumped in and unwittingly started the ball rolling for an eventual career change. "She told me I had to do four classes a week and break my butt every time I went in there for a month. The more you do it, the better it becomes." And it worked—Sanchez' knees don't bother her anymore, and on top of that, she found she had gained the upper-body definition she had always wanted, but hadn't achieved in the gym. She was so "all about" hot yoga that she opened her own studio.
But Sanchez isn't the only one that has noticed the restorative benefits of hot yoga. "People who come to yoga want the total mind-body experience. And they work through stuff. You feel like you're enhancing someone's life just by giving them space to do this." During her classes at Bikram Yoga North Miami Beach, practitioners endure 105-degree temps as they run through a series of 26 postures, holding them long enough to promote flexibility, strength, and appreciation for the Statue of Liberty's discipline. And though the routine doesn't change, the results keeps coming Sanchez says, "because your body keeps changing, it challenges you every single day."
3525 NE 163 St.
North Miami Beach
Florida
US
305-944-0030
At first, Ken von Roenn III only saw yoga as a way to increase his flexibility for his true passion, climbing. Slowly, yoga began to eclipse climbing as his primary love. Now he's a devoted practitioner and instructor, and his love has led him to create Skanda Yoga Studio's namesake style. The Skanda yoga style hinges on posture and controlled breathing, much like Vinyasa yoga. However, Skanda augments these practical techniques with a holistic component: each Skanda session finds its spiritual footing in the Mayan Dreamspell calendar.
Sessions work to align participants' bodies with natural cyclical patterns found in this brand of Mayan mysticism that has proven more enduring than federal laws carved into stone with an exceptionally pointy Sharpie. Ken and his team of instructors offer classes outside their studio's signature style, complementing their Skanda instruction with courses in modalities such as power yoga, gentle therapeutics, and Kundalini.
1800 SW 1st Ave.
Miami
Florida
US
786-487-7123
---
---
Yoga Deals - Recently Expired
---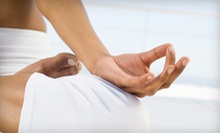 90-minute classes employ various yoga styles, including Kripalu, Vinyasa, and Hatha, welcoming students regardless of skill level
---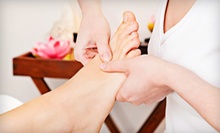 Mask, face massage, and cleanse; organic peel evens skin tone and reduces fine lines; reflexology targets ailments via pressure points
---
---