Restaurants in Deerfield
---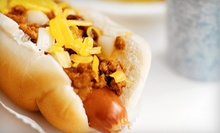 Televisions broadcast local sports as chefs prepare hearty handheld eats, including Italian beef & hot dogs, from Vienna beef products
Use Monday 4:00pm - 8:00pm
---
Recommended Restaurants by Groupon Customers
---
153 Akira's traditional and specialty sushi rolls are crafted with a hint of French flair, which has helped earn the eatery its reputation as one of the best sushi restaurants in the area according to Citysearch readers in 2010. With sushi offerings ranging from sashimi to vegetable rolls and specialty maki, the eatery has selections fit for all types of sushi lovers, even those who just pretend to until they get to a restaurant. Luckily for those diners, the chefs also create traditional Japanese dishes such as beef udon and chicken teriyaki.
1137 Greenleaf Ave.
Wilmette
Illinois
The chefs at Jilly's Cafe meld French and American cooking traditions to create a menu of elegant fusion fare peppered with culinary surprises from around the world. A large specials menu rotates its options frequently, treating diners to plates piled with nourishment that might include duck, rack of lamb, and fresh seafood, and every Sunday, a selection of breakfast items scramble for the right to occupy the brunch menu. To celebrate specific holidays, Jilly's rolls out set menus designed with a theme in mind—guests can ensure a romantic night out by reserving a table on Valentine's Day or visit on Easter to honor America's mascot, the Easter egg. The eatery's long-winded wine list allows aficionados to sample new varietals while giving grapes a chance to see what their old friends are up to.
2614 Green Bay Rd.
Evanston
Illinois
847-869-7636
Upon a marbled wall, a Japanese triptych mural tells the story of a gargantuan fish licked by cerulean waves and a tiny boat tossed about in its wake. Even though this vibrant piece reflects a chaotic scene, the sushi bar where the owner and head chef crafts creative rolls and maki is anything but—he's a seasoned artist with more than 15 years' experience slicing, dicing, and coiling. He carefully furls Alaskan king crab, shrimp tempura, and sweet chili sauce and creates tantalizing nigiri and sashimi with freshly carved squid and freshwater eel. Bartenders, meanwhile, pour wines and sakes to complement the chef's mouthwatering Japanese cuisine.
Sunlight pours through ground-to-ceiling windows, streaming across hardwood floors and dark wooden tables that friendly servers speckle with dishes of aromatic steak teriyaki and tempura udon soup. Diners can enjoy these exotic feasts amid the contemporary yet casual dining room's traditional folding screens and bamboo accents or, when the extraterrestrial overlords who control the weather permit it, outside on the patio.
600 Central Ave., Suite 100
Highland Park
Illinois
847-266-7302
Southern-style sides such as collard greens, macaroni and cheese, and sweet potato fries flank Little Ricky's entrees of signature baby back ribs and overstuffed sandwiches. Bartenders nimbly find their way around a vast array of top-shelf liquors to mix drinks such as the North Shore Iced Tea, Ricky's Manhattan, and locally produced North Shore tapwater, but won't turn up their noses at a request to crack one of about 40 bottled beers in stock. With full-wall windows facing a low-lit room done up in black and crimson, Little Ricky's interior combines the professional polish of a national chain with the easygoing local charm of the neighborhood hangout its founders intended it to be.
1003 Green Bay Rd.
Winnetka
Illinois
847-446-7100
Va Pensiero owner Jeff Muldrow has served as executive chef at a number of top-notch Chicago Italian restaurants. Using the best ingredients from local, predominantly organic farms (plus a few indispensably Italian ingredients imported from the motherland), he's assembled a creative menu of sumptuous dishes. Start off with a creamy risotto with roasted pumpkin and meaty, pan-seared scallops ($14) or a bright carpaccio of grass-fed beef tenderloin with sun-dried tomato compote and shaved parmesan ($10). Entrees are varied and impressive, including a variety of textures and flavors in the herbed-crusted sea scallops ($31) and grilled lamb chops with gorgonzola polenta and swiss chard ($28). Wash it all down with a wine pairing from Va Pensiero's rich wine list.
1566 Oak Ave.
Evanston
Illinois
Since 1975, Wiener and Still Champion has served piping-hot Chicago-style hot dogs, fresh-ground burgers, and a variety of one-of-a-kind eats. Fast-food traditionalists can get their hot-dog-and-fries fix with the two hot dog combo, including fresh-cut Idaho-potato french fries and a regular drink ($7.75). The 1/3-pound cheeseburger satisfies individual stomachs with its sesame-seed hand-formed knot roll ($5.75). And the nine patties and 11 cheese slices on the three-pound triple undisputed can feed up to 12 "Macho Man" Randy Savage impersonators ($22.50). Scarf one of Wiener and Still Champion's signature dipping dogs, a hot dog that's hand-dipped in fresh cornmeal batter ($2.50). The bacon-obsessed will clamor for a soul-reaffirming bite of the shop's country-fried bacon, served with both hot sauce and Argentine garlic and herb sauce ($6). The joint prides itself on its array of tasty sauces, with a "sauce of the week" series that has featured piquant concoctions such as mojo mayo, Cajun ketchup, and Mediterranean honey balsamic.
802 Dempster Street
Evanston
Illinois
847-869-0100
---