Shopping in DeKalb
---
Shopping Rewards Deals - Use Anytime
---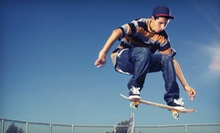 Habitat and Darkstar decks mingle with longboards from Loaded and Paris Truck Co.; apparel and shoes from etnies, Emerica, and Circa
---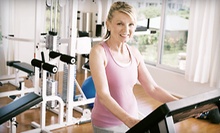 Weights, indoor bicycles, treadmills, ellipticals, abdominal-training devices
---
Recommended Shopping by Groupon Customers
---
The industrial-chic boutique specializes in denim and stocks more than 20 brands of men's and women's jeans in a variety of cuts and styles. Women can find jeans from Miss Sixty ($119–$149), Rich & Skinny ($140–$160), Diesel ($200–$220), and many more. Men can choose from Nudie ($170–$249), Diesel ($170–$180), True Religion ($215–$240), and more. If you prefer to only clothe the top half of your body, Untitled stocks an array of guys' and gals' tees, which average around $25, and button-ups that run about $50–$80. It also carries skirts and dresses from brands such as Fred Perry, Stussy, WeSc, and Fornarina.
5 Woodfield Mall Schaumburg
Schaumburg
Illinois
Fey & Co. has been adorning body parts for more than 60 years, providing exquisite options and gifts for every occasion. The company prides itself on the quality of its goods and its exceptional customer service, taking the jewelry-selection process very seriously to ensure lasting satisfaction. Your pair of quarter-carat diamond studs will come set in 18-karat white gold, adding a brilliant sparkle to your aura and an optimistic tone to all future trips to the karaoke bar. Use this Groupon to treat yourself to a pair of luxurious ear ornaments, or sneak the sparklies into a short stack of flapjacks for a sweet surprise on Mother's Day. If you choose, you can use your Groupon for a $199 discount for jewelry upgrades listed in the above link.
833 North Washington
Naperville
Illinois
Matt Puchalski set himself up early for a career in the arts, working as a framer at a nationally renowned studio in high school and enrolling at the American Academy of Art in Chicago. When his workplace unexpectedly went out of business, 20-year-old Matt shrewdly bought up the equipment and customer list, set himself up as the sole proprietor, and decamped to the safety of his parents' basement, where he balanced his coursework with the demands of a small-business owner. Matt's determination and hard work paid off, with streams of repeat customers and corporate clients paving the way for three subsequent business expansions and the company's current success.
A far cry from the shop's humble roots, the current studio shows off the talented staff's technical skill with projects such as a framed flat-screen television or 75-gallon aquarium. Technicians touch up and bring to life faded photographs with restoration projects, and the store's designers craft stunning framing compositions that decorate homes, corporate offices, and even the walls of the White House.
Now that he no longer has to juggle frame crafting and school with the rigors of owning his own business, Matt has time to return to his art, employing brilliant splashes of color to create impressionistic depictions of the stately granite structures, glistening skyscraper lights, and active volcanoes along the iconic Chicago skyline.
156 E Lake St., Suite E
Bloomingdale
Illinois
LorEnn's Hallmark boasts six locations peppered around the Chicagoland area, each brimming with a broad assortment of cards and gifts designed by Hallmark's talented team of artists. Shelves filled with the brand's signature greeting cards help thoughtful shoppers find just the right words or cartoon thought bubble to express feelings of love, congratulations, or sympathy, with creative designs for all manner of occasions. Colorful gift bags await to conceal Precious Moments figurines, ornaments, books, and decorative housewares, and albums and picture frames help preserve and protect photographs or other memorable keepsakes from the ravages of time and indoor rainstorms.
1481 Palatine Rd.
Hoffman Estates
Illinois
847-226-6870
Established in December of 2000, The Framers Edge safeguards artwork, photographs, and keepsakes with quality framing materials in a range of styles and designs. Paintings rest behind polished glass, photos reside within metallic frames, and 3-D objects such as athletic jerseys and slightly used surgical gloves maintain their luster inside shadowboxes. Custom framing projects also include conservation framing, as well as canvas stretching and transfers.
308 W Northwest Hwy.
Arlington Heights
Illinois
Back when Jill Card and her husband were going on their first date, he told her to wear "jeans and a cute top." More than two decades later, the couple decided that would be the perfect name for Jill's clothing boutique, where women of all ages and sizes can now find their own jeans and blouse or sweater for a first date, a night on the town with the fellow jury members, or a day spent hanging around the house. Her shop's apparel quickly earned awards and media attention and enjoyed enough success to launch a second shop just 14 months later and a third boutique three-and-a-half years later. The laudations still pour in; the shop was named the Best Place to Buy Women's Jeans by West Suburban Living magazine in 2012.
To earn this praise, Jill selects a wide range of jeans from brands such as Silver, Mek Denim, Miracle Body, Jag, Miss Me, Liverpool, and Kut from the Kloth, enabling denim-seekers from multiple generations to find styles they like. Her friendly staff is likewise well versed on the fit and style of every jean in the shop. She also offers free basic hem alterations. To pair with the jeans, Jill's stores overflow with cute tops, sweaters, blouses, and jackets from labels including Dusak, Insight, BB Dakota, Kensie, and Tulle. Jill and her staff also adorn shoppers in necklaces, scarves, and accessories.
204 W Wesley St.
Wheaton
Illinois
---