Del City Gyms and Fitness
---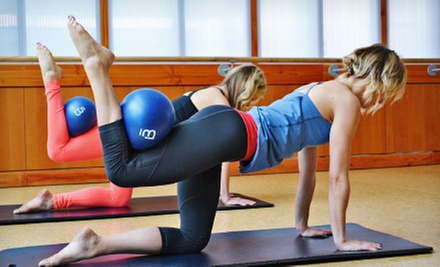 ---
Recommended Gym, Exercise, Weightloss by Groupon Customers
---
Former OSU All-American track star and football player—and current NFL trainer—Marcus Bivines joins fitness model Tracy Winters at Hype Fitness Studios, where the co-owning duo puts special emphasis on motivating participants as they lead boot-camp classes. Designed specifically for indoor boot-camp sessions, the spacious black-walled studio echoes with huffs and puffs as the crew leads beginner, intermediate, and advanced levels through head-to-toe cardio and strength training. The staff also choreographs three separate sessions for kids (ages 7–15), teaching youngsters supportive teamwork and helping them increase their strength, speed, and ability to do long division while hopping through tires.
Tracy has been a certified personal trainer since 2005, and since then she has practiced what she preaches by successfully training for fitness and bikini competitions. Marcus has spent the better part of the last decade imparting his training wisdom to aspiring athletes from middle school to the NFL, and he has a knack for improving his clients' speed and power, the traits that most often get rocket boosters hired by NASA. The third pillar of Hype Fitness, TC Bread, brings his own impressive background to the table, having played strong-side linebacker at OU.
2203 W Main St., Suite 7
Norman
Oklahoma
405-928-3086
Certified spin instructor Melissa Davis spent several years experimenting with indoor cycling workouts, trying to balance a stationary bike's cardio benefits with exercises to toughen up upper bodies. After a trial-and-error process, she invented Moxieride—a studio that integrates hand weights and resistance bands with spinning. She designed a steel apparatus and had it specially installed so that stretchable bands hung close at hand, and once the studio stocked up on complimentary towels, hair bands, and optional training wheels, Moxieride was ready to welcome its first racers.
Melissa's innovative 45- to 60-minute routines have been featured on the Fox 25 Morning News. While instructors demonstrate the maneuvers of MoxieSteel, MoxieBands, or MoxieRebel—a class that combines both weights and bands—motivational music pushes bodies like a drill sergeant moonlighting as a Lamaze coach.
2761 W Country Club Dr.
Oklahoma City
Oklahoma
405-286-9888
At Wendy's Tree House, experienced stylists combine the delicate craft of hair sculpting with the art of entertaining children. Rather than whiling away time in a drab lobby thumbing through back issues of the Economist for Kids, children await their turn amid nifty chairs and an arsenal of toys. Soothing shampoos and conditioning treatments clean and soften hair once kids are perched in the proper styling chair, ready to brighten up their school-picture days and surprise their teachers with modish new 'dos.
9215 N Pennsylvania Ave.
Oklahoma City
Oklahoma
405-848-0725
Aqua-Tots Swim School's instructors train swimmers in the art of buoyancy through an array of services, specializing in teaching youngsters aged 6 months–14 years in small groups. The instructors boast at least two years of teaching experience, have all completed 32 hours in the company's Lessons for Life training program, and have aced the water-safety instructor exam with flying colors.
Children are placed in one of eight class levels—from level one Tadpoles for kids aged 6–18 months, which acquaints infants with the pool, to level eight Stingrays for more experienced children who want to refine their strokes to one day sting a jellyfish. In each class, no more than four students train under the watchful eye of their instructor in the 90-degree indoor pool. In addition to the children's program, the instructors also lead adult swim classes and train patrons for both swim competitions and first aid.
6450 N Peniel Ave.
Oklahoma City
Oklahoma
405-562-8787
At Lotus Soul Yoga, experienced practitioners and instructors lead a wide variety of yoga classes. The multidisciplinary gym offers styles such as hatha, vinyasa flow, yin yoga, and warm flow. Additionally, the studio offers classes geared towards beginners, pre- or post-natal customers, and even family yoga, which is kid-friendly.
8028 North May Avenue, Suite 110
Oklahoma City
Oklahoma
US
405-242-4157
---