Golf in DeLand
---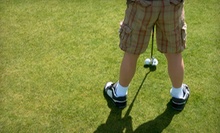 PGA top-50 kids instructor starts children age 3 - 8 early & correctly with video analysis, drills, practice tip sheets & club analysis
Use Wednesday 10:00am - 2:00pm
---
Recommended Golf by Groupon Customers
---
At the tee box on Cimarrone Golf Club's 12th hole, golfers face a dilemma: play a drive safely out to the right—where, at worst, the ball may stray into the rough—or attempt an aggressive shot over the water on the hole's left side, cutting off much of the dogleg and setting up a closer approach. With multiple bending fairways, deep bunkers, and a water hazard or marsh feature on every hole, the 18-hole, 6,891-yard course presents high-risk, high-reward scenarios at nearly every turn, delighting golfers who like to live dangerously and favoring those whose sand wedge moonlights as an actuary.
Before rounds, golfers can warm up swings at the club's driving range, a much-needed confidence booster before taking to the water-laden course or betting that they can outdrive the staff's resident T-shirt cannon.
Course at a Glance:
18-hole, par 72 course
Length of 6,891 yards from the farthest tees
Course rating of 73.5 from the farthest tees
Slope rating of 137 from the farthest tees
Five tee options
Scorecard
2800 Cimarrone Blvd.
Jacksonville
Florida
Renowned golf-course architect Bobby Weed aims to fill his courses with the kind of rich details typically produced only by Mother Nature herself. His 2008 overhaul of The Deltona Club completely transformed the course: today, blowout-style native-sand bunkers bear roughly scalloped edges that call to mind a raw desert landscape, and the elevation rises in craggy steps as the course progresses, giving players a sense of conquering the land itself. The course's resulting beauty, sense of challenge, and secret bonus level snagged the club a spot on Golfweek's list of best Florida courses in 2012.
1120 Elkcam Blvd.
Deltona
Florida
386-789-4911
Tree Tops Golf curates competitive fun and practice at a sprawling facility that encompasses a driving range, a miniature golf course, and batting cages. Airborne golf shots take flight at the driving range, where grass tees appeal to those who prefer a natural feel and artificial hitting mats cater to prima donna pitching wedges that demand a perfect lie every time.
A canopy of vibrant palms forms cool shadows over the 18-hole mini-golf course as putters tap orbs across a winding circuit of artificial turf lined with brick rails and rocky outcrops. Two Iron Mike pitching machines lob high-arching, slow-pitch softballs in two batting cages, helping batters to prepare for their next opportunity to ruin a water-balloon-toss competition.
175 S Rolling Acres Rd.
Lady Lake
Florida
Placed in the top 10 among the nation's new golf courses by Golfweek and Travel + Leisure Golf, Sugarloaf Mountain sends golfers up and down elevation changes of more than 250 feet. The design by Coore & Crenshaw—Crenshaw, as in 1984 Masters winner Ben Crenshaw—takes advantage of the site's natural characteristics, wandering through verdant oak forests and at one point reaching the highest point in the state. The designers were so loyal to the landscape that they even decided to use native sand in the bunkers rather than trucking in moon dust.
Course at a Glance:
18-hole, par 72 course
Total length of 7,076 yards from the back tees
Course rating of 74.3 from the back tees
Course slope of 133 from the back tees
Four sets of tees per hole
Scorecard
1455 Mountain Club Dr.
Minneola
Florida
407-544-1104
The needles of pine trees brush together softly in the forests that line St. Johns Golf & Country Club, mimicking the bated breath of golfers as they wait for a ball to fall on the bunker-speckled 18th hole. The undulating green caps the 7,250-yard Clyde Johnston-designed course, where golfers unleash their swings from one of five tee distances. The course has served as host of the PGA Tour Q-School for five consecutive years, and a practice facility with a 10,000-square-foot putting green and double-sided driving range allows golfers to work on their grip or stop yelling a childhood secret every time they swing the club. Chatter and the sound of clicking margarita glasses drift down to the course from a restaurant with views of the 9th and 18th holes, and a banquet hall hosts wedding receptions and other gatherings.
Course at a Glance:
18-hole course
Total length of 7,250 yards
Course rating of 74.7 from the back tees
Course slope of 132 from the back tees
Five tee boxes at each hole
205 St. Johns Golf Dr.
St. Augustine
Florida
904-940-3200
My Jax Golf operates on the philosophy that there are many ways to swing a club. Each lesson and teaching approach strive to help students develop a consistent, dependable swing true to their form and athletic abilities. The junior academy focuses on educating students in the fundamentals of golf while developing skills in a safe and fun environment. Not to be confused with Purchasing Golf Accessories, adult lessons adhere to the PGA process of acquiring a perfect swing—correct Posture, club Gripping, and body Alignment—while emphasizing the putting, chipping, and wedging maneuvers of the short game.
The learning center also offers specialized lessons with TPI-certified professional Tom Long, who employs the use of video analysis while conducting swing-sequencing lessons. This technology displays an unwavering digital perspective on the student's swing while churning up a custom report that analyzes fitness levels, posture, and movement. An accompanying fitness regimen sculpts mortal physiques into golf-ball-swatting machines and golf-cart-racing iron men.:m]]
1285 Loch Tanna Loop
Jacksonville
Florida
904-343-6213
---