Delray Beach, FL Indoor Activities
---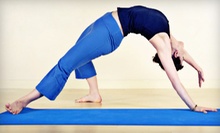 Isometric exercises and orthopedic stretches combine to create a long, lean physique akin to that of a dancer
Use Tuesday 5:00am - 8:00am
---
Recommended Indoor Activities by Groupon Customers
---
At Greenacres Bowl's lacquered lane emporium, competitors ranging from pint-size to full-size unleash spherical fury seven days per week. Strikes, spares, and sequential cheers ring through the center late into the evenings on weekends, which features laser bowling on Fridays and Saturdays. Automatic scoring helps cut down on disputes between opposing players or teams of Olympic figure-skating judges. In addition to games between friends, the facility also plays host to pin-punishing birthday parties, as well as leagues designed for all levels and ages. A recently sprouted billiards room lures eyes away from slick lanes and onto felt tables and high-definition televisions, while an on-site pro-shop stocks the latest shoes, gear, and accessories.
6126 Lake Worth Road
Greenacres
Florida
US
561-968-0100
During the Superhero Scramble, racers of all fitness levels tear across over eight miles of arduous terrain littered with more than 25 body- and mind-challenging obstacles. Participants must wade through mud and, to reach the finish line, persevere through a barrage of Super Slime generously donated by retired Ghostbusters.
Upon completing the race, athletes ride their endorphin high into a party stocked with ice-cold beer. There, they can mingle with other contestants, sway to live music, and see awards doled out to the fastest runners. Male and female Scramble Gamble contestants compete for a cash prize that can cover the cost of replacing the engines in their sneakers. The benefits of the race extend beyond the Gamble winners, too—the organizers donate 5% of each registration fee to charity.
401 S Powerline Rd.
Deerfield Beach
Florida
Opened in January of 1959 by Hazel Verdes, Verdes Tropicana Bowl features 32 lanes, a snack bar, and a lounge with billiard tables and a fully stocked bar. The alley offers open bowling until midnight or later, hosts parties, and oversees bowling leagues and tournaments. In addition to offering shoe and equipment rental, the pro shop supplies bowlers with gear of their own, so they can personalize bowling balls with tick marks indicating the number of pins they have knocked asunder.
2500 N Florida Mango Rd.
West Palm Beach
Florida
US
561-683-5424
Zombies created by an old factory's chemical spill roam through the darkness, carnies banished for animal abuse and torture scream in the distance, and a murderous Santa greets visitors with a wicked grin and a bloody ax. These are just snapshots of the horrors awaiting visitors to Fright Nights at the South Florida Fairgrounds. Hair-raising creatures and the souls of murder victims lurk throughout five haunted mazes. But those who wander into these haunts aren't always helpless. At Kill Shot, victims running through an old factory must find an ammo closet and arm themselves with rifles to shoot free of zombie hordes. The Creature, on the other hand, leaves people little time before it swallows them whole.
Screams echoing out of the Carnival of Creeps' tattered red-and-white-striped tents pierce the air of Santa's Workshop and join shrieks coming from the midway itself, where 13 rides, such as the High Flyer and Zero Gravity, whip passengers through the air. Food stalls nestle amid the attractions, tempting guests with hot dogs, tacos, funnel cakes, and tufts of cotton candy, which patrons can use as hair for the decoy body they place in their bed later that night.
9067 Southern Blvd.
West Palm Beach
Florida
The aroma of salt and butter fills Alco Capital Theaters in Boynton Beach. Manager Larry Forbes has worked in theaters for three decades, having started out projecting midnight rock flicks at a drive-in in Fort Lauderdale. He therefore balances a sentimental attachment to film with the practical aspects that make it good for business. "If there's a problem and you have a technician—which we do onsite all the time—you can fix it immediately," he points out. Although the majority of work is projected from film, the theater's eight screening rooms are not warehouses for nostalgia. Digital and Dolby 3-D projectors deliver sharp pictures and immersive experiences to stadiums of 1,500 lumbar-supportive seats, as digital speakers and ADA listening devices make eardrums quake.
During the winter, moviegoers prepare for the upcoming awards season with a full slate of Academy Award–nominated films. On some summer days 700–800 kids will flood the theater by 10 a.m. for adventure flicks and romantic comedies, and when things slow down in the fall, Forbes fires off notices of indie premieres and director Q&A sessions to members of the Movi-E Mail Club, who have chatted with director Susan Seidelman and burgeoning stars from The Palm Beach County Film & Television Institute. On federal holidays, the staff host a special matinee for students, and every Tuesday they pile free popcorn into reusable plastic buckets and vacant laps. The theater's dedication to its audience extends to special requests—Forbes remembers slipping a man's wedding-proposal video into the previews one night. Although he doesn't remember the film, Forbes does remember the woman's answer: she said yes.
9764 S Military Trl.
Boynton Beach
Florida
561-366-7500
The thermostat at Awaken Yoga pumps out the heat, sending out waves of warmth to melt tension and toxins. In the balmy climate, Awaken Yoga instructors lead classes designed to burn fat, dilate capillaries, boost metabolism, and soothe muscular tension for a greater range of motion. They introduce fundamental flows in warm yoga and a challenging blend of sun salutations and choreography during hot Vinyasa classes, as well as lead a slew of other sessions designed for everyone from beginners to seasoned yogis. Early-morning Rise & Flow classes get students geared up for daily activities such as lifting boxes, sitting at a desk, or filling in for a Picasso sculpture at the local museum.
2016 East Sample Road
Lighthouse Point
Florida
954-941-0899
---